The Office of Public Works has said incidents at many of its sites are a "real, pressing and substantial problem" after it emerged that dozens of historic sites were hit by vandalism last year.
This includes damage to "priceless" tombs in Co Kilkenny.
The information provided by the OPW under Freedom of Information shows 51 separate incidents at or involving OPW sites last year, with some being damaged more than once.
Gardaí were contacted on at least 15 occasions, including regarding incidents at what appears to be the most significant damage, at St Mary's Collegiate Church in Gowran, Co Kilkenny.
The national monument was first built in the 13th century and features elaborate tombs and effigies.
According to the OPW, it was damaged twice last year - once in late April when someone broke pieces off slabs of a tomb and grave, and then again last August when the Kealty Tomb had a large piece broken off the top of the tomb.
In both cases, the OPW described the cost involved in remedial action as "priceless".
The cost of repair for many of the relics and sites damaged last year was in the hundreds of euro, although some costs had yet to be determined.
One example was a fire at the Gardener's Shed in Dublin's Phoenix Park, which caused significant damage to a structure valued by the OPW at €110,000.
Damage at Athassel Abbey in Cashel, Co Tipperary last July meant a stone effigy that was on the wall was left on the ground.
Carlow Castle sustained damage in five separate incidents over the course of last year, usually involving forced entry and broken locks.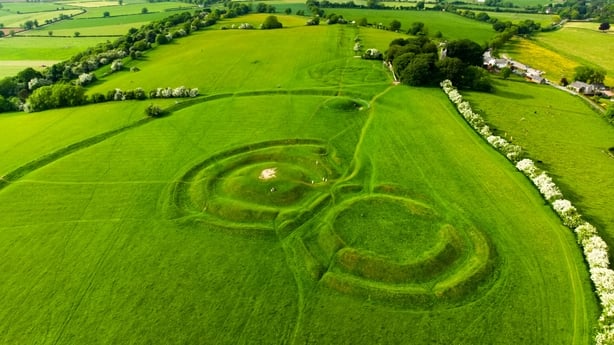 Tombs at the megalithic cemetery in Carrowmore in Co Sligo were damaged on three separate occasions, including having letters scratched into the face of a capstone.
That incident resulted in action described as "An Garda Síochána to drive by to make their presence felt in the evenings, CCTV camera signs erected".
Elsewhere, masonry was stolen at Castle Roche in Co Louth, two fairy plaques and benches were burnt at Castletown House in Celbridge, stones were damaged at Loughcrew in Co Meath, including an unofficial lock being put on a cairn, and a headstone was smashed into three pieces at St Mary's in Callan, Co Kilkenny.
Just last month, gardaí began an investigation into vandalism at the ancient Lia Fáil standing stone on the Hill of Tara in Co Meath, where the word "fake" was painted on to the 5,000-year-old granite stone, which is one of the main attractions at the former seat of the High Kings of Ireland.
The incident was described as a "desecration" by Nick Killian, an Independent councillor and Cathaoirleach of Meath County Council.
Gardaí said there have been no arrests and investigations are ongoing.
An OPW spokesperson said extensive security measures were in place across heritage sites under its care and, where deemed necessary, are designed to be proportionate to address "a real, pressing and substantial problem".
"A number of heritage sites, particularly those located in rural settings, can often offer unhindered public access," the spokesperson said.
"The installation of security measures in rural settings can pose a challenge in terms of available infrastructure and the visual and physical impact on the site. As such, physical security measures are not always a feasible option.
"The OPW in such instances relies on public support for the protection of the national heritage estate, particularly in being vigilant in reporting damage to Monuments as with the recent vandalism to the Lia Fáil. Public support is essential in order to foster greater understanding and appreciation of the need to conserve such an integral part of Ireland's historic environment."