As plans to harness the unlimited resource of off-shore wind for power generation off the Irish coast advance, fishers have expressed fears their livelihoods are at risk.
Hundreds of wind turbines will be installed over the next seven years, many of them located in or around vital fishing grounds, especially in the Irish Sea.
They are a key part of Ireland's climate action plan which aims to have 80% of Irish electricity generated through renewable sources by 2030.
Dozens of off-shore windfarms are being talked about, but currently seven projects are advancing rapidly.
In December, the projects received Maritime Area Consents from the Department of the Environment, allowing them to bid for supply contracts in an upcoming energy auction and to advance their planning applications which go straight to An Bord Pleanála.
Six of the mooted sites are in the Irish Sea and fishers say they coincide with some of the best fishing grounds, which families from Co Louth to Co Wexford have been fishing for generations.
We need your consent to load this rte-player contentWe use rte-player to manage extra content that can set cookies on your device and collect data about your activity. Please review their details and accept them to load the content.Manage Preferences
Safety 'a big concern'
Peter Lynch is skipper of the Atlantic Freedom, based in the port of Howth in north Co Dublin. At this time of year, he is fishing for whelks, a type of sea snail.
He fears fishers will be excluded from the best areas or be unable to fish with pots or nets because of possibly snagging undersea cables and infrastructure or getting caught around turbines.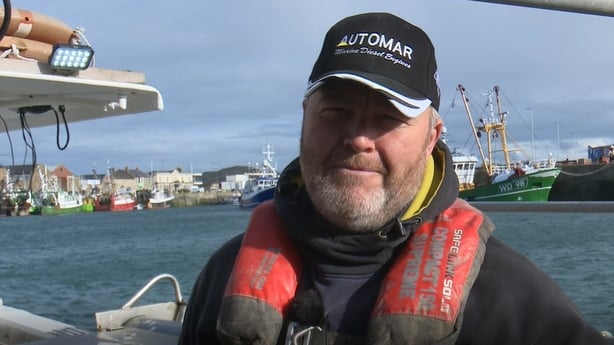 He said: "We could be pushed off our fishery and not be able to fish through the construction phase and then when they are operational but also the unknowns are, how whelks in particular will react to the drilling and construction phase and all the noise.
"Safety is also a big concern. On a day when it's very windy and you get a strong tide, we're picking up a rope and hauling for 6, 7 or 800 metres...any problem happens, like a foul up on gear or something happens to the engine, you break down, where do you drift.
"There is only 800 or a 100 metres between these windmills and what's going to happen if someone hits one? "
At the moment offshore windfarm developers are engaging with the fishing community and also with onshore communities in areas where massive wind turbines may be visible from land.
There is also a Government established Seafood Offshore Renewable Energy Working group for fishers and developer discussion on matters arising from the interaction of the seafood and offshore renewable energy industries.
Fishers feel the most important thing they need to have input on is location of turbines on sites.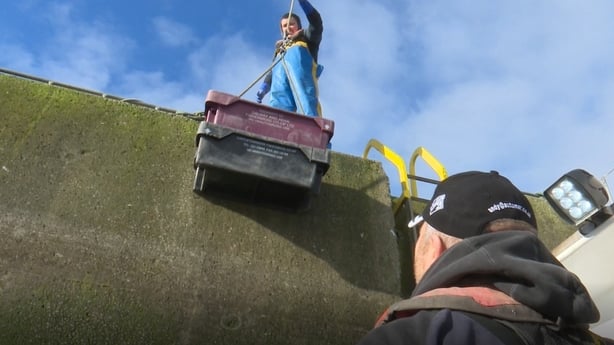 John Lynch - a brother of Peter - is also CEO of the Irish South and East Fish Producers Co-op.
"We've had many, many meetings and many, many consultations with Offshore Renewable Energy (ORE) people but they have never talked to us about the substantive issue of location.
"The fishing industry accepts ORE is coming and we have to compromise on its introduction into the marine space. In that regard we are more than willing to talk to any developer about the least worst option for location on a site. Up to this point we have not had that conversation with anybody," John Lynch said.
He said some of the seven projects that are moving forward are in very sensitive fishing areas.
"One area in particular is the Dublin Bay Prawns or Nephrops fishery in the north Irish Sea. If that area is taken over by a wind energy site, fishing is out of the question, so you have to go someplace else."
If fishers' concerns are not addressed they said it is open to them to object to projects through the upcoming planning processes or even through the courts.
John Lynch said it may get to the point that fishers will have to be bought out if they can no longer fish.
'Find a way' to share marine space
However, the offshore wind industry is stressing that it wants to co-operate with fishers. The industry acknowledges that offshore energy developments will bring some disruption, but they want to engage with stakeholders.
Director of External Affairs with Wind Energy Ireland Justin Moran said: "We need to be able to deliver the offshore wind energy required in our climate action plan, to de-carbonise the energy supply.
"We need to do that with key stakeholders and the fishing community is at the heart of that. We cannot deliver offshore wind without sitting down with that community.
"We need to find a way we can share the marine space."
Mr Moran pointed out that projects for which planning applications will be submitted by year end are now being designed.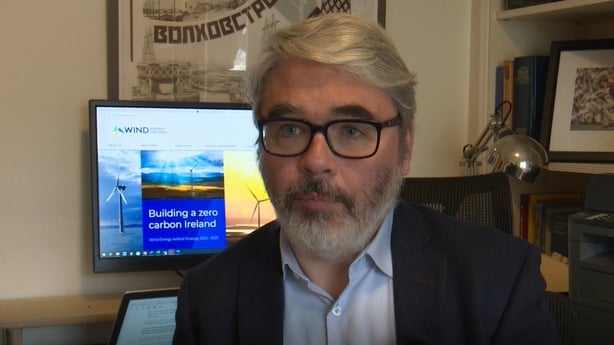 "Applications need to have information on turbine layout and spacing and so it is at this point in time that kind of conversation can start. We are not going to deliver projects without working with fishermen."
He also dismissed any notion that the industry would seek exclusion zones around wind farms once they are in place.
"We absolutely do not want, and we have never called for blanket exclusion zones around windfarms and in fact it would be helpful for Government to come out and make it clear it's not something that either industry or Government want."
Regarding fishers' fears about fishing around or within wind farms, he points to experiences in other countries.
"When you look at other European markets, fishermen travel through windfarms, fishermen are able to fish in windfarms. There absolutely are challenges but those are challenges we need to be able to address by enabling the offshore wind companies to sit down with fishermen and figure out how best to develop offshore wind farms. "