The Office of Public Works (OPW), which has responsibility for public buildings, says that "in light of recent developments regarding CCTV" it is to review best practice.
The OPW said it would "implement any recommendations as necessary" after a review "in collaboration with industry experts".
The Cathaoirleach of the Seanad earlier said that the Oireachtas Commission, which oversees the running of Leinster House, should reflect on concerns raised over Chinese made security cameras on the campus.
The Irish Council for Civil Liberties called for a suspension of thier use pending a review.
A Green Party TD has written to the Ceann Comhairle of the Dáil asking him to review the use of Chinese-owned security cameras in Leinster House.
Hikvision is part-owned by the Chinese state and there have been allegations of links to the Chinese military too.
In a statement to RTÉ News, the OPW said: "It is normal practice that the OPW does not release information regarding security installations. The OPW regularly consults with industry experts, including An Garda Síochána, with regard to these systems and installations."
The Irish Council for Civil Liberties had said that the European Parliament, Denmark, the UK, the US and Australia have banned or removed Hikvision cameras from their parliaments.
Speaking on RTÉ's Morning Ireland, Green Party TD Patrick Costello said the cameras are broadly used throughout Leinster House, both inside and outside the complex and are visible in many corridors.
He said that in recent days, Australia has sought to remove the CCTV cameras from its parliament buildings.
Several countries are removing them "because of concerns around spying and because of concerns around security leaks", he said.
Already mobile phones are being banned from Cabinet meetings due to "security concerns", according to the new Cabinet handbook, he said.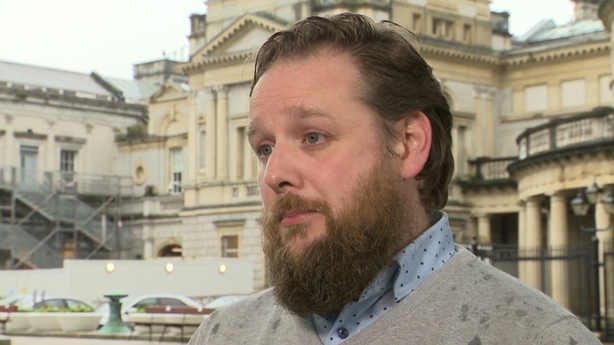 Mr Costello said he is asking for a review of the use of the cameras, with his concerns partly because of the company's links to the Chinese state.
He cited the example of Pegasus, a piece of software that can get into someone's phone that can be used to extract data.
"There's a large number of scandals around the use of Pegasus. When the UK, the United States and Australia, who know a thing or two about spying and espionage, are flagging these things as a security risk, we've got to start asking questions," Mr Costello said.
He added that Hikvision cameras have been linked to risks by the UK, the US and by Australia.
"So, what I'm asking for is a review of the security around these cameras. As I say, countries that know a lot about espionage are highlighting these cameras as a security risk."
We need your consent to load this rte-player contentWe use rte-player to manage extra content that can set cookies on your device and collect data about your activity. Please review their details and accept them to load the content.Manage Preferences
The Cathaoirleach of the Seanad Jerry Buttimer said that security in the building is "of huge importance and one we take seriously".
"Anything that may potentially compromise this must be investigated," Mr Buttimer said.
"CCTV cameras are effective inside Oireachtas buildings to protect staff and members.
"I think we must reflect on the issues raised regarding CCTV camera use within Leinster House at future meeting of the Oireachtas commission."
ICCL Executive Director Liam Herrick said there are no suggestions that the "cameras themselves are storing information, but they are connected to servers which can go on to communicate the information".
Speaking on RTÉ's Today with Philip Boucher-Hayes, Mr Herrick said that somebody has to be responsible for national security" and there are issues with surveillance technology that need to be addressed.
"We have a difficulty here about surveillance technology more generally. Companies are very aggressively selling this technology to public and private sector bodies, and very often the people that are involved in the procurement process are not sensitive to national security or human rights questions, and may indeed in good faith buy technology without understanding or considering what the implications might be."
In a statement, Hikvision said that it is "categorically false to represent Hikvision as a threat to national security" and that "no respected technical institution or assessment has come to this conclusion".
"As a manufacturer, Hikvision does not store end users video data, does not offer cloud storage in the Republic of Ireland and therefore cannot transmit data from end users to third parties," the statement added.
"Hikvision cameras are compliant with the applicable Irish laws and regulations and are subject to strict security requirement."
Mr Costello said he is not reassured by the statement, because Ireland needs to ensure that the General Data Protection Regulation (GDPR) is effective and well implemented.
A spokesperson for the Oireachtas said that it does not comment on security issues.
Additional reporting: Tommy Meskill and Paul Cunningham