The Food Safety Authority has extended its recall of raw chicken products due to the possible presence of salmonella.
The products are being recalled by processor Western Brand and were on sale in Aldi, Lidl, Dunnes Stores and Tesco. Other products were sold under BWG's Glenmor brand.
The affected products include chicken fillets, mini fillets and small chickens and have best before dates ranging from 5 to 7 February.
Consumers are advised not to eat the implicated batches.
Retailers have been asked to remove the implicated batches from sale and to display point-of-sale recall notices in stores where affected batches were sold.
It is the second time in as many weeks that Western Brand has issued a product recall due to the danger of salmonella contamination.
It follows confirmation that salmonella was found on eight poultry farms late last week.
In a statement this afternoon, said: "The Food Safety Authority of Ireland (FSAI) today advises that a precautionary extended food recall is under way by Western Brand of a number of specific raw chicken products due to the possible presence of salmonella.
"This recall is linked to the ongoing investigation by the Department of Agriculture, Food and the Marine into incidences of salmonella infection in a number of broiler flocks.
"To date, there have been no confirmed cases of human illness linked to this investigation.
"The FSAI is warning consumers who may have the affected chicken products at home not to eat them."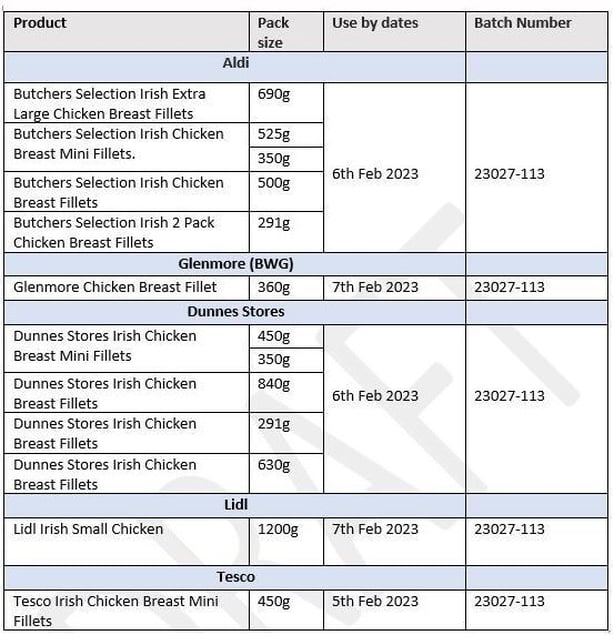 FSAI Chief Executive Dr Pamela Byrne said: "Just as a reminder to consumers, raw chicken should always be handled hygienically to prevent cross contamination with ready-to-eat food and raw chicken should never be washed.
"Always wash your hands after handling it and always wash any utensils you've used to prepare it. Raw chicken should always be cooked thoroughly before eating it."
---
Read more:
What is salmonella and how do you avoid it?
---