There has been a notable increase in people contacting the Irish Network Against Racism (INAR) who have been subjected to racist incidents in recent weeks.
INAR's racist reporting system takes reports of these incidents and combines them in an annual report, which is published annually in March.
However, member organisations - which include community and anti-racism groups - and participants at INAR workshops around the country have said they are living in fear.
Its director, Shane O'Curry, says anxiety has been heightened due to protests over accommodation centres.
"People understand that the direct targets of this hatred are the people living in accommodation centres, but they also sense that for the minority people on the outside, they are also the real targets of this, and people are picking up on the fear," he said.
This week, Minister for Justice Simon Harris said that while people have a right to protest, he asked communities not to allow their concerns or views to be hijacked by the far right.
But he also acknowledged that people have concerns and views, and this has been echoed by the Minister for Integration Joe O'Brien.
Minister O'Brien stressed the importance of distinguishing people who have legitimate questions and concerns to "intimidatory movements".
He called on communities to "walk away from that" because he said there were better ways of improving communities.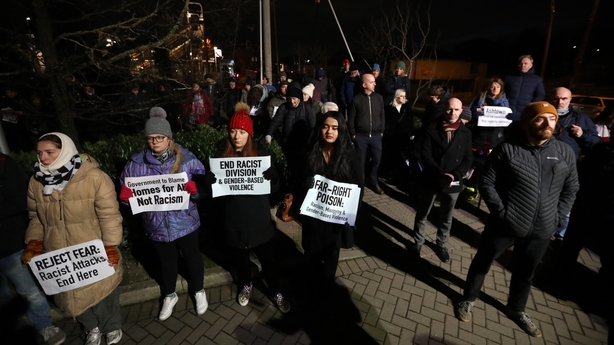 According to INAR, the problem lies in decades of neglect of communities by the Government.
Mr O'Curry believes that much of the anger on the streets is a reaction to cuts to services like community development, lack of housing security, the cost-of-living crisis and job insecurity.
He says all these factors are combining to make people's lives insecure and anxious, which is making them feel frustrated and angry.
"Without people articulating those frustrations, cynical manipulators are stepping into the void and spreading rumours and directing that anger towards scapegoats in the community," according to Mr O'Curry.
In Mullingar last night, around 300 people gathered outside the gates at Columb Barracks, to protest plans to accommodate 120 international protection applicants on the site.
The protest, which was organised by a group called 'Mullingar says No', marched to the town square before returning to the gates of the barracks.
Two protesters who were from Mullingar said Ireland was struggling due to the housing crisis and priority needed to be given to Irish people first. "Enough is enough," they said.
They also expressed concern over 120 men moving into the site.
The Department of Children said Columb Barracks would be temporary refugee accommodation and the intention was no person would stay more than three weeks before being moved on. Local people mainly attended the protest in Mullingar which was peaceful overall.
There were also some supporters from Dublin in attendance.
"I am very concerned; this is something you can see throughout the European Union" @EP_President @RobertaMetsola on anti-refugee protests, far-right influence and the responsibility Ireland has in helping to take in refugees displaced from ongoing world conflicts.#rtept pic.twitter.com/DVb62Aboz0

— RTÉ Prime Time (@RTE_PrimeTime) February 2, 2023
Call for leadership on addressing issues
Earlier this week in Dublin there were extreme protests, with online videos showing violence being threatened against migrants and gardaí.
Professor Mary Gilmartin of the Geography Department at Maynooth University is currently undergoing research on the process of migrant integration.
She says migration is the latest iteration by the far right; tapping into fears and difficulties around housing, healthcare and access to services.
Prof Gilmartin echoes the view of Shane O'Curry - that much of what we are seeing now is down to Government policy and getting a market to provide rather than the State.
INAR has called for leadership from the Government which it says means addressing the housing crises, cuts to services and providing more money for communities hosting people.
It has also reiterated its call on the Government to implement its national action plan on racism which is two years overdue.
The Government announced funding of over €44 million as part of Budget 2023 towards Social Inclusion and Community Activation, but it will take time for this to trickle down.
Prof Gilmartin points out that some communities that have done extremely well in organising themselves and helping people who arrive.
However, arrival of people can be swift, and Minister O'Brien has accepted that more needs to be done in that regard.
"Once we find shelter for people, we move them there as quickly as we can. That's problematic because very often we bring people into communities at very short notice. I understand that when that happens, people have questions," he said.
The department is working on a model to "engage communities a bit better beforehand". However, he said the timeline would still be tight.