A former British soldier convicted of the manslaughter of a Co Tyrone man going to a GAA match 35 years ago has been given a suspended sentence.
Former grenadier guardsman David Holden was given a three-year prison sentence suspended for three years for the killing of Aidan McAnespie in the village of Aughnacloy in February 1988.
That means he will not go to jail unless he commits another criminal offence punishable by imprisonment within the next three years.
Mr McAnespie was hit in the back by one of three bullets Holden fired from a heavy machine gun at a British army checkpoint.
Holden, 53, was convicted of gross negligence manslaughter in November last year.
He was the first veteran to be found guilty of a historical offence in Northern Ireland since the Good Friday Agreement.
Holden had admitted firing the shot that killed Mr McAnespie, but had said he had discharged the weapon by accident because his hands were wet.
But trial judge Mr Justice O'Hara said he was satisfied beyond reasonable doubt that Holden was guilty of manslaughter by gross negligence.
He found that Holden had pointed a machine gun at Mr McAnespie and pulled the trigger, while assuming the gun was not cocked.
During the trial, the court was told that Mr McAnespie was a "person of interest" to the security forces.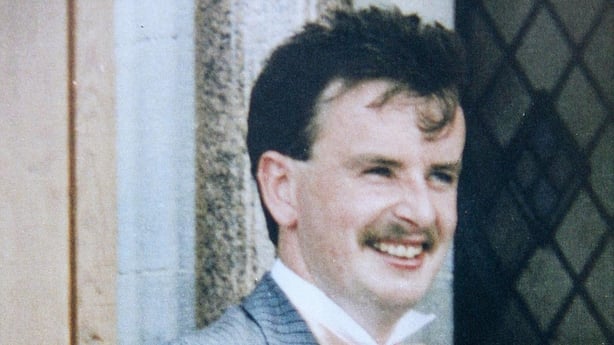 He had complained of regular harassment at the checkpoint and often parked his car and walked through the checkpoint to the GAA grounds to avoid lengthy delays caused by searches of his vehicle.
In a plea for mitigation in court last Friday his barrister argued for a suspended sentence, citing other cases of negligent military weapon discharge resulting in death.
Frank O'Donoghue said it would be "unjust and unfair" to impose a custodial sentence.
But prosecution barrister Ciaran Murphy told the court the McAnespie family had suffered a profound loss and that Holden had taken an enormous risk when he was in no danger.
Family wanted 'truth and justice'
Mr McAnespie's brother Sean McAnespie said his family had not wanted a "pound of flesh", but "truth and justice".
He said: "The suspended sentence is disappointing, but the most important point is that David Holden was found guilty of the unlawful killing of our brother Aidan.
"We are glad we had our day in court. David Holden could have given an honest account of what happened that day but didn't. The judge was clear he had given a deliberately false version of events.
"Prior to his killing Aidan suffered extensive harassment from the security forces for over ten years.
"Not a day passes when we don't miss Aidan.
"He (Holden) had a chance at the start of this trial to come out and tell the truth and admit what he done. He dragged us through the courts for years. We lost our father and sister in the duration of that.
"We weren't looking for a pound of flesh. We were looking for truth and justice."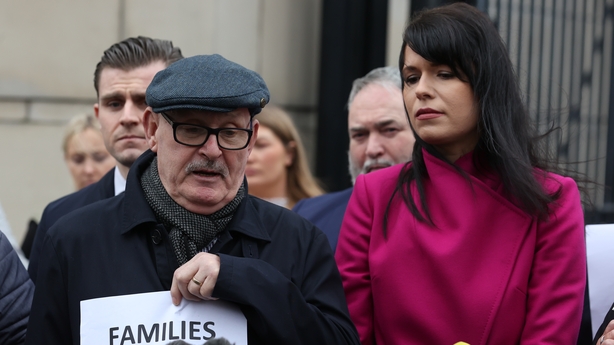 Grainne Teggart, Amnesty International UK's deputy director in Northern Ireland, said justice had finally been served for the McAnespie family.
She said: "Today is testament to the family's admirable courage and resilience.
"This case shows that accountability before the law is still possible and must continue.
"It is vital the UK government shelves its Troubles bill so other families can also get justice.
"Justice delayed does not need to be justice denied, but that's what many victims will face if the government continues with its gross betrayal by closing down all paths to justice.
"The government's claim that the bill is about delivering for victims is completely disingenuous. Recent proposed amendments pretend to answer people's concerns but as the overwhelming opposition demonstrates, no one is buying it.
"It is not too late to put victims at the centre of legacy processes and vindicate their rights."
Brian Gormley, cousin of Aidan McAnespie, said the sentencing was the end of a long journey for the family.
He said: "The most important thing in this case is that David Holden has been found guilty of the unlawful killing of Aidan McAnespie.
"Many other soldiers and many other members of the security forces could also have been up in that court today.
"David Holden has had ample opportunities to give an honest version of events which happened on that day. He didn't take that opportunity.
"We came here with an open mind. It is not in our power to give out sentences."
Additional reporting PA