Up to 200 people have gathered for a peaceful protest in Ashtown, Dublin to voice their concerns over growing racism in the area.
Organisers say minorities in the diverse community of Dublin 15 are experiencing racism and are living in fear.
It follows an attack on a migrant camp in Ashtown at the weekend where a number of homeless men were living.
Minister of State for Integration Joe O'Brien has said he is "shocked" and "disgusted" by the attack.
A group of men with dogs, sticks and a baseball bat attacked the camp in a wooded area on the outskirts of Ashtown on Saturday afternoon.
A small group of men, from Poland, Croatia, Hungary, Portugal, India and Scotland, had been living at the camp since August.
This incident was witnessed by Irish Times journalist Kitty Holland, who was at the camp interviewing the migrants when the attack happened.
This morning, Mr O'Brien, who is a Green Party TD representing Dublin Fingal, said he has worked in the area of migrant rights for over 20 years and has never been more worried about the safety and security of migrants in the country than he is now.
Speaking on RTÉ's Today with Claire Byrne, Mr O'Brien said the Government is working to ensure that people who come to Ireland seeking refuge and protection are at the very least provided with safety, security and shelter.
He said most people with families and particular vulnerabilities have been accommodated over the last week.
"We are going through a spell over these next few weeks where it is going to be extremely tight and we just can't give that guarantee at the moment," he said.
"I would ask all those who my department is negotiating with, be they private entities or other State entities, other State bodies as well, to help us out during this particularly difficult crisis time over the next couple of weeks."
The minister said more State owned or controlled accommodation is needed, and there is too much reliance on private providers.
"We have human rights obligations that we need to fulfil as a State and we can't be relying on private providers to do that," he added.
We need your consent to load this rte-player contentWe use rte-player to manage extra content that can set cookies on your device and collect data about your activity. Please review their details and accept them to load the content.Manage Preferences
Speaking on the same programme, former Assistant Garda Commissioner Dr Pat Leahy said the attack will not come as that much of a surprise to people "because we can see how things have been developing over time".
He said it is essential that communication and getting the message out is in the hands of the State and State agencies.
"Unfortunately, effective communication is an essential element of every crisis management context and if you fail to manage the communications and manage the message, someone else will," he said.
"And that's what's happening at the moment so it really is essential that communications and getting the message out there is in the hands of the State and State agencies.
Taoiseach Leo Varadkar described the attack as "very disturbing" and said he would seek a report from gardaí as it requires a full investigation.
Speaking on Newstalk, Mr Varadkar said the incident "has the feel and look of essentially a racist attack".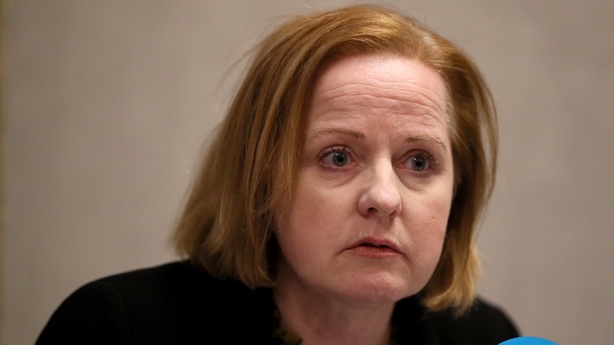 Former Socialist TD Ruth Coppinger, along with the Action Against Gender Violence group, organised the demonstration this evening in direct response to the attack on the camp.
Speaking on RTÉ's Morning Ireland, she said she was "horrified" by the attack, which she described as a "sickening low in a recent spate of events that have been stirred up by people who are racist or connected to the far right".
She said that if journalists and photographers were not present at the time, "there could have been somebody injured or killed".
"And I think that's why it's so important for the entire community and for people who are concerned about this developing racism to come out this evening at six o'clock in Ashtown, where we're going to stand out against racism because Dublin 15 is an extremely diverse community, so is Ashtown, and what's happening now is that minorities are really fearful and they're experiencing more racism," Ms Coppinger said.
"It isn't just about migrants or people who are homeless. It's also anyone who looks different and isn't Irish, and let's be clear - this was a racist attack. It was preceded ... by online commentary."
She added that the far right are linking migrants to rape and violence against women, which is "the oldest racist trick in the book, to attach migrants to sexual violence".
"We have to reject any notion that migrants are associated with violence against women," she added.
"This is male violence against women, which is the problem. It's a global pandemic, it's preceded any migrants coming into the country en masse, and if there's any evidence that any of these men were linked well, then why hasn't it been brought to the gardaí?"
Ms Coppinger said these types of camps are becoming a common feature.
"Even the council is allowing them to happen, the gardaí know they're there," she said.
"There's other couples living along the Tolka Park ... right beside the Tolka and these people are victims of the housing crisis and of a decade or more of successive governments allowing vulture funds developers to profiteer from the shortage of housing, to set the price, to set the supply. And the councils are directly responsible.
"Fingal County Council did not build one house of its own last year, and that is the reason we're in this situation and I lay the perfect storm that's generating now for the far right at the door of the government."
She said that the attack on Saturday is the first that she is aware of against homeless people, but she believes that is because this was a group of non-Irish people.
"But there have been reported incidents of people experiencing much more racism of late because of the climate that's been stirred up by the far right," Ms Coppinger said.