School places for children arriving here from war-torn Ukraine may soon be exhausted, officials have warned the Government.
They also said that some housing supports have proven to be unpopular with developers.
The warnings are contained in a briefing document for Paschal Donohoe, seen by RTÉ's Morning Ireland, which was prepared for him when he became the new Minister for Public Expenditure and Reform following the Cabinet reshuffle last December.
The briefing note, obtained under Freedom of Information, highlights some of the major challenges for the department as well as costs facing the taxpayer.
Officials warned the minister that the Department of Education faces "significant cost and capacity pressures" arising from children arriving here Ukraine.
They stated that the initial influx of students was accommodated by utilising the existing capacity in the system.
However, much of this excess capacity has now been "exhausted" and further increases in the student population will require capital investment, according to the briefing document.
As of 22 December last, 13,753 Ukrainian pupils have been enrolled in schools across Ireland. Of these, 8,823 are in primary schools while 4,930 are in secondary schools.
Director of the National Association for Principals and Deputy Principals Paul Crone said: "What we're hearing from our members is there are capacity issues in some schools in rural areas where there are, perhaps, a lot of refugees living in holiday homes.
"Overall, there is capacity at second level within the system apart from pinch points in particular locations - but schools are doing their best to accommodate all students, wherever they may be."
In a statement, the Department of Education said it acknowledged there are pressure points in certain areas of the country regarding accommodation patterns for refugees.
It added that it is anticipating "significant challenges" in ensuring sufficient school places are available for September 2023, particularly at post-primary level.
The department said that schools continue to be supported through Regional Education and Language Teams to address the education needs of children arriving from Ukraine.
Housing completion targets under threat
The briefing document also warns that housing completion targets are under threat - mainly due to construction inflation and interest rate increases.
The overall delivery target of 29,000 new units for 2023 is described as "challenging".
The minister was also told that there has been a lower than anticipated interest from developers in what is described as the "complex" Croí Cónaithe Cities Scheme to help fund apartment developments that are otherwise deemed unviable.
Officials advised Mr Donohoe that more needs to be done to activate housing delivery on publicly owned land and urged him to examine options to "curb further exits" of landlords from the private rental market.
Ireland at risk of exceeding carbon budget
On climate-related expenditure, the briefing document warned that the State will have to continue to pay fines to the European Union in relation to missed emissions targets.
Officials explain that failure to reduce our greenhouse gas emissions in line with domestic and EU targets will also lead to reputational damage.
And they warn that Ireland is at risk of exceeding its first carbon budget.
Friends of the Earth Chief Executive Oisín Coghlan said: "It's really good to see senior officials in the Department of Public Expenditure and Reform flagging the challenges Ireland now faces in complying with our national law and EU obligations on climate.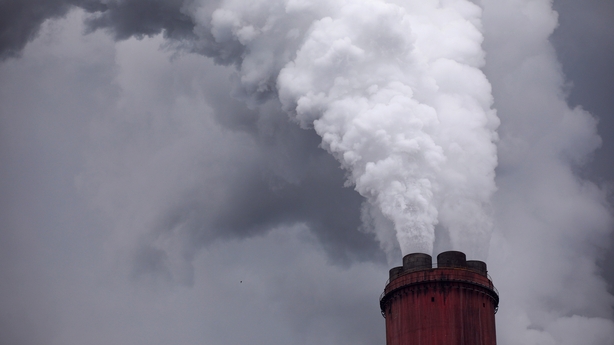 "It shows responsibility for climate action is spreading throughout Government, away from just the Minister for the Environment.
"Obviously this needs to translate now into real action. Emissions have to fall this year if the Government's credibility on climate is to be maintained.
"We will face stiff European penalties if we miss targets, as we have in the past."
Mr Coghlan added: "It would be very wasteful to be spending money on compliance fines when we could be investing it in warmer homes, lower fuel bills and better transport."
Pension risks
Other issues flagged in the Department of Public Expenditure briefing to Mr Donohoe include the "long term serious risk to the sustainability of Government expenditure" posed by an ageing population.
Ireland will only have two workers for every person at pension age - as opposed to four today - by 2050, if current demographic trends continue.
The "relatively slow pace" of widespread digital transformation across the Civil and Public Service is cited as a continuing "cause of concern".
Officials also warn that the required legislation to put the Office of Government Procurement on a statutory footing has not yet been enacted and advise that "this should be advanced as soon as practicable".