The co-founder of the Movement of Asylum Seekers in Ireland has said he has seen an increase in hate and demonisation towards those seeking refuge and asylum in Ireland in recent months.
It comes as politicians and community activists in Ballymun in Dublin have been raising concerns about protests against asylum seekers staying at a local hotel.
The protests continued evening yesterday, in scenes Minister for Housing Darragh O'Brien said "deeply disturbed" him.
The Department of Integration has said the hotel currently houses 221 people, comprising of couples, families and single people.
Speaking on RTÉ's Morning Ireland, MASI co-founder Lucky Khambule said hateful rhetoric towards those seeking refuge is rising, and becoming organised.
"It is rising, it is continuing, it is organised and is moving from one place to another," he said.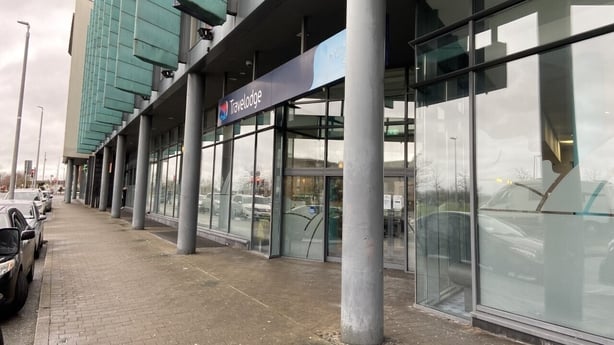 One woman described how a young girl at the Travelodge Hotel in Ballymun feared for her life.
The 40-year-old from South Africa said that the hostility is "now starting to affect the children as well".
The woman said that as the protest got under way, asylum seekers saw people "chanting, pointing at us", and "we realised - here we go again. We are in trouble."
One six-year-old girl asked, "Are they gonna come inside? What's gonna happen? Are they going to shoot us?"
"People are just scared, honestly," the woman said.
"It is good that there are lots of words of condemnation from leaders. We want to see that, but we want to see an end to it because it is escalating," Lucky Khambule said.
He revealed that he has spoken to residents prior to one of the protests last weekend, who said they were scared.
We need your consent to load this comcast-player contentWe use comcast-player to manage extra content that can set cookies on your device and collect data about your activity. Please review their details and accept them to load the content.Manage PreferencesPoliticians and community leaders have condemned the protest
'Stay safe'
"What we said to them was they need to stay safe and stay indoors, but it became an issue for people who are not in the hotel by the time the protest starts because how do they get in? They don't know how long that protest is going to be," he said.
"During the protest, because I was there, listening to those chants from the people. The way people were scared ... they had to switch off the lights and just peep through the windows to see what was going on.
"This sense that I get is the fear and confusion as to why this is directed to them. What is it they have done? What are the grievances of the people who are protesting?"
Mr Khambule highlighted the case of one woman who had to hide in a local shop and wait for the protest to disperse before she could go home.
"What surprised me was the evident children that were in the protest, I'd say 12-13 years old, in that protest, and it just becomes chaotic. Yes the guards were there, but from my observation, nobody cares about us," he said, adding that those protesting were chanting "send them home".
"Send them home, send them home, that is their message, loud and clear, so that message gets heard by people who are seeking protection," he said.
"Ireland says 'send them home'."
We need your consent to load this rte-player contentWe use rte-player to manage extra content that can set cookies on your device and collect data about your activity. Please review their details and accept them to load the content.Manage Preferences
'Our hearts are broken'
A local Fianna Fáil councillor for the Ballymun-Finglas area has said those taking part in protests are not representative of the wider community.
Speaking on the same programme, Briege MacOscar said seeing the Ballymun community represented in this way was upsetting.
"My thoughts are firstly with the people who are living in those centres targeted by the protests. The testimonies we've heard are very upsetting," she said.
"To think children were looking out and hearing people say 'send them home', that's very upsetting."
Ms MacOscar said the hotel has been used for several years for emergency accommodation, whether it be for homeless people or asylum seekers.
She said that to see it suddenly being targeted now shows that "outside influences" were involved.
"It is shameful on those people and groups that they would come in and do this and target people in this way, especially when this facility hasn't been an issue the whole time it's been open," she said.
"That's because the people of Ballymun are welcoming, and they have solidarity with the more vulnerable in our community."
Ms MacOscar said she had not been at the centre to meet refugees in the last few days but she hoped to do so, depending on how the protests go.
"I would love the opportunity to meet the people who are affected because it is important that they know we're all with them," she said.
"Our hearts are broken looking at what is happening to them."
'Vast majority' of communities are welcoming
Fine Gael TD Richard Bruton said misinformation is a problem when it comes to anti-refugee protests.
He said that while he hopes the online regulator can take a role in this area, it is a difficult one to police.
"Whether that can be tackled by the platform controllers is slightly beyond my capacity, but we are moving towards a world in which their needs to be a better regulation of what gets published and gets traction, and that is starting to come with the online regulator," Deputy Bruton said.
"But how the Government can regulate that is difficult, because, as you know, in other countries they have resorted to other platforms that are unregulated, and that is difficult."
Mr Bruton said the "vast majority" of communities in Ireland "have shown a very welcoming approach" and it is a minority "who are trying to block this".
He said Ireland has a "huge responsibility internationally" at a time when people are being driven from their homes.
Calls for consultation with locals
One man from Ballymun, who took part in the protests, said nobody was consulted about the decision to accommodate more asylum seekers in the area.
Stephen Norman said he believes it was "totally unjustified that the people of Ballymun weren't notified."
He said "it is absolutely the working class areas" of Dublin that are being allocated people seeking asylum.
Mr Norman said he does not believe those involved in the protests are anti-refugee.
One local woman also said there has been a lack of information and consultation ahead of the arrival of asylum seekers in the area.
Natasha Dagger said "it's not that it's about race or anything like it, Ballymun is a really tight community and in times of need people do come to help."
However, she said "in this certain situation, we weren't given any notice as to what was actually going on, people were just seeing people coming in."
"People really needed a bit of knowledge as to where they were coming from, their background and all of that," she said.
Ms Dagger, who said she did not attend the protests, said: "From my point of view, if they did have knowledge, the protests wouldn't be going on because they would be notified."
"We'd be more welcoming if we had a lot more knowledge about what's actually going on. It's the fact that we're being surprised and it's the surprise element that's getting people and the unknown."
Additional reporting by Fergal O'Brien