Several venues across Ireland lit up this evening to to mark the UN International Day for People with Disabilities.
It comes as some disability campaigners welcome yesterday's signing into legislation of new regulations which mean more dedicated changing facilities catering for people with disabilities will be built in the new year.
There are currently fewer than 19 such 'Changing Places' in operation in Ireland and Minister of State for Local Government and Planning Peter Burke said making their provision a requirement in new buildings should result in more.
"These revised regulations will greatly enhance the lives of many people with a disability," he said.
"Changing Places toilets are needed to allow equal access to social activity and trips away from home for all citizens."
The Pretorius family from Dublin said more facilities cannot come soon enough.
Parents Adriaan and Dianna visited a new facility that has opened at Blanchardstown Shopping Centre in Dublin, which they said will make it easier to enjoy life as a family of five - including their 15-year-old son Ben, who uses a wheelchair and needs round-the-clock care.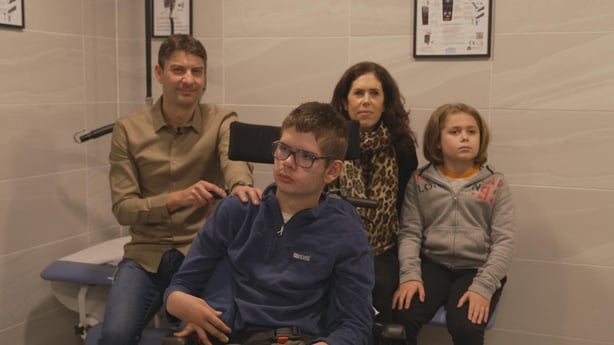 Three years ago, Ben's dad Adriaan filmed a video of him having to change his son on the floor of a disabled toilet in the shopping centre, to raise awareness about the lack of facilities.
Now he can use a dedicated space with a changing bench, hoist and screen.
Commenting on the video, he said making it had been an emotional experience.
"It was very hard at the time to do that but I feel like so many people don't know what we have to go through as a family, having a child like Ben, which is why raising awareness is so important."
Ben's mum Dianna said: "It just means we can all go together as a family, come over and have some food or go to bowling and just have a day out in the centre and it gives Ben his dignity."
She added: "I just hope that this will open other areas and other places for all the people with disabilities, so they too as a family can go out together."
Changing Places Ireland, which has campaigned for more of these rooms, has welcomed the new legislation.
Spokeswoman Michelle Merrigan from the Central Remedial Clinic explained the differences between a changing place and a regular accessible toilet.
"A changing place is 12x12 metres squared. It has a hoist and a changing bench for a child or an adult. It also has space on either side of the toilet for a carer, a key worker or an assistant, as well as the person themselves." A sink with an adjustable height and a screen should also be provided.
Research from the National Disability Authority suggests that up to 37,000 people with disabilities and their assistants in Ireland could benefit from these rooms.
Minister Burke said 650 submissions were received as part of their consultation on this with 95% coming from individuals with a disability or from their families, carers and friends.
It is hoped the legislation will result in at least one changing place in each local authority area within the next three years.
The revised Part M Building Regulation could also result in as many as 80 such toilets being added in new buildings each year, in venues including shopping centres, museums, galleries, cinemas, hotels, service stations and heritage sites.