Relatives of fatal road crash victims have appealed for people to take extra care at Christmas.
Elaine Cleary and Lauren Burke both lost a parent on Irish roads last year and have called for all road users to "expect the unexpected" this winter.
They were speaking as gardaí and the Road Safety Authority issued their annual Christmas appeal at an event in UCC.
On 6 December 2021, Elaine's mother Kathleen was involved in a fatal crash on the M7 in north Tipperary while on her way to visit a cousin in Limerick.
Elaine lived in north Scotland at the time and received a call from her son who lived with Kathleen in Thurles.
The gardaí had called to the door and Elaine was told to travel back to Tipperary "sooner rather than later".
"I will never forget that moment, I was just finished teaching my classes that day and was making plans to go to the beach for a walk with friends when I received the call.
"I knew instantly in my heart that the news was not good news and so I contacted my brother who lived in Sydney immediately, to advise him to get a flight to Ireland.
"I arrived in Limerick University Hospital the next day and had to make the heartbreaking decision to release my beautiful mother to God on the afternoon of 7 December 2021.
"My brother was mid-flight but her injuries were becoming too stressful on her body and we could not postpone any longer, it was her time for her to move on."
Elaine said her mother "was only getting started" at 69 years old, and that the family is still receiving messages from people from all over the world who knew her.
Kathleen had cycled the Waterford Greenway the weekend before the crash and had also been hillwalking with a local group.
She had also recently returned from a trip to Scotland to visit Elaine.
"Just two weeks previous to her crash she had been over visiting me in Aberdeen where we got Chinese takeaway on that Friday night, wrapped ourselves up warm and sat on a bench by the beach, eating, chatting, laughing, listening to the sound of the waves and looking up at the stars.
"We had a fabulous weekend together and I am so grateful for the memories I will treasure forever, bittersweet memories that make me smile and also serve as a stark reminder that I lost my mother in a road traffic crash on 7 December last year."
Elaine said that her message is for everyone to be careful of changeable road conditions this winter.
"Especially be aware of slowing down where you meet wet road surfaces. Be mindful of hailstones and other severe weather conditions that can occur quickly, changing the conditions of the road and adapt your driving, slow down," she said.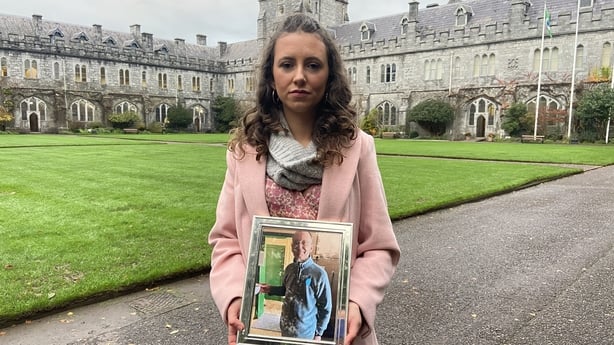 Lauren Burke's father Derek Horan died in a crash on 11 December 2021.
Lauren had been at a local rugby match with her parents and was making plans for their Christmas together.
After the match, Derek got a bus home and was involved in a collision just moments after getting off the bus.
Lauren said that receiving that phone call "was the hardest thing".
"I never imagined that something like this would happen to me or my family. The shock and sorrow of losing someone you love in a fatal road traffic collision can't be put into words.
"The pain my family and I feel every day, because this could have been prevented and knowing that is such a difficult thing for us to come to terms with, it is heartbreaking."
She appealed to all road users to take care and to remember that each road death "isn't just a statistic we hear on the news. It's people's lives. It's my life".
"We all use the roads every day, multiple times a day, yet we forget that it's a very dangerous place to be.
"So, I urge everyone to slow down, stay alert and take extra care on the roads this Christmas and always expect the unexpected."