Details of a new scheme to encourage people to recycle their drinks bottles and cans have been announced.
Under the Deposit Return Scheme, to be introduced in February 2024, anyone who buys a drink will pay a small deposit for the plastic bottle or can container.
Customers get their money back when they return the container to a retailer or other collection point to be recycled. The deposit is set to be 15 cents for cans or bottles of up to 500ml and 25 cents above 500ml.
Around 1.9 billion drinks in bottles and cans are consumed in Ireland every year.
Minister of State with responsibility for Communications and Circular Economy Ossian Smyth said bottles and cans can be returned to any relevant shop, not just where the drinks were purchased.
Options on return machines will include choosing to spend the money in the shop, receiving cash, or donating to charity.
Shops and retailers need to register for the scheme, which the minister said is cost neutral, adding that the shop will retain a small fee.
The scheme will be operated by Deposit Return Scheme Ireland CLG, trading as Re-turn, which was appointed by Mr Smyth in July.
All producers and retailers are legally obliged to register with Re-turn. Registration is open from today at www.re-turn.ie.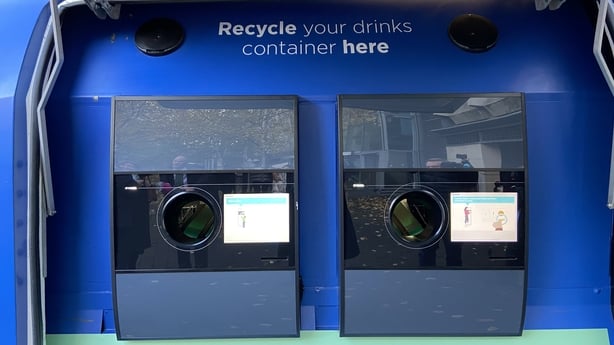 Speaking on RTÉ's Morning Ireland, Mr Smyth said it is a scheme that pays for itself and everybody along the line who handles the goods has to be compensated for their work.
He said that despite people recycling already, nearly two billion bottles and cans a year are being used in Ireland.
"We are not recycling enough to meet our EU targets. We've got a target for 2025 and one for 2030, and in order to do that, we believe that we need to give people an incentive to bring back the bottle or the can," the minister said.
"Many people are putting it into their green bin, but it's just not enough and a lot are ending up on the ground. So, there is a lot of litter.
"A benefit that's going to come out of this scheme is that people are not going to have a party and leave a lot of cans and bottles on the ground because they're going to be worth money."
He said he is "sure that there is going to be far less litter as a result".
There are some machines in operation already, he said, but the scheme will be operational within a year.
The Chairperson of Deposit Return Scheme Ireland, Tony Keohane, said green bins in homes should no longer be used for recycling plastic bottles and cans once the scheme is introduced in February 2024.
He said in order to get deposits back, people will have to return to containers to the recycling locations.
"So there will be a change needed by consumers, but again, we're confident from the research we've done, we think consumers are up for this," said Mr Keohane.
In relation to the coffee cup levy, Mr Smyth said the consultation has just ended. An information campaign will be launched and it will begin next April.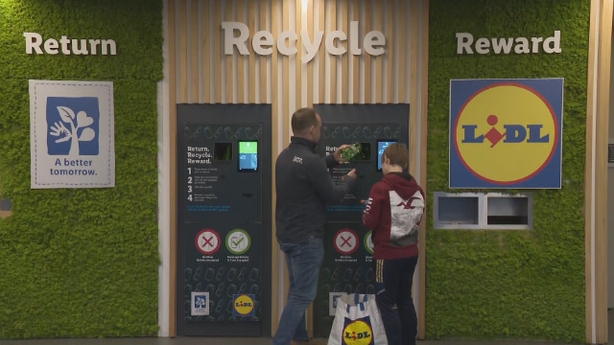 Lidl, which is among a number of retailers trialling Deposit Return Schemes, has collected almost 800,000 cans and bottles over the last year.
The supermarket has had its initiative in place since September 2021 in its stores in Glenageary in Dublin and Claremorris, Co Mayo.
By the end of September this year, customers had recycled over 775,000 of the drinks containers in reverse vending machines.
In return, Lidl has paid out more than €68,000 in vouchers to the customers, which can be redeemed in-store.
Lidl Director of Sales Organisation, Jillian Hughes, said the scheme was launched initially in Glenageary "to give customers benefits and to reward customers for recycling".
She said the measure has proven to be "very successful and really positive" and in particular it has been "a hit with kids in the local areas".
"It's a very good way to educate our kids and families on how to be more sustainable in our daily lives," she added.
Environmental groups have welcomed the new system.
Mindy O'Brien, Chief Executive of VOICE Ireland, said the scheme "is something we've been lobbying for and advocating for the past 20 years" and will be "a really good initiative to reduce the amount of litter".
She said the move was required to meet the EU Single Use Plastics Directive, under which there is a recycling target of 90% of plastic bottles by 2029.
"The only way we're going to meet that target is if we have a deposit return scheme, so we're delighted."
Ms O'Brien said the overall plastic recycling rate is around 30%, with the recycling rates for plastic bottles and aluminium cans around 65%.
"So, if you get both of those together at 90%, it will really reduce the amount of litter that we're seeing but also create a good quality recycling that can be used in other products," she said.