A former office block which was vacant for 20 years has been converted into residential homes as part of a €26 million redevelopment project.
The development at the Park West Business Park in Cherry Orchard in Dublin will become home to 200 people who had been on the social housing waiting list.
Around 9,000sq.m of office space spread over two blocks have been converted into 86 apartments. The building lay idle for two decades but has been given a new lease of life with residents moving in this week.
They include Jacqueline McKenna, who spent the last 11 years on the housing wating list.
"I'm over the moon today. It couldn't be happier. I just can't wait now to get ready and sort of move in... and get ready for Christmas," Ms McKenna said.
She showed RTÉ News around her one-bedroom apartment after she had just picked up her keys.
The fact that her new home was an office space does not bother her.
"It's amazing, you wouldn't think looking at it. And it's just gorgeous, plenty of size."
"It's an amazing idea," she said.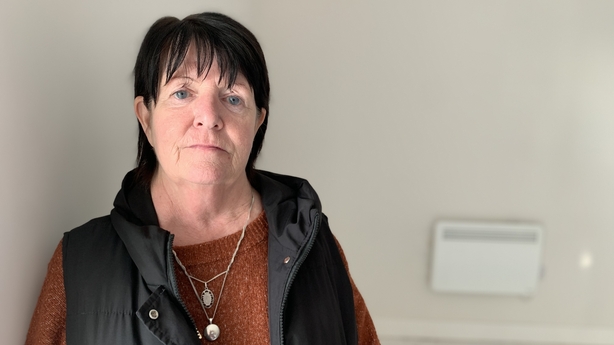 The conversion, which saw the four-storey office block turned into a five-storey residential development, took two years to complete.
The Park West Plaza development is thought to be the largest conversion of office accommodation into residential use.
It was delivered by charity Túath Housing with developers Harcourt Developments, in partnership with Dublin City Council.
"The main challenge of these type of projects is working within the existing fabric of the building, but we worked closely with the developer Harcourt, who have experience in other jurisdictions with this type of project," said Martin Loughran, director of property development with Túath Housing.
"They've done a great job and designed it well... and have completed it to a high standard."
There are some reminders though of the building's past life. There are concrete columns dissecting some of the apartments.
"Interestingly, some of the tenants actually are excited by the prospect of decorating things like the concrete columns that exist," he said.
"The other features that that you see is void spaces, for example, but the developers effectively converted those into community spaces."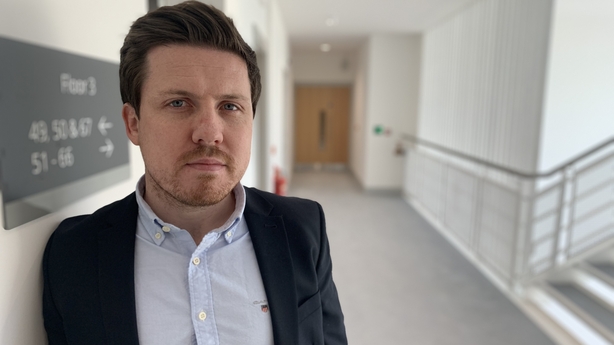 All of the homes have been allocated to people who were on the council's housing waiting list. They will pay a percentage of their income as rent.
The overall project works out at around €309,000 per apartment.
"So, the cost here on average is just over €300,000 which represents excellent value for money in the current market," Mr Loughran said.
"If we were to start from scratch and build these apartments out from the ground, it would be a significantly higher cost, so it ... represents excellent value for money to the State."
The charity says it hopes to carry out more office-to-residential conversions in the future and said it is working on similar project in Cork.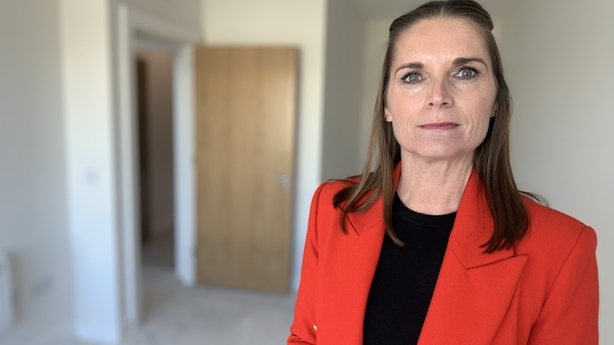 Alison Gorman, the director of housing with Túath, said: "It's great day. A lot of people are very anxious with the new move and new home, they are exciting times and lots to do.
"And then some people are just very happy because they're in an unstable situation and today they get stability with a roof over their head."
Ms Gorman said she thinks that office conversions could be part of the housing supply solution.
"I mean the residents when they're moving in, they're just delighted," she said.
"There's no evidence of them being too concerned that it was previously an office block at all, so you'd like to think for any unused office buildings across Ireland that it could be replicated. It's great to repurpose them."
As families begin their new start here, this once unused building has come to life.
"It's very much life-changing," Ms McKenna said.
"My own key and own hall door."