CEO of transport company Go-Ahead Ireland, Andrew Edwards, has insisted that the company's services will be at full capacity in "four to six weeks".
There has been widespread criticism of delays and cancellations on Go-Ahead services, which operates 30 bus routes in and around Dublin.
Speaking at the Oireachtas Committee on Transport today, Mr Edwards apologised to customers who have been negatively affected.
"I'm sorry to all of our customers for the experiences they have had", he said, adding that he is determined to rebuild trust in its services.
Mr Edwards said that "marked improvements" are being made, and that "overall complaints have dropped".
In his opening statement, he cited "staff shortages" as a main reason for the issues, explaining that efforts to get drivers on the road over the past number of months were hampered by "an unavoidable external backlog" in acquiring essential paperwork for commercial drivers.
He said Go-Ahead Ireland is addressing the problems, including recruiting 150 drivers over the past six months, with an additional 100 drivers "awaiting essential paperwork".
He said staff turnover had risen by 10-15% in the past year or so, adding that having a dedicated driving examiner in-house at Go-Ahead would speed up deployment.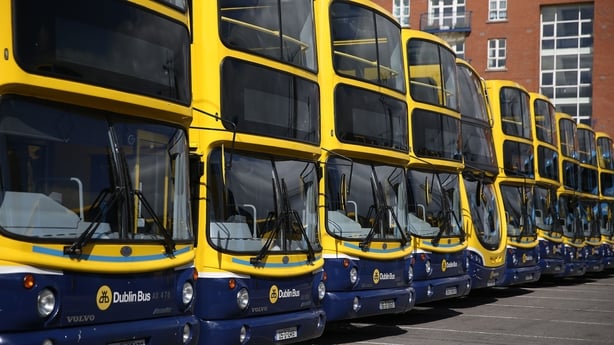 Also speaking at today's committee, the acting CEO of Dublin Bus apologised for failings in the real time passenger information (RTPI) services.
Andrea Keane acknowledged that "the reliability of RTPI systems has unfortunately deteriorated in recent months".
She revealed that the Dublin Bus app is being phased out, with passengers being moved to the Transport for Ireland app.
She added that software problems have exacerbated recent data inaccuracies.
"The inaccuracy of the data on the on-street displays in recent months was as a result of the higher than normal cancellation of services due to lack of drivers as well as a technical fault," said Anne Graham, CEO of the NTA.
She said increased accuracy resulting from "a number of fixes" will reduce the number of so-called ghost buses appearing on schedules.
"The impact of congestion on punctuality has intensified in recent weeks", Ms Graham said, adding that this too can lead to cancellations.
The "only solution" is to reduce the number of cars on the roads, she said.
Ms Keane expressed regret at disruptions to services and acknowledged that its on-time performance has fallen to 95%.
Despite recruiting "almost 290 drivers" this year, a further 150 are needed, she said, and pointed to 7,000 daily trips carrying 400,000 passengers - which is back to pre-Covid-19 levels.
Anne Graham, CEO of the National Transport Authority, said Dublin Bus paid fines of €1.5m in the first six months of this year for failures in its services, while Go Ahead paid €885,000 for its lapses.
The NTA also said it had written to the Department of Transport asking that permits for drivers from overseas be expedited.
Ms Keane also said Dublin Bus is open to the introduction of a dedicated garda unit to ensure safety on its services.
She said anti-social activity is "thankfully low", but that the incidents which do occur are "disturbing" and of "huge concern".
"Do you believe there is a need for a public transport police?" Committee Chair and Fine Gael TD Kieran O'Donnell.
"We are not against a network of dedicated police, but we would have questions as to how that would operate", Ms Keane replied.
"But you've an open mind?" pressed Deputy O'Donnell.
"Yes."