An event to mark the signing of the 1922 Constitution has taken place at the Shelbourne Hotel in Dublin this evening.
A committee drafted what became the country's first constitution 100 years ago.
It enabled the Irish Free State to come into being and many of its principles were adopted in the 1937 Constitution.
A dramatic re-enactment was staged tonight in the constitution room at the Shelbourne Hotel, around the very table where details of the constitution were thrashed out.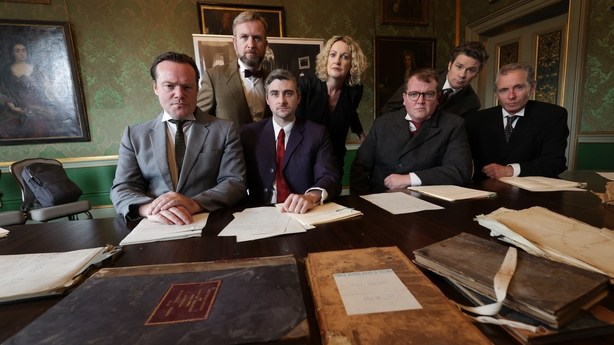 The committee met there over a period of six weeks.
On 25 October 1922, the third Dáil introduced and passed the constitution.
Earlier that year, a committee chaired by Michael Collins gathered to draft the Free State constitution.
Four solicitors, a writer, a Dublin businessman, an American lawyer and two professors were members of the committee.
They were Darrell Figgis, Professor Alfred O'Rahilly, Professor James Murnaghan, Hugh Kennedy, John O'Byrne, Kevin O'Shiel, Clemens J France, James McNeill and James Douglas.
The men have largely been forgotten by history, but historians say their contributions were hugely important at a seminal moment in Irish politics.
''The constitution was progressive for its time and really did enshrine the rights of the citizens of Ireland,'' said Orla McBride, Director of the National Archives.
''It established the governance, legal system and the executive of the Irish Free state'.'
Co-writer and Director Geoff Gould said he was more interested in the characters because he had never heard of most of them.
''We were really keen to get the idea of who these people were across rather than necessarily the inner workings of the system they were trying to achieve,'' Mr Gould told RTÉ News.
The Taoiseach, Tánaiste, Chief Justice and President Michael D Higgins attended the special performance.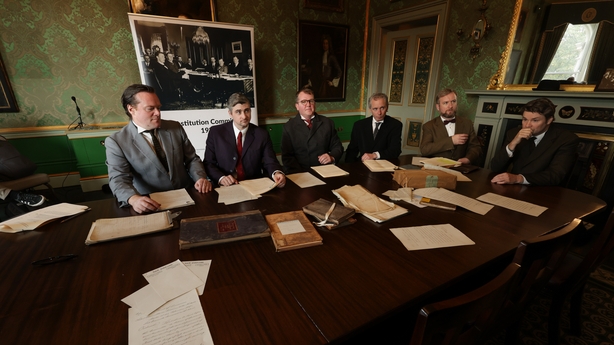 ''The vision and ambition that the nascent Free State invested in the drafting of a Constitution in 1922 demonstrated the desire of the Provisional Government to establish the machinery of governance that would fundamentally allow the new state to define itself and its future based on principles of equality and citizens rights,'' said Taoiseach Micheál Martin.
Tánaiste Leo Varadkar described the Irish Free State Constitution as a ''pivotal moment in our history, and a further step on our journey to full independence.''
Chief Justice Donal O'Donnell said it is important to mark the work undertaken 100 years ago to build the country.
''Bringing to life the records of the committee's deliberations through drama is a great way to commemorate and make the work of the committee and the enactment of the constitution more accessible for people," he said.
"We have been very fortunate to collaborate with the National Archives on this initiative."