Taoiseach Micheál Martin has said the Government will "do everything we possibly can to avoid and to prevent" Ukrainian refugees sleeping on the streets due to the accommodation shortage.
He said there would be a cabinet subcommittee meeting on the issue on Monday to assess accommodation capacity.
Speaking following the summit of EU leaders in Brussels, Mr Martin said: "We are doing everything we possibly can."
The Taoiseach said all European countries were facing pressures in dealing with Ukrainian refugees.
He added that Russia's recent targeting of civilian and energy infrastructure was designed to create a new wave of migration from Ukraine.
A statement from the Department of Children, Equality, Disability, Integration and Youth yesterday said over 58,000 people (42,000 Ukrainian, 16,000 international protection) had arrived in Ireland this year.
This figures compares with 7,250 at this time last year.
Minister for Health Stephen Donnelly said his department continued to be heavily involved in the effort to support Ukrainians coming to Ireland.
He said a long list of properties and sites had been drawn up to make buildings and lands available.
"After Cabinet met this week, I engaged again with my department and again with the HSE and said 'let's take another look.'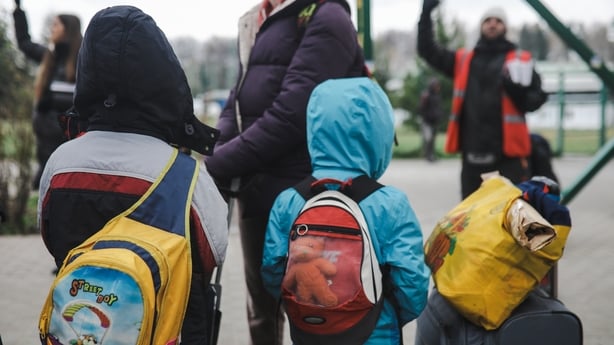 "And I can assure you that the HSE has already looked extensively at its estates portfolio, it's looked at the land, it's looked at the buildings and assessed what is usable now, what might require a bit of work to be upgraded.
All of the Government must work, my department, the HSE, all of the state agencies, all Cabinet must work together to make sure that every single bed, every single piece of property and land we can use must be made available and certainly that's what I and the Department of Health and the HSE are doing," Mr Donnelly said.
The minister said that in addition to efforts to source more accommodation, there was huge ongoing work to provide healthcare supports, including initial screenings, vaccination programs, medical cards, access to GPs and more complex care.
Dublin City Council has said that "regrettably, there is not sufficient capacity in homeless accommodation to offer accommodation" to asylum seeker and refugees who may otherwise be left without accommodation this weekend.
In a statement it said that it was "acutely aware of the pressures faced by the Department of Children, Equality, Disability, Integration and Youth, adding that it would "assist where we can."
DCC said that it plans "to open an Emergency Rest Centre early next week to assist."
It added that "Dublin City Council, its staff along with Civil Defence, has supported the Department by providing temporary accommodation to refugees in our community centres while they await provision of more permanent temporary accommodation and will do so again."
In addition it said that it was assisting with the assessment of pledged properties under the Red Cross pledge scheme.
Turning people away is 'not an option'
Earlier, Tánaiste Leo Varadkar said that Ireland is facing a refugee crisis unlike anything ever seen before, but turning people away is "not an option".
He was speaking after Minister for Children, Equality, Disability, Integration and Youth Roderic O'Gorman said the State cannot guarantee it will be able to accommodate all Ukrainian refugees and international protection applicants by next week because of a capacity issue.
Mr Varadkar acknowledged the capacity issue, saying: "The truth is we are no longer in a position to provide accommodation for everyone who arrives in the country and we need to be honest about that. But we'll do our best to accommodate as many people as we can.
"It's a very difficult situation and we're in the same boat as pretty much every other country in Europe. We can't turn our back on these people".
The Government is still using "a lot of hotel accommodation" at the moment, he said, as well as trying to find old buildings and bring them back to use for accommodation purposes, as well as making sure communities are supported when accepting people from Ukraine.
"While there's no limit on the amount of compassion that Irish people have, there is a limit to capacity and at the moment we're at the point where we just aren't in a position to guarantee accommodation for everyone who arrives."
Asked if this means turning people away, he said: "It doesn't and that's not something that we can do, aside from being a breach of European law, and aside from the fact that it would be telling neighbouring countries that have shown a lot of solidarity with us that they should deal with the problem.
"I know some people will say 'put a cap on arrivals'. That's not possible as long as we're members of the European Union.
"While people may not feel like it all the time, Ireland is one of the best countries in the world in which to live and it's not surprising that people want to come to live here".
Most vulnerable will be prioritised
Earlier, Mr O'Gorman said the Government is making it clear it is are not in a position to guarantee everyone an offer of accommodation.
Speaking on RTÉ's Morning Ireland, he said the most vulnerable will be prioritised at this time.
When asked if there is a danger that people might have to sleep on the streets, he said he "can't rule that out".
Mr O'Gorman said they are engaging with the Ukrainian embassy and discussing that there is a major constraint on capacity, especially into next week.
He also said they are working hard to keep the "pause" on entry to new accommodation as short as possible, but cannot guarantee that this situation will not arise again during winter if the numbers arriving into the country remain high.
There were 881 people in the Citywest Transit Hub overnight, and people arriving there this weekend will continue to be processed there in terms of their application under the Temporary Protection directive.
"We currently don't have a line of sight on that amount of accommodation and that is why we are letting people know if they have an option, if they are in another EU member state, to either stay there or look to another EU member state, that we can't guarantee state accommodation into next week," he said.
Refugee response like 'war effort' - Coveney
Minister for Foreign Affairs Simon Coveney has compared the Government's response to accommodating Ukranian refugees and applicants for international protection to a "war effort".
Speaking in Co Cork, he said: "This is a war effort effectively from Ireland, responding predominantly to support women and children coming from Ukraine, fleeing a war and horrific experiences and circumstances and that is putting our country and our systems under enormous pressure and this is really coming to a head now."
The number of Ukranian people arriving to Ireland stands at around 1,500 per week, double what it was in August and September, on top of around 400 others seeking international protection weekly.
It comes as around 300 Ukrainians are in tented accommodation across the country.
'There is a major constraint on capacity particularly next week,,' Minister for Children, Equality, Disability, Integration and Youth of Ireland Roderic O'Gorman said | https://t.co/A6YLVjc1tz pic.twitter.com/cYCxgMYuKr

— RTÉ News (@rtenews) October 21, 2022
Minister O'Gorman said the tents are of "a higher quality" than those provided in Gormanston and "more designed for weather events", adding that they are always looking to source additional and alternative accommodation.
System not robust enough, says Sinn Féin TD
Sinn Féin TD Rose Conway-Walsh said she believed the current system was not robust enough to decipher whether people were fleeing war.
Speaking on RTÉ's Today with Claire Byrne, she said: "We need a proper immigration policy that is worked out with the Refugee Council around that, as to who comes into the country and to make sure that people are coming in for the right reasons, or the wrong reasons as you might say."
She accused the Government of "lack of planning" and said it would be an "appalling situation" if refugees had to sleep on the streets.
Speaking on the same programme, Fianna Fáil's Spokesperson on Justice Jim O'Callaghan said the Government is "doing a huge amount" to accommodate Ukrainian refugees, but there are limits on what the State can do.
He said Ireland has taken in [58,000] Ukrainian refugees, and while it had been projected that Ireland would take in 200,000, he does not think that that was ever feasible.
"There was never any reality to this country being able to accommodate 200,000 refugees, that is my own opinion on it.
"We've done our bit in terms of what other European countries have asked us to do and what we should be doing, but I think we need to recognise that there are limits on what the State can do.
"The Government at present... I think one in four hotel rooms are being provided for refugees. Hostels are being provided, guest houses, pledged accommodation, sports stadiums, sports facilities, so the Government's doing a huge amount, but obviously it's an enormous challenge," he said.
---
Read more:
Govt warning about capacity at Citywest transit hub
Kerry refugee support 'can't cope' with demand
Questions over State's ability to cope with long-term humanitarian crisis
---
Irish Refugee Council CEO Nick Henderson has said it is unclear where new entrants to the country will go as Citywest has paused its intake.
"It was all already way over capacity, double the amount of people were there than beds."
Mr Henderson said the Government has indicated that people will, in effect, be held at the airport.
"This is a most serious situation, and it really represents a breakdown in the reception of refugees, both from Ukraine and people seeking protection here in Ireland," he said.
Mr Henderson said the Department of Children has highlighted the work it has done to try to find accommodation, "but they themselves have warned of this precipice for many months".
"It has been predictable, as gradually accommodation options across the country have run out and Citywest has become fuller and fuller," he said.
"Then finally yesterday, it reached way over capacity."
He added that there will be a significant shortfall by the end of the year.
Chairperson of Rosslare Harbour's Friends of Ukraine group Sean Boyce said a "consistent lack of planning" and a "naive approach" has resulted in the State being unable to guarantee accommodation.
He said the 4,500 Ukrainians who have arrived in Rosslare so far have been accommodated locally or across the country.
He said every person arriving here is vulnerable, having fled a war-torn country, and questioned what would happen now if capacity for State accommodation has been reached.
Additional reporting Laura Fletcher, Teresa Mannion, Conor Kane and Paschal Sheehy