A wind turbine off the coast of Arklow in Co Wicklow was struck by lightning this afternoon and was on fire.
The turbine fire was expected to be allowed to burn out without intervention from the emergency services.
Smoke was seen billowing from the turbine about 11km from Arklow since the lightning strike this afternoon.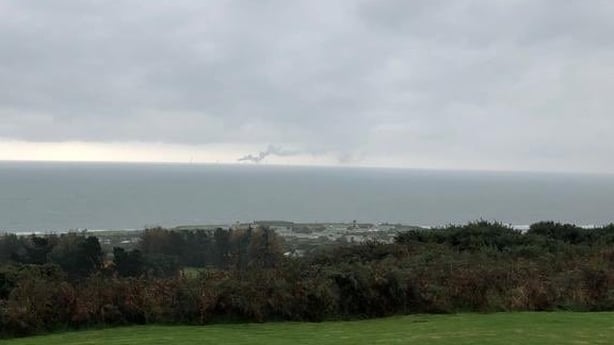 It is understood that standard industrial practice for an unmanned turbine is that a fire is allowed to burn out itself, a process likely to be aided by wet weather.
"It's of no immediate danger to anyone," a garda spokesman said. The turbine is believed to have been struck by lightning shortly before 1pm.
Sadly one of the offshore wind turbines off the Arklow coast appears to have been struck by lightning with smoke billowing from it. pic.twitter.com/bCrOxHraGr

— Carlow Weather (@CarlowWeather) October 19, 2022
It is one of seven turbines which form the Arklow Wind Farm, which was developed almost 20 years ago and is owned and operated by GE Energy.
Tintreach craiceáilte i mBÁC anocht. Lightning every 90 seconds it seems. #Thunderbolts #lightning #october pic.twitter.com/KAeYpgecJT

— Joe Mag Raollaigh (@joemagraollaigh) October 19, 2022
Flights diverted, Oireachtas leaks
Seven flight diversions were facilitated at Shannon Airport this afternoon due to adverse weather conditions.
Alan O'Reilly of Carlow Weather said there had been a huge number of lightning strikes over north Wexford and south Wicklow.
Speaking on RTÉ's Liveline, he said there had been torrential downpours and flash flooding from Gorey right along east to Dublin, and the storm was moving towards Kildare, Dundalk and Drogheda.
The weather station in Ashford already had 55ml of rain recorded this afternoon, and that if the same happens again tomorrow, it would begin to impact streams and rivers.
He advised people to stay inside until the storm passed as driving conditions can change so quickly.
Local authority crews remained on standby across the southeast with more rain expected this evening.
With heavy rain falling in Dublin, Fianna Fáil TD Cathal Crowe said that the roof of the Dáil chamber was apparently leaking.
The roof of the Dáil chamber is leaking… 🌂 @McConnellDaniel @aoifegracemoore @LouiseByrneNews @sandra_hurley @JOEdotie @MichealLehane pic.twitter.com/Am2eAuQrhV

— Cathal Crowe T.D. (@CathalCroweTD) October 19, 2022
Also speaking on RTÉ's Liveline, he said that it was pouring down on some front benches. He said he noticed it first when making a speech, as he was concerned his electric microphone may be impacted.
He said that the Dáil ushers had been in and out examining it, and that this was the first water leak in the Dáil.
A spokesperson for the Houses of the Oireachtas said there had been "small leaks in both chambers this morning, following very heavy rainfall."
Regarding the Seanad, they said a partial blockage in one of the rain water drainpipes caused the problem, and this has now been cleared. Regarding the Dáil, Office of Public Works on-site staff attended "as soon as the leak was noticed and have taken remedial steps".
Wexford County Council said there had not been any issues relating to the weather since last night, as did Waterford City and County Council.
Gardaí in stations across Waterford, Wexford and south Wicklow said they had not been called to any flooded or damaged results during last night or this morning.
A spokesman for Kilkenny County Council said it had not received reports of any incidents but were awaiting further heavy rain this evening.
Cork City Council said it received no reports of flooding or storm damage overnight.
The council's Flood Assessment Team met this morning to assess the impact of the earlier Status Orange warning.
Already saturated ground, fallen leaves and heavy rainfall could lead to localised flooding today, and will cause challenging road conditions.

Light up, be seen, and be patient.

Don't enter flood water on foot or on wheels. What is hidden under the water line? pic.twitter.com/d4AiGQK4hk

— Dublin Fire Brigade (@DubFireBrigade) October 19, 2022
There was flash flooding in Cork last Sunday when intense periods of rain led to high surface water remaining on several roads, including busy routes in Cork city, during the afternoon.
Cork City Council crews were on standby across the city and its Customer Service Unit was available until 9pm at 021 4924000.
People are advised to contact the emergency services at 112 or 999 in the event of an emergency. Cork City Council's out-of-hours number is 021-4966512.
Additional reporting: Conor Kane, Paschal Sheehy