Thousands of people have taken part in a protest march over the cost of living in Dublin city centre today.
Marchers gathered in Parnell Square before proceeding down O'Connell Street, around College Green and towards Merrion Square where speeches took place.
March has now arrived in Merrion Square #CostOfLivingCrisis #costoflivingmarch pic.twitter.com/Zz34l7gJ0W

— Joe Mag Raollaigh (@joemagraollaigh) September 24, 2022
The march was organised by the Cost of Living Coalition which is supported by a variety of groups including workers and students unions as well as opposition parties Sinn Féin, People Before Profit and the Social Democrats.
In Merrion square, People Before Profit TD Richard Boyd Barrett said the Government needs to stand with the people on Budget day and make sure warm homes come before profits.
Sinn Féin leader Mary Lou McDonald also addressed the crowd said the Government have left people in "dire straits" and called for a cap on electricity bills as well as a ban on rent increases for three years.
Gardaí said there would be rolling street closures in the city centre to accommodate the march.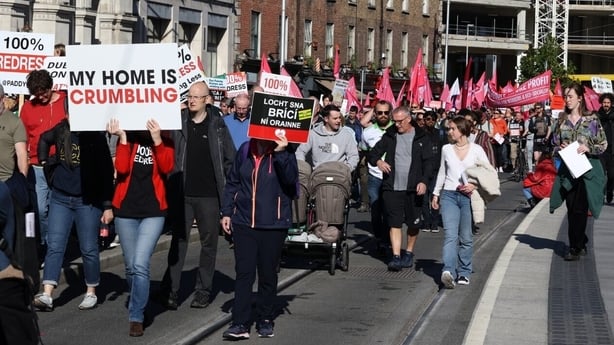 Earlier today, the Tánaiste said he could understand why people were protesting today with the spiralling cost of living and incomes being eroded.
Leo Varadkar said people will see a "very significant" intervention by the Government with the Budget this week to help people and their families and that the results would be in their pockets in a matter of weeks.
He said that apart from one-off measures, there would be help as well throughout next year.