The Minister for Public Expenditure has said there will be funding specifically allocated in the budget for sports clubs, community groups, voluntary service providers and the arts and culture area to help them with the rising cost of living.
Michael McGrath said he is really conscious of the impact that rising prices are having on wider society.
"So I will be providing additional support to assist them in getting through the winter period and some of those supports will get under way this year, because I am conscious of the impact of energy costs on them, they are going to face massive increases in bills," he said.
"We are looking at a package that will kick in within weeks of budget day to support wider society in relation to those vital services and ensure that community groups, sports clubs, cultural organisations can afford to meet their bills as well, which are undoubtedly rising."
We need your consent to load this rte-player contentWe use rte-player to manage extra content that can set cookies on your device and collect data about your activity. Please review their details and accept them to load the content.Manage Preferences
Speaking on his way into the Chartered Accountants Ireland Leinster Society business lunch, the minister told RTÉ News that he is in intense negotiations with colleagues across Government in relation to the spending estimates for next year.
"In the round we will have a really strong package, a set of one off measures which will amount to several billion euro, which will kick in within weeks of budget day to support households and also to support businesses," he said.
"And then we will have quite a strong package for 2023 where we focus on some of the longer term challenges that we face as a country as well."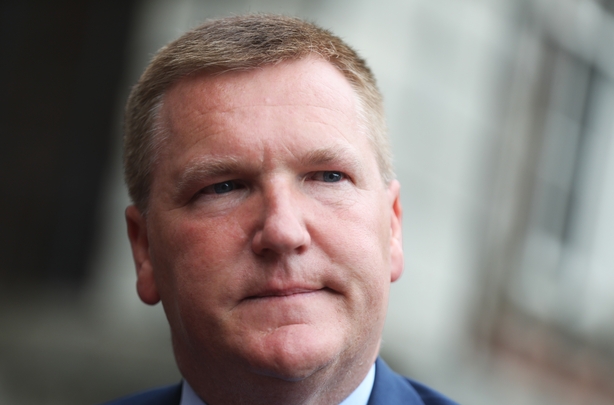 He said undoubtedly the shape of the budget is being determined by the cost of living crisis facing people and the threat to the viability of many businesses around the country.
"That will be our number one priority when we stand up and deliver the budget next Tuesday," he said.
Asked whether the effect of inflation on spending on Government services could lead to funding for some of those services standing still or being reduced in real terms, Mr McGrath said the cost of running the country, including schools and hospitals, has become more expensive.
"So we have to factor that into the budget as well," he added.
He said there would be a downward revision in the economic forecasts for Ireland for next year and an upward revision of the inflation forecast.
"So it is going to be a challenging period ahead and that is why we have to focus our resources on the question of cost of living and particularly on energy costs for households, for businesses but also for wider society and civic and community and sporting groups," he said.
He said the core budgetary position for next year is tight with the focus being on the cost of living pressures that people are facing.
Mr McGrath said sufficient resources would be provided to ensure services can continue.
He added that the country faces into the headwinds from a position of strength with a forecasted budget surplus in the current year and an even stronger one next year.
Mr McGrath also told the accountants that the Government would do whatever it takes to ensure security of energy supply.
He said he knows it is a vital issue for the business community and for foreign direct investment as well.
The minister said the Government has been told by the regulator and grid operator that it will be a tight situation for the coming winter.
He said additional temporary electricity generation capacity is being brought in but it will be next year before it comes.
"There may well be certain demand management tools that the regulator and grid operator will deploy working in partnership with industry," he stated.
He said the budget would contain a number of measures to respond to challenges facing businesses, including supports for particularly energy intensive firms, who are export focused.
He added that there would be a liquidity measure and a more broadly based measure for SMEs.
The minister warned though that the Government would not be in a position to full absorb all the costs that have increased in recent months.
"This is going to be with us for a while," he said
"Elevated levels of inflation are certainly here for a while yet."
Mr McGrath said there would be one-off non-core expenditure to help the health service through the winter and beyond and also to look after displaced people who have come here from Ukraine.
He also said the Government would be underpinning its commitment to capital investment.
Chartered Accountants Ireland said the budget must offer hope to business and society by delivering on the twin challenges addressing both businesses and social imperatives.
It said the budget should be used to as a tool to improve the wider business operating environment, specific business needs and "the lot" of taxpayers.