A person should be able to complain directly to a new media regulator - Coimisiún na Meán - by the end of 2024 if they have concerns about a child's safety online, according to Minister Catherine Martin.
The Minister for Tourism, Culture, Arts, Gaeltacht, Sport and Media, has published a report of the 'Expert Group on an Individual Complaints Mechanism'.
"Any such mechanism does not take away the responsibility of social media services to operate robust and effective processes for handling complaints," Ms Martin said.
"This is about changing from an era of self regulation to proper regulation... we're going to make this as strong as can be to protect those who use online services."
The group concluded individual complaints were feasible, but needed to be phased in and complaints could only be made directly to Coimisiún na Meán after a person had exhausted the complaints procedure with the online service responsible.
The Minister said that a new regulator must first be established through Online Safety and Media Regulation (OSMR) legislation, and it would then introduce binding online regulations "to ensure that consistent, appropriate and robust complaint handling procedures are in place".
The expert group advised that an individual complaints mechanism would not have its full or intended effect unless and until effective systemic regulation of the complaints handling processes of regulated online services has become well-established.
Ms Martin said that these regulations would then need to be in place for at least a year, before an individual complaints mechanism would be phased in, with an initial focus on issues involving children and child protection.
"If you are looking at early next year for the commission to be set up, it would take a little while for the codes to be decided upon and set up to, and its a year after that so you are probably looking at (20)24, whether that be middle of the end of '24 realistically," Ms Martin said.
After the introduction of an individual complaints mechanism focused on child protection issues, Ms Martin said that the expert group advised that there should be "a three year work plan" setting out its expansion from there.
Four categories of complaint
The Minister intends to seek Government approval to amend the OSMR Bill 2022 to allow for the introduction of this individual complaints mechanism.
Ms Martin said that the four categories of complaint they were looking to include under the new complaints mechanism were cyber bullying, the promotion of eating disorders, the promotion of suicide or the knowledge of means of suicides.
The Chair of the Expert Group, Isolde Goggin described these as "non-offence specific issues," which are separate from the criminal offences set out in the Bill, such as hate speech.
"What this is about is areas which are not criminal offences but which nevertheless can be really really harmful to individuals... mainly what this is about is trying to get harmful content taken down," Ms Goggin said.
However the chair of the expert group said that if a criminal offence was referred to the relevant investigative agency, and was not dealt with, it could be referred back to the individual complaints mechanism and to Coimisiún na Meán.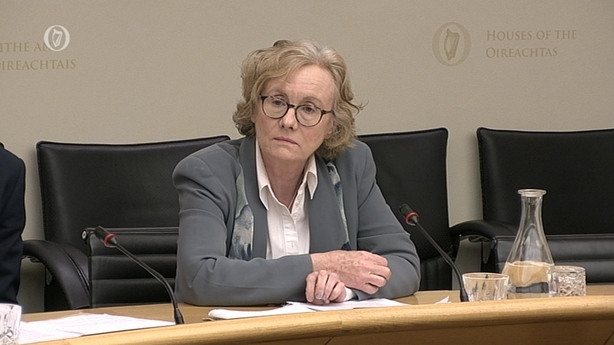 Ms Goggin said that the expert group was "very happy to move to make a positive recommendation" on the individual complaints mechanism, "that we can do this, that it can work to protect users and in particular to protect vulnerable users, including children."
She said that the expert group was "very conscious of the danger that you (could) get subjected to a huge wave, on day one, of loads and loads of complaints" and of "the need to manage that, the need to phase it in".
Ms Martin accepted that the introduction of the individual complaints mechanism would require additional resources for Coimisiún na Meán and there were "ongoing talks in relation to that."
The move has been broadly welcomed.
CyberSafeKids has said that it believes "the inclusion of this mechanism would be groundbreaking in the European context and will put a bit more power back into the hands of the users of the online services, as regards content that harms them" and it particularly welcomed the prioritisation of children.
Chief Executive Officer Alex Conney said it a statement: "Like many others working in the area of online safety and well-being for children, we have lobbied hard for the inclusion of such a mechanism since the first draft of the bill was published in 2020 because we believe it will add a level of accountability into the legislation that was not previously there."
Mr Conney added that while it was "not a silver bullet" it was "an extremely welcome step towards making the online world a safer and more accountable space for children to be in."
The Children's Rights Alliance described the expert group's report as "one of the most significant inputs to the ongoing debate on how to hold big tech accountable".
It too had called for called for the inclusion of an individual complaints mechanism in the OSMR Bill.
'A landmark change'
In a statement, Chief Executive of the Children's Rights Alliance, Tanya Ward said the expert group's recommendation to do so was "a landmark change in how we protect children and young people online."
"Over the past decade, big tech, online and media companies have rapidly revolutionised their services and in Ireland and our laws have failed to keep pace," Ms Ward said.
"Now, the Government have a real opportunity to revolutionise how these platforms serve the best interests of the people that use them."
Ms Ward said that Ireland could be "at the forefront of the global movement to regulate big tech" but said "our laws must be ambitious" and "set a high standard of safety, redress, accountability and transparency for all platforms that wish to operate here".
While Technology Ireland, the Ibec group that represents the technology industry, welcomed the publication of the report it said it would now take some time to examine the expert group's recommendations "to better understand how the implementation of an individual complaints mechanism will work".
The Minister appointed the expert group earlier this year to examine the practicability of including an individual complaints mechanism in the OSMR Bill, in response to calls from stakeholders and a recommendation by the Joint Oireachtas Committee which conducted pre-legislative scrutiny of the General Scheme of the Bill.
The Expert Group carried out a public consultation and held discussions with the Australian e-Safety Commissioner, the Canadian ministry responsible for online safety and the Irish Data Protection Commission.