Migrant and refugee support organisations have raised concerns about asylum seekers spending months in tented accommodation.
The first of some 176 asylum seekers are due to move into a tented village alongside a direct provision centre in Athlone, Co Westmeath, tomorrow - with no target date set for when they will be moved to more permanent accommodation.
According to figures provided by the Department for Children, Equality, Integration, Disability and Youth, up to 40 asylum seekers have been staying in tented accommodation in Tralee in Co Kerry since 28 July and are expected to stay there until the end of the autumn, which could mean a stay of up to 14 weeks in total.
On 5 September, the first of up to 104 asylum seekers were moved into a tented village erected on the site of the Knockalisheen direct provision centre in Co Clare.
The department described their stay as "ongoing pending availability of permanent accommodation".
In July, when it was confirmed that tented accommodation was being built to "expand the capacity of specified State-owned International Protection Accommodation Service centres (direct provision centres)", the department said this "will be used to provide short-term emergency accommodation to international protection applicants while additional capacity is being sourced".
It has also emerged that a group of 24 asylum seekers, including children, have been staying in tents in Gormanston in Co Meath, for around four weeks.
That facility, which was opened on 19 July, largely caters for Ukrainian refugees.
At the time, Minister for Children, Equality, Disability, Integration and Youth Roderic O'Gorman said people would stay in such tented accommodation for "a maximum of a week".
A department spokesperson confirmed to RTÉ News that Ukrainian refugees are accommodated in tents for between three days and three weeks.
Migrant support group Doras is working with those who are currently being accommodated in tents in Knockalisheen.
CEO John Lannon said that while he "acknowledges the huge challenges associated with securing accommodation for international protection applicants" he is "extremely concerned" that there "now appears to be saying there is no clear time frame for when people will move out of tented accommodation".
He added: "We know from our engagement with people in Knockalisheen that even at this time of year they are very cold at night. People cannot sleep, they have no privacy, and for individuals with underlying health problems or vulnerabilities they present a myriad of risks.
"The provision of adequate accommodation is the most basic aspect of what it must do, and right now that is not happening."
'Three weeks is too long for anyone to live in a tent'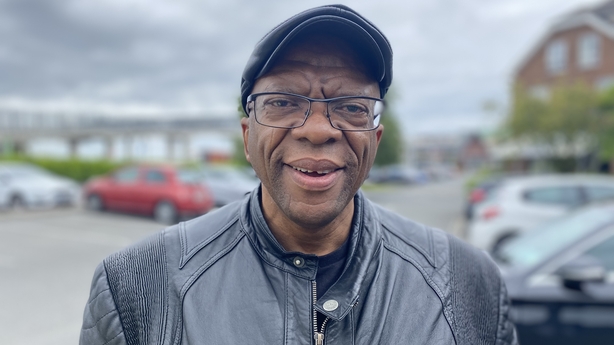 Lucky Khambule, the co-founder of the Movement of Asylum Seekers in Ireland, has described recent developments as "scary".
Mr Khambule said that there was "no reason for the unequal treatment" of Ukrainian refugees and international protection applicants when it came to how long people had to stay in tents.
He also believes that "three weeks is too long for anyone to live in a tent" and that no one should stay in that kind of accommodation for longer than a week, especially as the country moves into autumn and winter.
He also raised particular concerns about children being accommodated in tents, and asked how or if they were able to attend school.
CEO of the Irish Refugee Council Nick Henderson said it was his view that providing tented accommodation for a period of months falls short of Ireland's requirements set out by the reception conditions directive.
"Tents may be better than the homelessness (of 201 newly arrived asylum seekers) that we saw two weeks ago, but it remains far from the ethical and moral obligations that we have... as well as the legal obligations that exist under the reception conditions directive," Mr Henderson said.
He said that he is "really concerned that we are sleepwalking into accepting substandard accommodation as something that is permanent or at least there in the medium term".
In a statement this evening, the Department of Children, Equality, Disability, Integration and Youth said that "to date, more than 48,975 Ukrainian nationals and just over 10,020 International Protection applicants have arrived in Ireland seeking refuge in 2022".
"Overseeing the provision of accommodation on this scale during this timeframe for all those who require it remains immensely challenging in this unprecedented emergency situation. Due to the urgent need to source accommodation, a broad range of accommodation types have been contracted, including emergency accommodation."
The Department said it "continues to exhaust all efforts to source suitable accommodation for people and this includes tented accommodation solutions currently".
"It is not envisaged that International Protection (IP) applicants currently accommodated in tented solutions will remain there long term. However, it is intended to utilise such accommodation in Kerry and elsewhere until further suitable accommodation is sourced."
'Two tier accommodation system' exists at Knockalisheen site, says MASI
Bulelani Mfaco, a spokesperson for the Movement of Asylum Seekers in Ireland (MASI) who lives in the Knockalisheen Direct Provision Centre, said that a "two tier accommodation system" now existed at the site, where some people had their own rooms and indoor bathrooms, and others were sharing tents and outdoor shower and toilet facilities.
Mr Mfaco said that the paths and outdoor plumbing and electrics, while needed, suggested a level of permanence.
"It's kind of worrying because in government terms, temporary can mean a very long time," Mr Mfaco said.
"You'll remember that when they rolled out the Direct Provision system more than 20 years ago, they said it was temporary and 20 years later we still have it," Mr Mfaco said.
"Tents aren't meant for long-term accommodation so we'd expect the Government to... give the people who live in those tents some idea of how long they are going to be staying (there) because we are heading into winter now and it's going to get wet and it does get windy (here)," Mr Mfaco said.
He also said that he felt the centre was not adequacy prepared for the arrival of over 100 more asylum seekers.
"It's contracted for around 250 people... and now you add 100 men, that means the services have to improve" to meet the demand, Mr Mfaco said, and cited a lack of planning around the increased demand on the canteen service for example.
"People ended up queuing for a long time for food, but also then couldn't find somewhere to sit and eat their food," Mr Mfaco said.
Tented accommodation should be a last resort, says TIRC
Tralee International Resource Centre (TIRC) has been supporting international protection applicants who are living in tents at the Johnston Marin Direct Provision centre in the town.
TIRC co-ordinator Mary Carroll said "such accommodation is inadequate" and, noting the Department's position that it may continue until at least the end of autumn, Ms O'Connor said that they had concerns for the "physical and mental health" of those living in tents, "and also any knock-on impacts on the residents in the existing DP centre who have also been impacted by the addition of this tent to their accommodation".
"Tented accommodation should be a last resort and short-term only," Ms O'Connor said.