The Taoiseach has warned of a "prolonged" energy crisis, saying the Government would intervene to protect households and jobs as prices continue to rise.
Micheál Martin said the crisis "may not be time-limited" and the Government will introduce measures "to get people through the winter, to the end of March".
However, he said the coalition cannot give a "blank cheque" to the energy companies by capping household bills. Instead, he said there are a "range of mechanisms" that can be used to ease the burden.
"We have to do it using a range of measures in terms of reducing electricity bills," he said.
"But also giving flexibility to the people in the form of payments, either through the welfare system, through energy credits, through cost reductions or through investment in public services in the Budget, which will also reduce costs for parents and for families."
Taoiseach @MichealMartinTD says "we are facing the worst global energy crisis" and says the Government will help people get through to the end of March with their energy bills. | More: https://t.co/gH4X7PbMQJ pic.twitter.com/iLfnzSHFI2

— RTÉ News (@rtenews) September 14, 2022
He was responding to the Sinn Féin leader, who described the Government's approach as completely wrong.
Mary Lou McDonald said many households will "go under" without the right intervention.
She said energy credits planned by Government are flawed and a cap must be applied to electricity bills.
Sinn Féin wants the bills capped at pre-crisis levels until the end of February. Ms McDonald said that this would give people certainty through the winter months.
Sinn Féin leader @MaryLouMcDonald raises the issue of rising energy bills. She says cutting energy bills will allow people to get through the winter months. | More: https://t.co/gH4X7PbMQJ pic.twitter.com/b0u6YSTp4S

— RTÉ News (@rtenews) September 14, 2022
Mr Martin said that "ongoing revenue streams" may be needed to deal with a "prolongation" of the energy crisis.
He told the Dáil that windfall revenues from energy companies would be used to help households, although the precise mechanism is still being worked out at EU level.
"It is not fair that companies would make exorbitant profits on the back of a war," he said.
Mr Martin said the budgetary surplus for this year would be used as "effectively and efficiently" as possible to alleviate pressures on people this winter.
"However, we do need a more ongoing revenue stream as well to deal with, perhaps a prolongation of this crisis, which we do not want to see," he added.
Meanwhile, Labour Party leader Ivana Bacik called for the nationalisation of the Corrib Gas field off the Mayo coast to deal with the energy crisis.
Ms Bacik also urged the Government to "act swiftly" to introduce an immediate windfall tax on energy companies to "target profits" and to "fund measures to alleviate hardship for families".
During Leaders' Questions in the Dáil, she said households and businesses are facing into "a very frightening period ahead" and want to see that "exorbitant profits being made by energy companies will be targeted".
Labour leader @IvanaBacik also raises the issue of rising energy prices. She says the budget will mean the difference for so many families having to choose between heating and eating. | More: https://t.co/gH4X7PbMQJ pic.twitter.com/t8YJSZcZq1

— RTÉ News (@rtenews) September 14, 2022
She said the revenues of Vermillion, which runs the Corrib gas field, increased by 267% last year.
"We have significant levels of gas consumption coming from our own Corrib gas field here in this island," she said.
"The cost of production for that gas has not increased, but the price of gas it supplies is now costing multiples of what it did a year ago," she said.
"Will you examine the idea of nationalising Corrib, bringing it under State ownership even on a temporary basis, as a way of bringing greater certainty to families, households and businesses struggling with fuel bills?" Ms Bacik asked.
She said the State has the legal powers to do so under the Fuels (Control of Supplies) Act.
However, Mr Martin responded that the Government does not "envisage, don't advocate the nationalisation of the Corrib field".
He said measures being examined by the EU "deal with the Corribs of the world" and "it makes absolute sense that we have clarity and a decision from the European Union in terms of the operation of the gas market and the mechanism they would deploy".
He added that if the Government proceeded with opposition proposals to nationalise energy companies, the Cabinet would have spent billions of euro and would have "very little left" to address the crisis now.
Responding to Richard Boyd Barrett of People Before Profit, he said that the Government had already intervened and spent €2.5bn to address the cost-of-living crisis.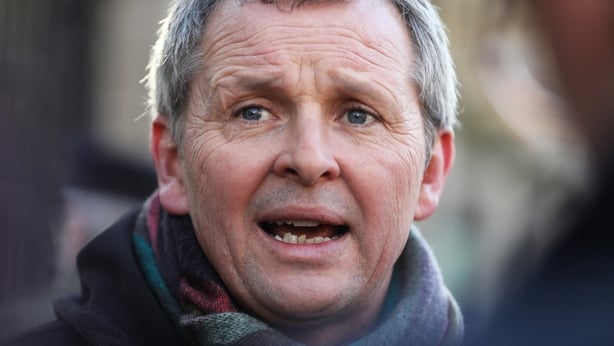 Mr Boyd Barrett said, unlike Ireland, Spain had introduced price controls to protect consumers.
"We now have the highest utility prices almost anywhere in Europe," he said.
Tánaiste Leo Varadkar criticised the potential price cap on energy bills as having "echoes of the bank guarantee", saying it would be impossible to cost.
He said that while all options remain on the table, he was nervous about agreeing to set a cap and the Government stepping in to pay anything above that, no matter how high it goes.
"It is bank guarantee territory and contracts for difference and I am nervous about it but I am not ruling it out. Anyone who says they can cost it, how can they possibly cost it."
Mr Varadkar said that coalition party leaders agreed last night to commission a paper to look at the pros and cons of a possible energy cap.
Asked about the EU proposal to raise €140 billion in a levy energy on companies, he said the Irish Government did not know how much it could receive under the plan.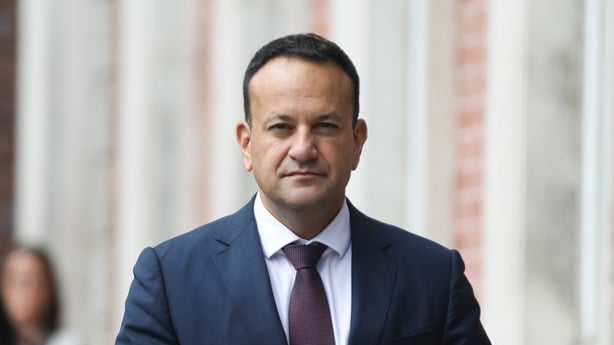 The Tánaiste said he hoped the figures would be clear before the Budget, as it would be problematic without that detail.
He added that the Government remains mindful to impose a windfall tax in the Budget on fossil fuel producers and electricity generators.
However, he said it was important to know what would happen at European level first, because if the EU went with a cap on revenues from such companies, that would eliminate windfall gains so the amount from a tax would be much less.
Earlier today, he was due to update the Cabinet on proposals to help firms deal with spiralling energy costs.
It is understood the Government response will involve low-cost loans, a scheme targeted at energy intensive exporters and manufacturers and special measures for smaller and medium-sized businesses.
Additional reporting: David Murphy, Sandra Hurley, Mícheál Lehane