Three enormous cranes manufactured in Co Kerry have completed their journey from Cork Harbour to the Port of New York and New Jersey in the United States.
The ship-to-shore container cranes, with a combined weight of over 6,000 tonnes, will each be 150 metres tall when unloaded and assembled at Maher Terminals in the coming days.
The cranes were designed and built at the Liebherr plant in Killarney, with the main components transported to Fenit and shipped by sea to Rushbrook in Cork Harbour in February.
The shipping operation was complicated by the necessity to pass under the Bayonne Bridge, which connects Bayonne in New Jersey with Staten Island.
The bridge has a clearance of 66 metres, meaning the cranes could only be partially assembled before being transported.
The upper structures - boom, beam and A-frame - were shipped resting on the deck the specialist ship used for the operation, the BigLift Baffin, a vessel which is 30 metres longer than the Croke Park pitch.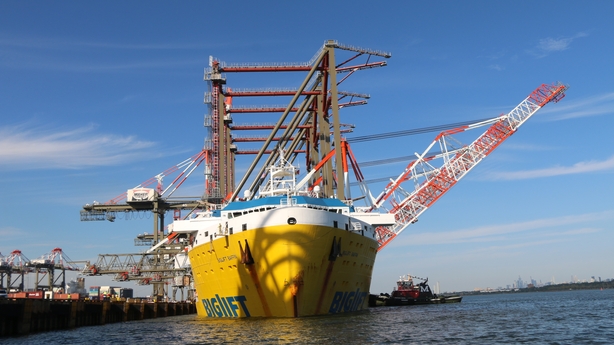 Describing the operation, Liebherr marketing manager Trevor O'Donoghue said: "We had planned to be under the Bayonne Bridge at just after 3pm local time on Saturday 10 September, which was low tide.
"After leaving anchor, the cranes first passed under the Verrazzano Narrows suspension bridge, which connects Staten Island and Brooklyn.
£The airgap under this bridge is about 5 metres greater than the airgap under the Bayonne Bridge, so we had plenty of room to spare, once the booms were lowered."
He said the vessel arrived at the Bayonne Bridge exactly on schedule.
Water levels were about 15cm higher than forecast, but project managers had allowed for a 55cm clearance, "so we had an even tighter squeeze than planned, but it all went off without any problems".
Mr O'Donoghue said it took about seven minutes to travel under the bridge.
A team commissioned by Liebherr will oversee the installation of the cranes at their new site.
These are the third set of 'megamax' cranes to be shipped by the company from the Cork Dockyard in Rushbrook.
Previously they shipped three to Puerto Rico and a further two to the Port of Hull in the UK.
The new cranes will enter service alongside eight existing Liebherr STS cranes already at the Port of New York and New Jersey, and are expected to move many millions of containers over the course of their lifetime.
STS container cranes designed and made in Killarney are used in more than 100 ports across the world.
The German-Swiss company has had operations in the Kerry town since 1958, and employs 780 people at the plant.