Firms selling generators have seen a powerful surge in business recently amid rising energy costs and fears of possible black-outs this winter.
"We've sold a massive amount in recent weeks. Generator sales alone are up 250%. We could be selling 10 to 20 generators every day," said Aaron Lynch from Irish Garage Equipment.
At its warehouse in the Greenogue industrial estate in Dublin, he is going through his stock. At present, supply is struggling to keep up with demand.
'We're noticing a big difference in sales ... last year around October ... we had a lot of people in rural Ireland contacting us for generators.
"This year it's happening a lot earlier, we're noticing a lot more sales of generators mainly for home use."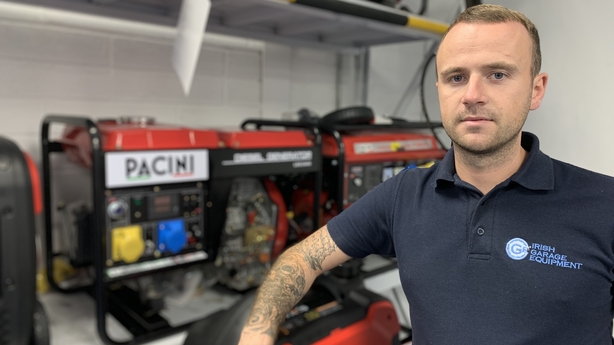 Sales in this firm are at their all-time highest, driven - Mr Lynch said - by purchasers who are worried about black-outs this winter.
"You'd have a lot of older people who fear they'll be left in the house without power... A lot of people are very scared about it," he said.
The company's most popular model sells for around €1,800. It is diesel powered and with a full 15 litre tank it can power a typical house for 12 hours - depending, of course, on how power is being used.
The generators being sold for domestic use are designed to kick in when/if the main supply goes down. They have to be connected to the house by a qualified electrician.
Those selling them are also reporting a change in profile of their typical customer.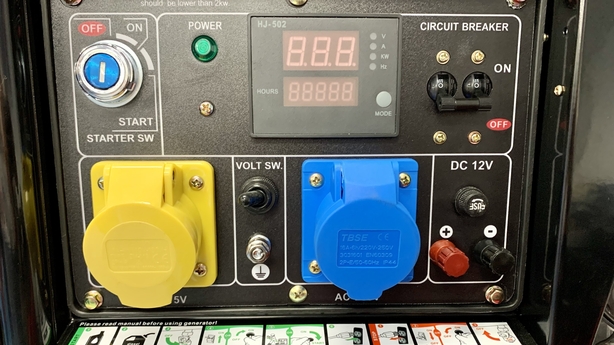 Where in the past it was those in rural areas fearing black-outs from storms, now it is more and more people from the cities who are buying.
Gary O'Shaughnessy from DE Power Solutions in west Dublin, said: "Of late now with the potential risks of power outages, we've seen a huge increase in people who live in the city [buying generators], people from areas that historically had one outage per year. They don't want to take a chance."
He added: "It really kicked off in September 2021 when there was talk of power outages and shortages. We had a really busy year last year, and this year it's started even earlier.
"So we have been extremely busy from a month ago. A lot of people are very worried, they're looking to buy generators, looking for standby power, insurance if the power fails, they'll have a form of protection."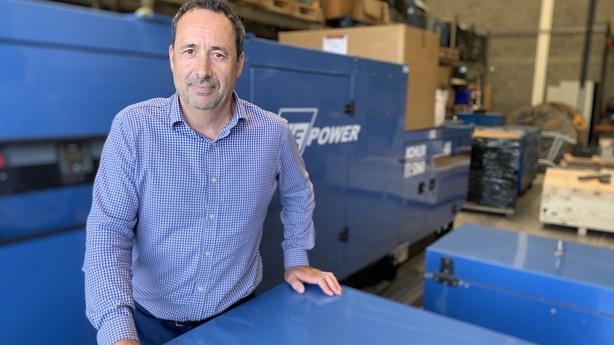 DE Power Solutions specialises in providing generators to businesses but has now seen sales for home use grow.
"Our typical customer are pharmaceuticals, State bodies, small business. They're businesses that don't want to take a risk of not being able to trade," Mr O'Shaughnessy said.
"So our existing customers want their sets maintained, serviced and upgraded and others are looking to install new ones... The domestic generator business didn't exist four to five years ago. But definitely over the last couple of years, there has been a massive increase."
The Skellys in Dublin are recent customers.
"With all the news about the Ukraine war and the shortages of supply of oil and electricity, I thought it was a good idea to have it as security for the winter," Philomena Skelly explained.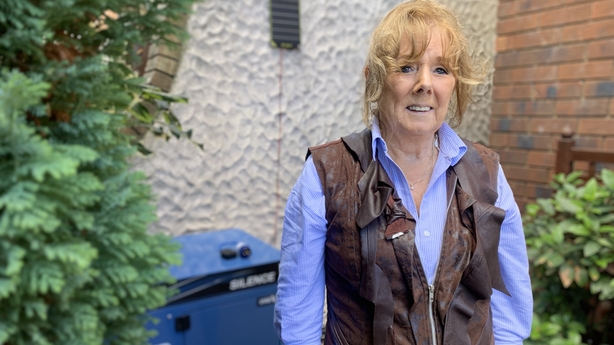 "I think it's worth it because you don't want to be cold this winter."
Their generator is now ready to run - but they hope they will not be needing it.