'Antoni', 'Daisy' and 'Íde' are among the storm names listed for the 2022/2023 storm season.
The storms list for each year generally runs from early September until late August the following year, coinciding with the beginning of autumn.
Storms are named when they have the potential to cause an orange or red warning.
Both Met Éireann and the UK Met Office have been working together in a storm partnership since 2014, to raise the awareness of the potential impacts of severe weather. Dutch national weather forecasting service KNMI also joined in 2019.
Members of the public suggest names for the list and submit them to the weather services.
KNMI selected Antoni, Hendrika, Johanna and Loes, in honour of famous Dutch scientists. While Met Éireann chose Cillian, Fleur, Íde, and Nelly.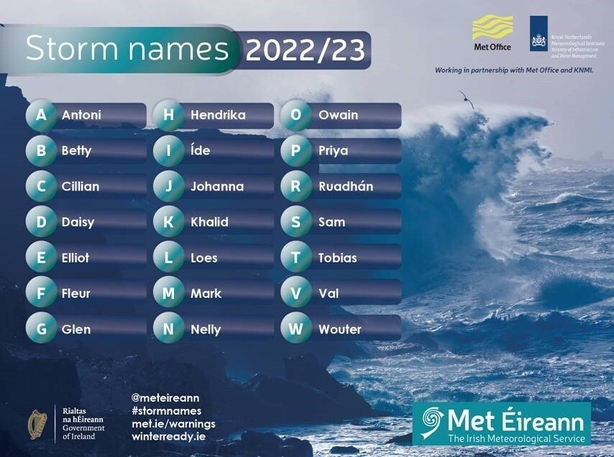 Met Éireann's Head of Forecasting Evelyn Cusack said that storm naming creates greater public awareness.
"The annual unveiling of the new storm names on 1 September creates greater public awareness and, crucially, during the winter when a storm is named for its potential Orange/Red impacts, it creates a more impactful public 'call to action' helping to save lives and property.
"During past storms, the public have responded positively to the advice given by experts and this new list of names will help us to prepare society for extreme weather events which is all the more important in our changing climate."
Other names on the list - which does not use names beginning with Q, U, X, Y or Z - are Betty, Elliot, Glen, Mark, Owain, Priya, Ruadhan, Sam, Tobias, Val, and Wouter.
England's joint hottest summer
Meanwhile, the UK Met Office has confirmed that England has had its joint hottest summer on record.
Provisional figures show the summer of 2022, covering June, July and August, had an average temperature of 17.1C, tying with 2018 to be the warmest in records stretching back to 1884.
It means that four of the five warmest summers on record for England have occurred since 2003, as the effect of human-induced climate change is felt on the country's summer temperatures, the Met Office said.
The hot summer included the record-breaking heat in July, which saw temperatures climb above 40C for the first time in the UK, as climate change drives more frequent and intense heatwaves.
Much of England has been gripped by drought after months of low rainfall, with the hot, dry conditions drying up rivers, damaging crops and fuelling wildfires that have destroyed homes and land.