Households and businesses are being warned that they are likely to see their electricity and gas bills rise further, as the soaring wholesale cost of gas hit an all-time European high yesterday.
The Government is exploring a windfall tax on power company profits in the upcoming budget to fund supports to businesses and households facing spiraling energy costs, but industry observers have questioned how much money such a tax would actually bring in.
Yesterday, SSE Airtricity has announced that it is to increase prices for its customers from 1 October, with electricity bills to rise by over 35%, and gas bills to increase by 39%.
Price comparison website Bonkers.ie has said it expects more suppliers to follow suit in the coming weeks.
"Unfortunately it's almost a guarantee that prices are going to continue to increase further," Daragh Cassidy, Head of Communications at Bonkers.ie, told RTÉ News.
"The average (combined) gas and electricity bill at the moment is around €4,000, its bigger with some of the smaller suppliers, that's probably going to increase by up to 25% over the coming weeks and months."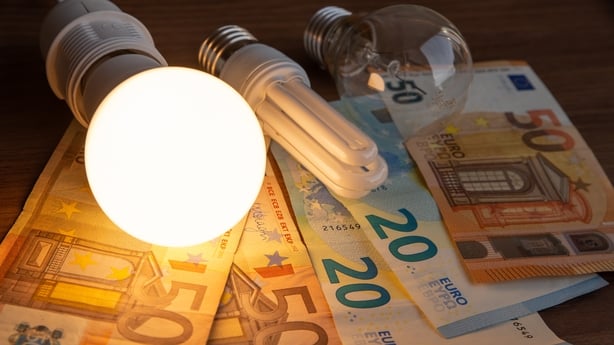 While the system in the UK is different where, unlike Ireland they set an energy price cap, Mr Cassidy said it is still useful to look at the energy price increases they are predicting.
He said that in the UK the energy price cap "is forecast to increase to around €6,000 in January."
"That maybe gives a taste of what we are looking at here," he said.
One Family, which supports people parenting alone and people sharing parenting, is among the organisations calling for targeted supports in Budget 2023, which will be announced this day next month.
"Whilst this is a crisis, it doesn't mean the Government can't do anything... there are lots of actions they can take at budget time and before that," Karen Kiernan, CEO of One Family said.
"No more payments for everyone, the idea of tax cuts is ludicrous. We have to target what supports there are on those who need it most."
The Green Party is looking for a windfall tax or charge on the profits of power companies to be addressed in Budget 2023.
This week the party's leader and the Minister for the Environment, Climate, Communications Eamon Ryan said it was being explored if such a charge could help fund supports for householders and businesses in the face of energy cost pressures.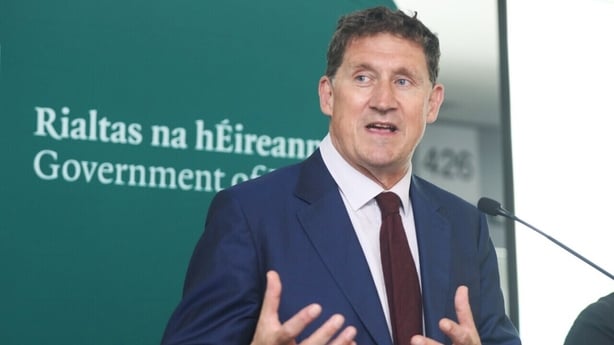 A spokesperson for the Department confirmed to RTÉ News that the Minister has "asked his officials to explore how it would work effectively in Ireland" but warned that "it would take time to develop and implement" and added that "we have to ensure that any windfall charge system does not deter the steady stream of investment on renewables."
'No easy answers'
Some industry observers have cautioned against viewing a windfall tax as a panacea.
"The vast majority of profits being made at the moment are being made by companies such like BP, Shell and Russia's Gazprom," Mr Cassidy said.
"They are not Irish companies, you can't go after another companies money and in turn they are making that money by extracting fossil fuels that aren't even on Irish territory.
"Some of the suppliers in particular which don't actually generate electricity, the suppliers who only supply electricity they are actually close to making a loss, so there's not much money there.
"There are no easy answers.".
Economist Colm McCarthy agrees that the companies who owns gas and oil fields are doing well currently, however he points out that there are no oil fields in Ireland and there is just one gas field which he described as "small and dwindling".
"There are companies in the energy sector that are making more money, one of them is the windfarms," Mr McCarthy said.
He said the ESB's coal-buring power station at Moneypoint is also likely to be profitable, as the cost of energy remains higher than the cost of coal.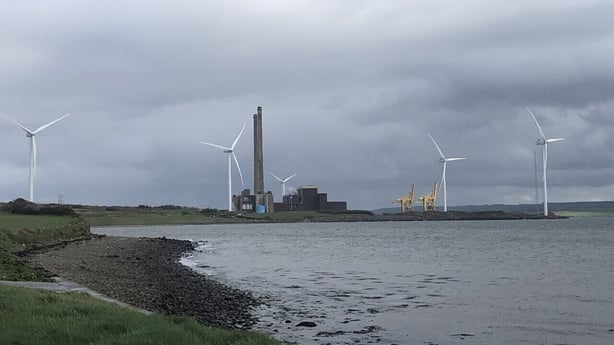 However, as the Irish Government is a majority shareholder in the ESB, Mr McCarthy said that "the Government can't really put a tax on itself".
Mr McCarthy said it looked like energy prices would remain high "for quite some time".
He said that it didn't look like the war in Ukraine would end any time soon, a drought in parts of western Europe was impacting the hydroelectric electricity generating systems and it it had been a poor summer for wind "including here in Ireland."
Mr McCarthy said that on top of the cost of energy, there may not be adequate supply.
He said that if Ireland is "unlucky... we could end up with a need for rationing".
"We only have gas importation facilities from Britain... so if gas gets tight in Britain, then the British Government is not going to supply gas to Ireland... and with electricity its kind of the same, we have electricity interconnection with Britain and not with anybody else," Mr McCarthy said.
Last week, the Commission for Regulation of Utilities (CRU) warned that that peak-time electricity usage had to be drastically reduced to avoid power outages.
This week, Mr Ryan said that the country had the capacity to be able to meet demand this winter, and he "expected to be able to provide the power that this country needs in the next two to three months."