As parents and schoolchildren get ready to go back to school in the coming days, they have been reminded about road safety.
The Road Safety Authority has launched a new online resource - a learning portal aimed at all school pupils.
It will be available for children to use in school and at home and parents are being urged to engage with the learning process.
The Chief Executive of the RSA, Sam Waide, said it is not just for children.
"It's for everyone, all road users including parents to be mindful and taking that extra care, everyone is busy and maybe parents are going to work but I am asking for everyone to use that material, use that resource online."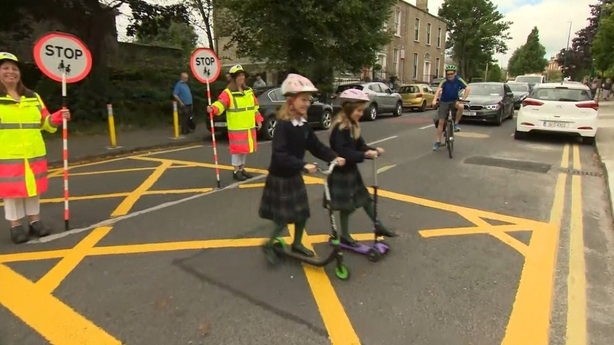 The new portal was launched as Minister of State for Transport Hildegarde Naughton announced a doubling of the fine for failing to stop at a school warden sign.
She said the increase of fines from €80 to €160 for what she described as "really serious traffic offences", will also cover other areas of "huge concern" including people not wearing seatbelts, speeding and using a mobile phone while driving.
Minister Naughton said it is important to ensure all road users abide by school wardens who she said are themselves vulnerable road users.
"This is about ensuring people are extra vigilant over the coming weeks."
She said the regulations are being worked on and that she hopes they will be in force by the end of October.
We need your consent to load this rte-player contentWe use rte-player to manage extra content that can set cookies on your device and collect data about your activity. Please review their details and accept them to load the content.Manage Preferences
Paula Hilman, An Garda Síochána Assistant Commissioner for Roads Policing and Community Engagement said there will be more garda activity in terms of patrolling and visibility as children and young people return to schools.
She said the vast majority of people do comply with road safety rules but she said, those who do not are putting young people's lives in danger.
Assistant Commissioner Hilman urged parents to talk to children about road safety, look out and be careful as they travel to school.
School wardens Sharon and Linda Ryan, who are identical twins, have been wardens for nine years. They are asking road users "be vigilant of the children crossing and of course watch out for the Lolly Pop lady!"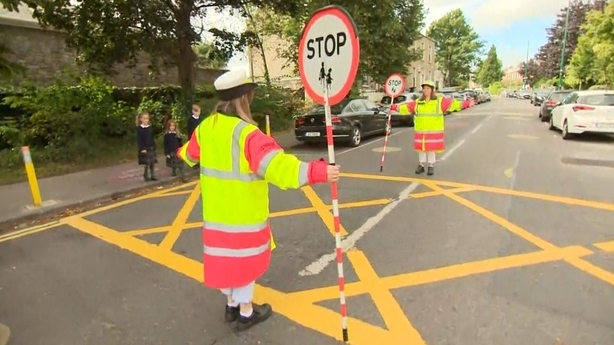 Sharon said some cyclists are not very considerate to wardens and "they just fly by you".
Her sister Linda said they are both looking forward to going back to school, that they missed the children over the summer.
Alongside the new portal, the "streetscape map" from the Road Safety Authority is another tool used by schools. It provides an opportunity for role play; the RSA sends its road safety educators along with the map to teach children how to "Stop, Look, Listen".
Billy Parkes, Eve and Faye Quinlan and Leighton Behan are all returning to school and picked up some new tips today at their school St Louis' Senior School, Rathmines.
Billy, who is 8-years-old and going into third class, said he learned to "always make sure you look before crossing the road".
Sisters Eve and Faye, both eight, learned to Stop, Look and Listen which they said means to look out and listen for cars.
Leighton Behan, 11, said he learned to always stay in the cycle lane when he is on his bike.