Ukrainian refugees who were being housed in student accommodation have begun to vacate campuses to make way for students ahead of the start of the new academic year.
Around 2,500 will be moved elsewhere by the end of this month. Charities have expressed concern, saying continually switching accommodation can be re-traumatising.
The suitcases were piled high today outside the student accommodation block on the Dublin City University campus.
They have already faced long journeys and these Ukrainian refugees were on the move again.
They had to vacate their DCU accommodation to make way for incoming students, with some told they were reluctant to leave.
Yelyzaveta Holovko and her mother Natalia fled Ukraine for Ireland on 9 March.
They spent two and half months in a hotel and three months ago were put up in DCU.
"We like it here so much," Yelyzaveta said.
"I feel so sad, it's so unfair because we have to move out."
They have been told that their new accommodation will be across the other side of the city, meaning that Yelyzaveta will have to travel further for work.
"I'm very worried. I don't want to lose my job because I'm the only one who can help my mam and me," she said.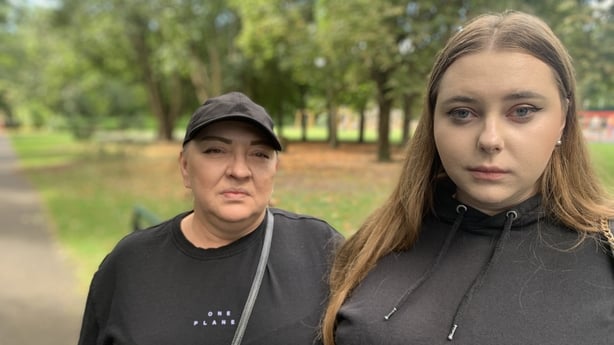 "My mother feels very bad. She has a heart problem and she can have a heart attack at any time."
They are concerned about the type of place they are now going to, which Yelyzaveta describes as "tents".
"We will have to share everything," she said.
"Here, we live together in one room."
It is a similar story for Maiia Tsuprenko. She has been in DCU since the start of June and lives with her mother and grandmother.
She is grateful to have found refuge here.
"My city of Kharkiv is totally destroyed. I'm safe, my family is safe. We are so thankful to the Government," she said.
But she says her new accommodation in Gormanston in Co Meath is far away from her work and from necessary services.
"We like this place, because people here are so kind," Maiia said.
"Most importantly, it's close to hospitals which is important to us ... because my grandmother has medical issues.
"Of course, I'm a bit upset... because I heard there will be eight people in the room.
I'm a bit upset, not about me but for my grandmother... It's going to be for one month and then we have to move again."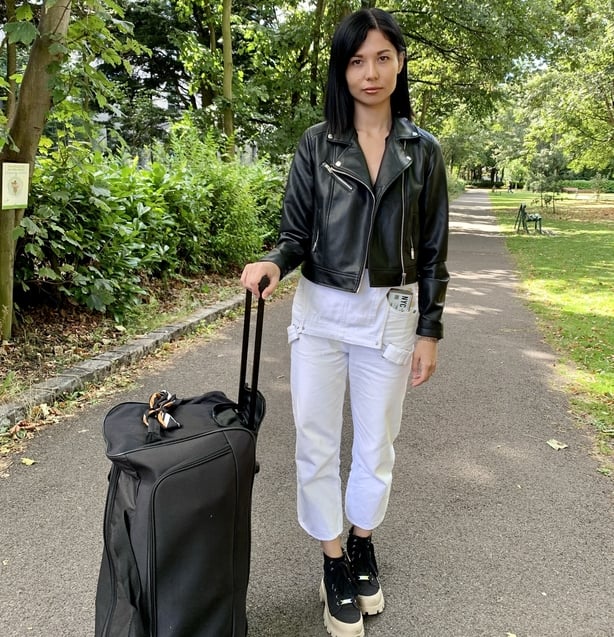 Charities working with Ukrainian refugees say continually relocating people can have an adverse effect and are calling for a more permanent solution.
Emma Lane-Spollen, he national coordinator with the Ukraine Civil Society Forum, is calling for a more "humane" response.
"This constant relocating, the not-knowing, school starts next week, is retraumatising," she said.
The worry is the accommodation squeeze will only tighten further. The latest figures show that almost 48,000 Ukrainian refugees have come into Ireland since the start of the war.
---
---
The latest information shows that around 1,000 people a week are arriving here. The overwhelming majority are women and children.
This afternoon, the Department of Children said it continues to work with other departments and local authorities to secure more accommodation.
In a statement, it said moving Ukrainian refugees out of college accommodation was always anticipated, as students headed back on campus.
However, it also said contingency planning has been significantly impacted by the higher number of people who have fled Ukraine arriving in June and July, coupled with the marked increase in the number of International Protection arrivals.
Around 2,500 Ukrainian refugees are due to leave student accommodation by the end of August, with a further 1,250 scheduled to be relocated by mid-September.