A year ago, Latifa Jawadi was in the office in Kabul going about her work like every other day.
Eventually word got round that the Taliban had taken over the capital and Latifa's life changed instantly.
"I was working with government as a senior official and I was in danger," Ms Jawadi recalled.
"If you work with the government or a foreign organisation or the army, they will kill you, they hate you," she told RTÉ News.
"We left everything in the office, laptops, phones everything and I went to my friend's house."
Ms Jawadi said she had to hide for a week because she did not know if the Taliban were monitoring her home.
As a prominent human rights activist, campaigner for women's and children's rights and a lawyer, Ms Jawadi knew she was on borrowed time.
She reached out to charities for help and last September, was told that she could come to Ireland as a refugee under the Afghan Admissions Programme.
Ms Jawadi was advised to leave her seven-year-old son Benyamin behind with her parents until she had left the country and was safely in Ireland.
"It was a very difficult decision," Ms Jawadi said.
"When he [Benyamin] misses me, he calls and sometimes he is crying.
"He tells me 'You can't bring me, I can't see you.'"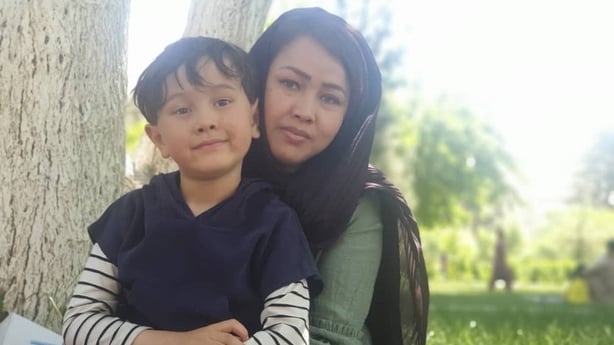 Ms Jawadi is a single parent and says her son is entirely dependent on her.
"I want my son [with me] because he is young, he needs me. You can feel as a mother or father when you are separated from your child. It's very hard."
Ms Jawadi applied to bring Benyamin to Ireland under family reunification, a right established under EU law for refugees.
Nine months later she is still waiting for a decision.
"The process [in Ireland] I think is a little bit slow and I want it to get faster especially for the special cases like my son because he is very, very young," Ms Jawadi said.
The Department of Justice said it remains focused on processing applications for family reunification made under all admission avenues, including the Afghan Admissions Programme.
In a statement, a department official told RTÉ News: "A total of 528 applications have been received under the Programme. These applications are currently being assessed with a view to issuing decisions in the coming months."
The statement added up to July 2022, "a total of 135 joint family visas have been approved for Afghan nationals and 77 family reunification applications have been approved."
Almost 600 visa waiver letters for Afghan's have been issued to date.
We need your consent to load this rte-player contentWe use rte-player to manage extra content that can set cookies on your device and collect data about your activity. Please review their details and accept them to load the content.Manage Preferences
'Most Afghan families are in cultural shock'
Ahmad Yasar Jahani arrived in Ireland last December with his wife and two sons.
For ten years Mr Jahani worked in Kabul as a human rights defender, a job that put him at immediate risk of death once the Taliban took over.
The early days in Ireland were not easy for his family, especially his youngest son who was just three years old.
"We travelled by army airplane; it was very loud and he was in shock," Mr Jahani said.
"When we arrived here, for the first month [every time] he heard a garda siren, he said the Taliban is here [in Dublin] and he tried to hide somewhere."
Afghan refugees say Mr Jahani's son's reaction is very common for many people who have fled Afghanistan.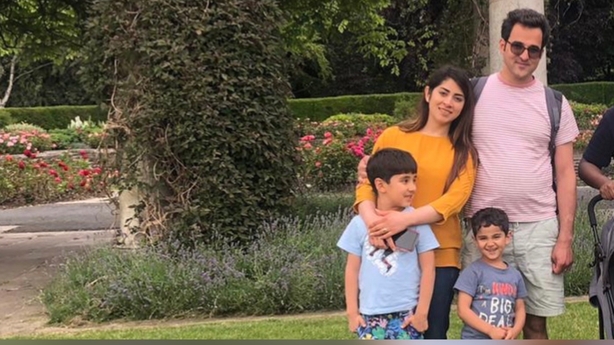 Mr Jahani now works with the Irish Red Cross helping Afghan families integrate into Irish society.
"Most Afghan families are in cultural shock and this hasn't helped them to integrate in a proper way," he said.
"They don't fully understand the system [in Ireland], how to use those rights that they are entitled to by the law and we are behind them and supporting them to have access to those rights that they are entitled to in Ireland."
Mr Jahani said Afghans are happy to be safe and secure in Ireland, but one issue that many feel needs to be addressed by the Government is access to further education.
He said it is currently limited to people who have been here for three years.
"I'd like the Government to reduce the timeframe to at least one year because three years is a long time for young people who want to learn and get access to colleges," he said.
For both Mr Jahani and Ms Latifa the past year has turned their lives upside down. They had to flee their homes, jobs and leave loved ones behind in Afghanistan.
"For now I can't return," said Ms Jawadi.
"When the Taliban goes, I will think about returning but now I want to live here [in Ireland], improve my English and be a useful person here."