Gardaí, sergeants and inspectors around the country have begun to wear a new uniform.
The country's 13,000 gardaí will wear polo shirts, two-tone soft shell and waterproof jackets, and new 'operational trousers' which have pockets that are similar to those found on combat trousers or cargo pants.
The uniform will also be clearly badged with the Garda crest for the first time.
Gardaí will no longer wear shirts and ties, except on formal occasions, but will continue to wear the distinctive Garda peaked cap.
The new uniforms were delivered to stations all over the country from February.
We need your consent to load this rte-player contentWe use rte-player to manage extra content that can set cookies on your device and collect data about your activity. Please review their details and accept them to load the content.Manage Preferences
The new hi-vis yellow and dark blue jacket replaces the outgoing current fleece, with a blue polo shirt to replacing the shirt and tie. The new uniform also includes base layers.
The uniform for senior officers, from superintendent up to commissioner, is not changing.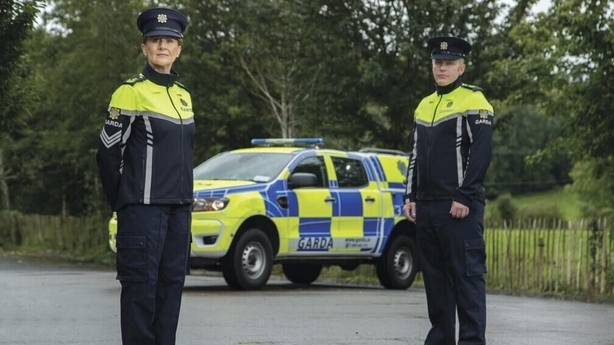 A spokesperson for An Garda Síochána said old uniforms will be disposed of through a tender process, which will be done in a secure manner.
This is only the third time in the 100-year history of An Garda Síochána that gardaí have formally upgraded their uniform.
However, the force has previously updated it to embrace the wearing of official headwear for religious and cultural reasons and beliefs including Turban, Kufi, Topi, Kippah, and Hijab.
A new garda uniform was a key recommendation outlined in the Commission on the Future of Policing in Ireland Report, 'A Police Service For Our Future'.
It comes as the Policing Authority noted An Garda Síochana's "sustained success in tackling Organised Crime Groups" in its July report.
The report cites positive trends in seizures of drugs, currency and firearms and the disruption to the activities of an organised crime group.
However, it adds that "challenges persist in respect of key enabling functions, including human resources, workforce planning, training, information and technology, estate management and finance".
Speaking at the uniform launch, Garda Commissioner Drew Harris said Garda numbers and resources may have to be reviewed given the increasing demands on the force.
Mr Harris added that his job is to best manage the resources assigned to the force, but an increasing population and a greater complexity in policing means there could be an argument to look again at the 15,000 garda members and 4,000 support staff which have been planned.
He said a recruitment process is under way to bring garda numbers up to 15,000.
Additional reporting Colman O'Sullivan