A memorial service at Glasnevin cemetery has been held to remember Michael Collins and Arthur Griffith, who died just days apart from each other in August 1922.
The Tánaiste Leo Varadkar, Minister for Justice Helen McEntee, members of the Defence Forces and Garda Commissioner Drew Harris joined members of the men's families to lay wreaths at their graves.
The national flag was raised in front of a crowd who gathered to admire the Sliabh na mBan armoured car which was on display inside the entrance of Glasnevin cemetery.
The car formed part of the Michael Collins convoy which was ambushed - the ambush that led to his death at Béal na Bláth in west Cork on 22 August 1922.
His co-signatory of the Anglo-Irish Treaty, Arthur Griffith had died unexpectedly just ten days before aged 51.
In his oration at the graveside, Mr Varadkar said Ireland's freedom and independence was won by leaders of thought as well as leaders of action.
"In Michael Collins we have the leader of action who made the flame burn so fiercely it seared and terrified those who tried to extinguish it. But in Arthur Griffith we have the leader of thought who helped bring the flame of liberty into existence, protected it during times of darkness, and then made it catch fire across the country," Mr Varadkar said.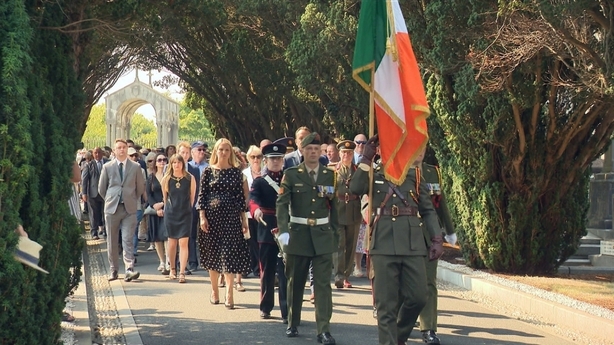 Collins' great grand-niece Geraldine Dalton said prayers at both graves, a tradition that has been handed down in her family; her grandfather was General Sean Collins Powell, who said the prayers at the commemoration ceremonies when she was a child.
She said all her family are immensely proud of Michael Collins.
"We are all very proud, of who we are and the legacy he created."
Arthur Griffith's only grandson, Shane Gray, said it was right Griffith was getting the recognition he deserved, that his story has never really been fully told.
"Griffith was, as Collins referred to him as - the father of us all - the man of ideas who worked extraordinarily hard, which killed him eventually."
We need your consent to load this rte-player contentWe use rte-player to manage extra content that can set cookies on your device and collect data about your activity. Please review their details and accept them to load the content.Manage Preferences
Mr Gray said it was "sad for his little family that he died at 51 but sadder still for the country who lost such a talented forward thinking leader".
He said Griffith should be remembered, his memory should live on "he really did gain our freedom, after 700 years of trying".
There was a moment of silence at each of the men's graves, followed by a lament by the Defence Force piper at Arthur Griffith's grave and a rendition of the Last Post by the bugler and drummer at the grave of Michael Collins.
The annual commemoration is organised by Collins/Griffith Commemoration Society in conjunction with the Dublin Cemeteries Trust.
Chairperson of the Collins/Griffith Commemoration Society, William Lavelle, paid tribute to all those who have helped keep the men's memories alive.
"Since 1923, our society and different versions of it have held this commemoration in an unbroken thread, even through the pandemic we held the commemoration every year so having got to our 100th successive annual commemoration, we are remembering Collins and Griffith but I am also paying tribute today to all of those who kept the flame alive and kept those traditions going."
There will be further commemorations this week, with thousands expected for the centenary of Michael Collins death in Co Cork.