The Government has said that 3,000 Ukrainian people currently being housed in student accommodation have been told they must leave where they are staying before the end of the month.
The Department of Children, Equality, Disability, Integration and Youth says it has agreed exit dates to ensure that accommodation is available to students ahead of the new academic year.
However, many of the Ukrainian families staying in student apartments have not been told where they will be accommodated next.
The Children's Rights Alliance has raised concerns about the effect on children of continually moving them on from temporary accommodation.
The Department of Children said there are currently 4,270 people being accommodated in student accommodation, of whom around 3,000 will have to leave before the start of the new academic year.
In a statement, the department said it had agreed "exit dates" to ensure students could access campus accommodation once colleges return.
"3,000 Ukrainian beneficiaries of temporary protection (BOTP) must leave student accommodation by the end of August"
"The Department continues to work with accommodation providers to secure additional accommodation generally over the summer months and after, taking into account provision that may expire at the end of the summer."
One woman, Polina Grishenko, who is eight months pregnant, and lives with her sister and two children at a student apartment in Cork, told RTÉ's This Week programme that she fears she may have to return to the Citywest accommodation centre to "sleep on the floor".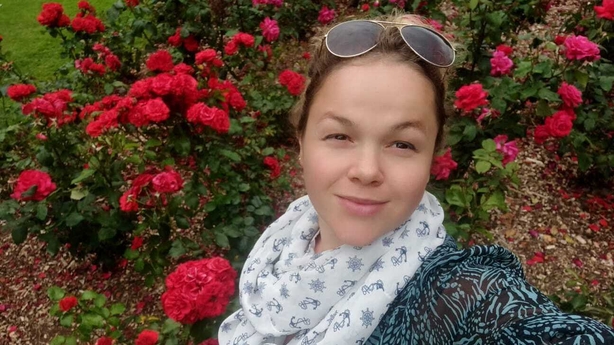 She said she was told that pledged accommodation may not be suitable because of the size of her family unit: "I was told in my case, my family is too big, so we can not promise any solutions, or make any promises."
Since arriving in Ireland Ms Grishenko, who is from the Ukrainian capital Kiev, has moved four times, and the children she lives with have not been enrolled in any school.
The Children's Rights Alliance has raised concerns about continually moving children from one location to the next.
Julie Ahern, legal policy and services director with the Children's Rights Alliance, said: "Temporary accommodation does make it difficult for children to settle, to make friends and access services, and we know from talking to refugee children that what they really want is to feel safe, to have an opportunity to make friends and to settle."
She said "morally the Government have done a great thing taking in as many Ukrainian refugees as want to come here"
However she said the focus needs to move away from an emergency response to more permanent solutions.
"We have heard from the Department of An Taoiseach that they are looking at modular housing, and this needs to be progressed as a priority," she said.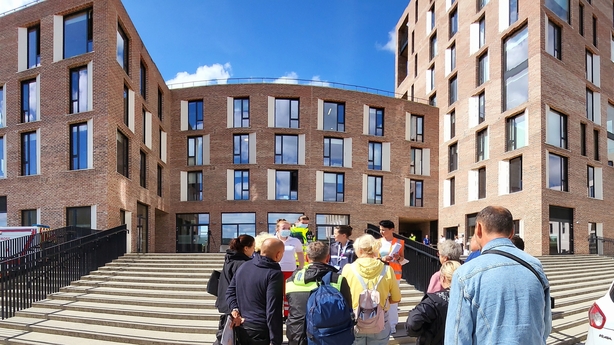 There are between 400 and 600 Ukrainian refugees currently being housed in student accommodation at Maynooth University campus, and hundreds more are expected in the coming weeks.
"The vast majority are coming straight into the country... to City West and then coming to us," said Gemma Irvine, Vice President for Equality and Diversity at Maynooth University.
"We've had quite a few arrivals, Thursday, Friday, Saturday, a few more today... and then we start again on Monday.
"We'll probably have 840 in total staying with us for the month of August."
Yunna Lavuchenko, a refugee from Odessa, is among the new arrivals. She was brought to the campus from City West with her children yesterday.
"Your country is so kind to us," she said. "We have been in a strange situation, terrible. The war is not good for a child."
The new arrivals are given welcome packs and vouchers, and are assessed for medical needs.
"There are some very urgent medical needs," said Rosemary Hayden, the Area Director for the Irish Red Cross, which runs a daily clinic on site.
"You can just imagine yourself if you were on the move for maybe weeks, maybe months – different medical needs that you might have that wouldn't be an emergency at the start might become more of an emergency as things move on.
"For example, if you have a diabetic who doesn't have access to a glucometer, or they have run out of their medicine that came become an emergency quite quickly."
We need your consent to load this rte-player contentWe use rte-player to manage extra content that can set cookies on your device and collect data about your activity. Please review their details and accept them to load the content.Manage Preferences
The refugees are also greeted by Ukrainian volunteers.
Nina Dinaieva and Irina Buzakova arrived as refugees in June. They have since been able to get alternative accommodation locally, but were anxious to come back and help their fellow countrymen and women.
"When we came, we didn't understand, and now we have a team," said Ms Dinaieva. "We meet people from the bus and they know what they will have."
Ms Buzakova said she wanted to help because she understands how they feel when they arrive in Ireland.
"And I would like to help these people because I have experience."
Both women speak positively about their stay on the campus and are full of praise for the team helping the refugees there.
However, this student accommodation will only be available for the refugees for this month and local groups are hoping they can find homes for as many as possible.
Helping Irish Hosts is holding a public event this Thursday in Maynooth to attract would-be host families.
"I don't think we're going to be able to help everybody, we all know what the numbers are," said the group's Jill Robinson.
"However, we can make a difference to a few hundred people. There was a cohort of Ukrainians who lived in Maynooth in June and we already resettled some of them in Maynooth and the surrounding areas.
"Our plea is to get people who had shown an interest in hosting to rethink about it and come out and talk to us."
The Hosting Hotline number is 1800 75 33 43.
Reporting by Justin McCarthy, Joan O'Sullivan