A 36-year-old man has been jailed for 17 years for raping, falsely imprisoning, assaulting, threatening to kill and coercively controlling a woman after invading almost every aspect of her everyday life over a period of six weeks.
Dean Ward, formerly of Ballintlea, Hollyfort, Gorey, Co Wexford was found guilty by a jury earlier this year of 12 offences including three counts of rape and four counts of assault as well as a charge of coercive control.
The woman, Sinéad O'Neill, from Killybegs, Co Donegal, said she was relieved by the outcome of the case and was speaking out to show others that support was available.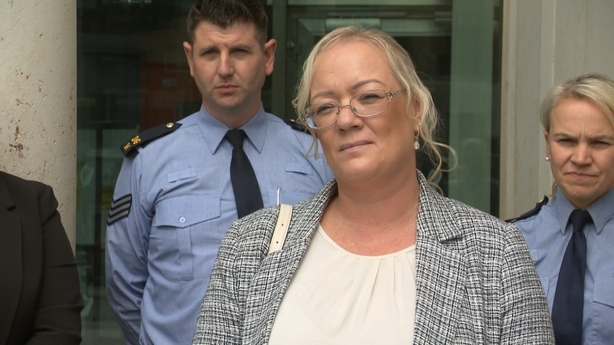 Mr Justice Kerida Naidoo said Ward had effectively moved into Ms O'Neill's home after their first date and through a combination of lies and emotional manipulation insinuated himself into her life.
He said he controlled and manipulated her to the point where her life was no longer her own. Ms O'Neill was only able to break free, he said, when friends and work colleagues put in place an escape plan, giving her time to get out and allowing gardaí to intervene.
Mr Justice Naidoo said Ms O'Neill did not give her consent to sexual intercourse freely. Her acquiescence was secured by fear in circumstances where she was subjected to force before the rape or as a result of the cumulative effect of Ward's behaviour.
On one occasion he threatened to drown her, knowing she had a particular fear of drowning. Her terror was so great that she offered to take her own life by slitting her wrists, the judge said.
We need your consent to load this rte-player contentWe use rte-player to manage extra content that can set cookies on your device and collect data about your activity. Please review their details and accept them to load the content.Manage Preferences
Ward pleaded not guilty, does not accept the jury's verdict and continues to maintain his innocence. He has been in custody since his arrest on 17 July 2019.
He has a history of violence towards women he was involved with, including a previous conviction for falsely imprisoning and assaulting a woman.
The judge said he showed no remorse and there was virtually no mitigation.
The court heard that in this case he sprayed mace in Ms O'Neill's face when she confronted him about adding her friends to his Facebook account.
"To any woman in a similar situation, please reach out"

Sinéad O'Neill from Killybegs in Co Donegal speaks outside court, after a 36-year-old man was jailed for 17 years for raping, falsely imprisoning, assaulting, and threatening to kill her | More: https://t.co/iKCoPqRr0d pic.twitter.com/OsOt5rqOmV

— RTÉ News (@rtenews) July 28, 2022
She locked him out when she discovered he had been interfering with her online bank account, but he got in through a window and punched her in the head, then tied her up and raped her.
He threatened her with a hammer, assaulted and raped her after another man bought her a drink on her birthday. He restricted her interaction with friends and family, messaged her persistently and monitored her whereabouts.
He sent her hundreds of text messages including 165 on one particular day. The court heard he also removed her contraceptive device as she slept.
Ms O'Neill confided in her boss and they came up with an "escape plan" where she went to work and left her phone there while they went to the gardaí. When gardaí went to arrest Ward, they found him fleeing over the wall with a can of incapacitant spray.
Ms O'Neill met Ward for the first time in May 2019. He was arrested in July 2019. She told the court he took just six weeks to destroy her life.
She said what she had gone through was life altering. Ward was charming and complimentary at first but she would now have immense fear, anxiety and paranoia for the rest of her life.
Speaking outside court, Ms O'Neill said she wouldn't have made it as far as she did without the support from the gardaí who she described as "amazing".
She urged other people experiencing domestic violence or coercive control to try to confide in someone, even though she knew they would be very fearful.
She said by highlighting the issue she hoped she would help other women and she said she was sure that other women had already been saved due to the fact that Ward had been off the streets since 2019.
If you have been affected by any of the issues raised in this story, help is available