The Cabinet has approved a new bill that would strengthen the law on consent, knowledge and belief in rape cases.
The bill would change the current situation where a man is not guilty of rape if he believed that he had the consent of a woman.
Under the new proposals, the accused's defence that he believed she was consenting has to be objectively reasonable.
This means juries should have regard to the steps the accused took to check whether the woman is consenting, as well as the accused's decision-making capacity at that time.
The bill also includes the provision that self-induced intoxication would not be a defence to a charge of rape in relation to an accused's capacity to understand if he did have consent.
The Sexual Offences and Human Trafficking Bill progresses policy commitments made by Minister Helen McEntee in her key plans - Supporting a Victim's Journey and Zero Tolerance; the third national strategy on domestic, sexual and gender-based violence.
We need your consent to load this rte-player contentWe use rte-player to manage extra content that can set cookies on your device and collect data about your activity. Please review their details and accept them to load the content.Manage Preferences
Under current law, the accused's own subjectively honest but mistaken belief that the woman was consenting is a defence to rape.
The bill would also provide for anonymity for victims and the accused in all trials for sexual offences and not just in rape trials.
This was a recommendation of the O'Malley Review of Protections for Vulnerable Witnesses in the Investigation and Prosecution of Sexual Offences conducted by an expert working group, led by Professor Tom O'Malley.
Anonymity for the accused would also be provided under the bill in case they are found not guilty of the offence.
If an accused person is convicted of a sexual offence, they may be identified, unless to do so would lead to identification of the victim.
The bill would see the public excluded from court for sexual offence trials and while it would not impact the media's ability to report, the definitions of "broadcast" and "publication" would be updated to ensure that social media is covered in order to protect the victim's identity.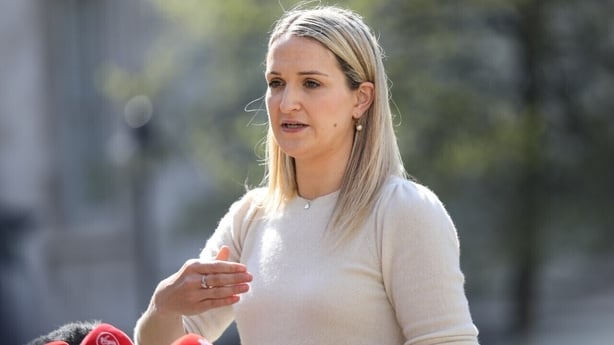 The Minister for Justice Helen McEntee said that the bill puts the onus on the accused to prove that they had obtained consent.
"There will be an onus on the accused now to show that they took reasonable steps that any normal person would believe. At the moment, all they have to prove is that they themselves thought that this person was consenting," Minister McEntee told RTE's News at One.
"Somebody can have an honest belief but to an objective person it's clearly not something that was going to be willingly or freely given.
"At the moment if a person is accused of rape, they can say that they honestly believed at the time that the person was consenting.
"What we are proposing is that you would now have an objective test so that a person will have to show that they went to reasonable lengths, that a reasonable person would think that the person was consenting, they did engage with them and a jury would be convinced that that person has taken those steps.
"We're (also) going to extend anonymity to both victims and to those who are accused.
"I want people to come forward and it is a huge deterrent where somebody thinks that they will be named but also that people will be able to come into the public gallery. I am proposing that these would not be open hearings. Yes, the media would be able to report on it but nobody else can come in.
"We are making sure that the reporting that has to be done in a sensitive way, (and this) will apply to social media as well."
The Chief Executive of Women's Aid welcomed the Cabinet approval for the bill.
Speaking on RTÉ's Morning Ireland, Sarah Benson said: "Anything that can redress the balance, that can make the victims' experience in this journey more balanced, is something to be welcomed."
CEO of the Dublin Rape Crisis Centre, Noeline Blackwell welcomed the proposed changes.
"I believe that going to be put into the law, if the defendant says, "I really believed the other person was consenting," that they are going to have to say, and "here is how I checked that they were consenting," Ms Blackwell said.
If approved, the full bill will be published at the end of the year.