There are thousands of misplaced bags at Dublin Airport, with around 270 going missing every day, an Oireachtas committee has heard.
The Oireachtas Committee on Transport and Communications has held a hearing into the airport, which has experienced difficulties since international travel resumed on a large scale earlier this year.
A representative of Sky Handling Partner (SHP) told committee chair Kieran O'Donnell that it was dealing with 2,897 missing bags at Dublin Airport and is receiving around 270 missing bags per day.
Mr O'Donnell told the committee that based on his calculations, it would take at least 48 days for SHP to get through the backlog.
The baggage handler has opened a "secure landside location" beside Terminals 1 and 2, to help process bags.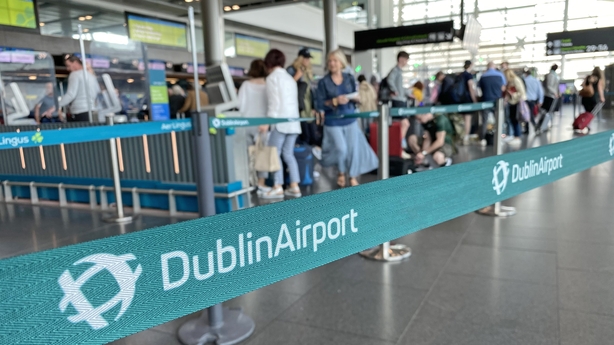 It also told members that its ground handling services were impacted by a loss of staff due to Covid-19 lockdowns.
Swissport, the company that provides a range of ground services to Dublin Airport, has around 100 missing bags that it is dealing with.
The company explained that it had seen a number of experienced staff leave during the pandemic.
The committee was also told that Aer Lingus currently has 1,200 "open files" related to missing baggage.
Aer Lingus CEO Lynne Embleton told Sinn Féin's Ruairí Ó Murchú that in the majority of these cases, Aer Lingus does not touch the bags.
She said bags go missing when they are being transferred from another airline to Aer Lingus, adding that under-resourcing at airports in terms of ground handlers contributed to this problem.
We need your consent to load this rte-player contentWe use rte-player to manage extra content that can set cookies on your device and collect data about your activity. Please review their details and accept them to load the content.Manage Preferences
Aer Lingus has also said Dublin Airport's advice for passengers to arrive early for flights should be scrapped.
Ms Embleton said people turning up early for flights later in the day were competing with passengers dropping a bag for early morning departures.
Ms Embleton said this was leading to unnecessary congestion.
The committee was meeting Dublin Airport stakeholders this morning to discuss recent issues ahead of the bank holiday weekend.
Dublin Airport told members that since major queues were seen at the airport in May, there had been significant improvements and the security screening process is now "far more robust" and on a "sustainable footing".
Despite comments from Ms Embleton, Dublin Airport Managing Director Vincent Harrison said the advice for passengers to arrive two-and-a-half hours before a short-haul flight, three-and-a-half hours before a long-haul flight, and an hour earlier in each case if dropping off luggage, remains in place.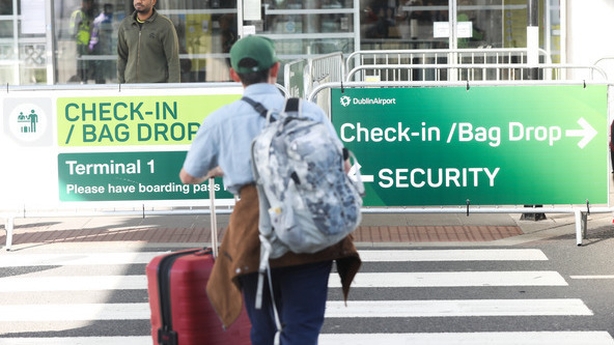 Separately, the committee heard that while Aer Lingus has cancelled a number of flights, it has a "flight completion rate" of 98% last month.
Ms Embleton said that the number of Aer Lingus cancellations was much smaller than other European carriers, such as Lufthansa, Air France, KLM and EasyJet.
Mr O'Donnell asked Aer Lingus if it envisaged any cancellations this weekend.
Aer Lingus Chief Operations Officer Peter O'Neill said that all flights are currently staffed for the weekend and he expects to operate the "vast majority".
Mr O'Neill said that should cancellations occur, passengers will be given notice.
He told Mr O'Donnell that while he could not "guarantee" that there would be no cancellations this weekend, he did expect to run all scheduled flights.
Ms Embleton said the airline was seeing Covid-19 absentee cases running at four times 2019 absenteeism levels. However, she said that Covid was not the main driver of flight cancellations.
She said the majority of Aer Lingus cancellations affected Dublin Airport, rather than Shannon or Cork.
Mr Harrison said that while it would be a busy bank holiday weekend, it would not be "materially different" to recent demand.
He told the committee that there were no plans to bring in the army to help at the airport and said the army has not been utilised at all in recent weeks.