Taoiseach Micheál Martin has paid tribute to his uncle, who was a former prisoner of war, as he ended a four-day official trip to Japan and Singapore.
Mr Martin went to Changi Chapel and Museum, which is dedicated to Singapore's history during World War II and the Japanese occupation of the island.
It has a personal resonance for Mr Martin as his uncle Philip Martin was imprisoned there during the time he served in the Royal Engineers.
In 1942, he was captured in Singapore by Japanese forces and sent to the notorious Changi prisoner of war camp.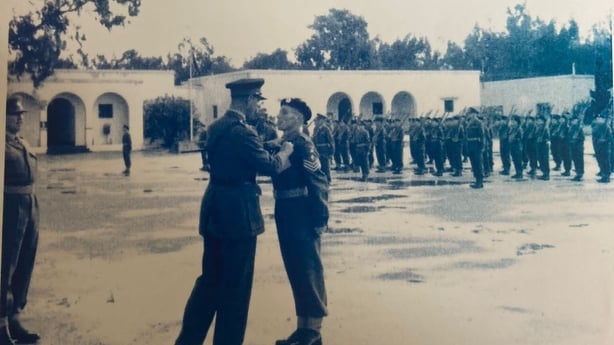 His family back in Ireland presumed the worst as they had not heard from him for a long time. But Philip Martin survived three years in the prisoner camp until its liberation in 1945.
More than 83,000 people, both soldiers and civilians, women and children, were interned in the camp and subjected to hard labour on meagre rations.
Philip Martin later returned to England and continued to serve in the British military. His name is listed at the Changi Chapel Museum.
Afterwards, the Taoiseach said he was told many stories about how cruel and how traumatic it was.
"They had to eat raw chickens and insects to survive. He came back weighing only eight stone," he said.
"To be here and to see his name on the wall is quiet an emotional experience."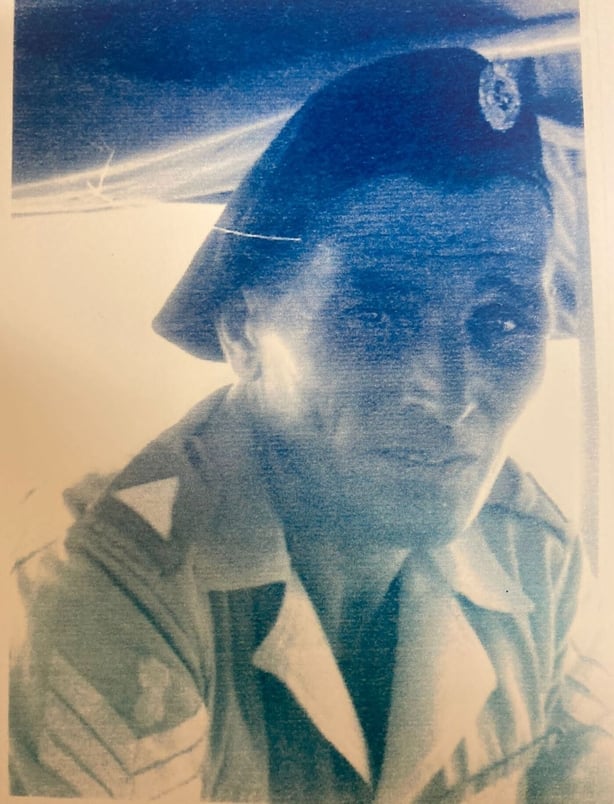 The Taoiseach today met the Singaporean Prime Minister Lee Hsein Loong. During a meeting that lasted just over an hour, the two leaders discussed a range of issues, including European affairs and Brexit.
Climate change was also discussed, as Singapore is vulnerable to rising sea levels.
Mr Martin raised issues on human rights, specifically concerning LGBT rights. Same-sex sexual activity between men is illegal in Singapore.
The Taoiseach also raised Ireland's opposition to the death penalty, which comes as Singapore carried out its fifth execution in the space of four months.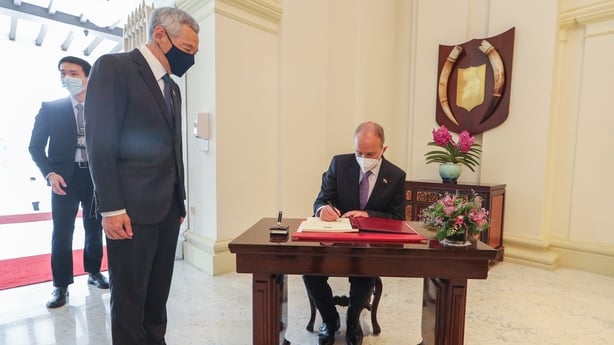 The prime minister claimed that the practise was necessary to deter crime in Singapore.
Mr Martin also attended a business lunch, where client companies of Enterprise Ireland signed new contracts for work in Singapore.
Kevin Ryan, South East Asia Director with Enterprise Ireland, said that trade value between Ireland has increased from €7bn around four years ago to over €20bn.
"This growth shows how attractive Singapore has become to Irish companies who want to trade in Asia," Mr Ryan said.
Before departing Singapore this evening, the Taoiseach attended an Irish community reception hosted by the Ambassador Pat Bourne.
This was the first official visit by an Irish Taoiseach to Singapore since 2004.
We need your consent to load this rte-player contentWe use rte-player to manage extra content that can set cookies on your device and collect data about your activity. Please review their details and accept them to load the content.Manage Preferences