The EU will wait to see what the approach of the next UK prime minister would be before deciding its next move in response to the Northern Ireland Protocol Bill, Minister for Foreign Affairs Simon Coveney has said.
Mr Coveney is in Belfast to meet political leaders to discuss the ongoing power-sharing impasse at Stormont triggered by the DUP's refusal to re-enter a devolved executive in protest at Brexit's Northern Ireland Protocol.
Scheduled meetings are due to take place with Sinn Féin, the Alliance Party, the UUP and SDLP.
It had not been possible to arrange a meeting with DUP leader Jeffrey Donaldson as he was in London, Mr Coveney said.
"We looked for a meeting with the DUP, just like we looked for a meeting with the DUP the last time I was here," he said, adding that people should not "read too much into" the fact that this meeting was not possible.
"We are here to talk about the challenges we face together, and the biggest challenge is finding a way to get a functioning Assembly working for Northern Ireland again and ultimately a functioning executive as well as part of that Assembly."
The EU is hopeful a change in prime minister will herald a "new start" in relations between Brussels and London, Mr Coveney said.
"I think there is a sense in Brussels now that they want to wait for a new prime minister to be in office in number 10 Downing Street," he said.
"And I think there is a certainly a willingness to try to work towards a new start if you like in relations between the British government and the EU. And certainly that's the case from Dublin.
"We would like to see the change in Conservative Party leadership and the change in the prime minister's office as an opportunity to try and resolve some of these outstanding issues in a different way.
"It's no secret that the relationship between the British and Irish governments has not been good in recent years and that's because the British government has decided to move away from partnership and co-operation, which in many ways has been the foundation of the success of the peace agreements which will be 25 years old this year.
"It's a real worry for us if I'm honest that the British government over the last number of years has moved away from that partnership approach to try to make politics in Northern Ireland easier for people in terms of finding solutions and compromises on difficult issues."
Mr Coveney said he did not have a preference between Liz Truss or Rishi Sunak in the Conservative leadership contest.
However, he expressed hope that whoever succeeds Boris Johnson steps away from the contentious move to override the protocol by way of domestic legislation at Westminster.
"The leadership contest within the Conservative Party is a matter for the Conservative Party," he said.
"We'll work with whoever the new leader is, whoever the new prime minister is.
"Of course, we hope that the new prime minister won't pursue a strategy of breaking international law and breaking their word to Ireland and the EU."
Vara 'determined to avoid fresh Stormont elections'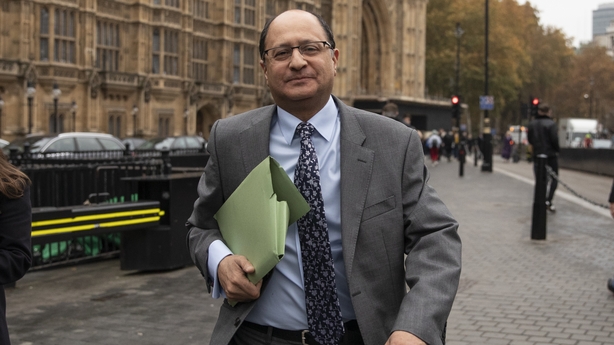 Meanwhile, Northern Ireland Secretary Shailesh Vara said he is determined to avoid a fresh Stormont election in the autumn.
He stressed that he is not afraid to take tough decisions and that the option of cutting MLAs' pay is "on the table".
The Stormont Assembly has not sat since February, when the DUP withdrew ministers, calling for the UK Government to act on the Northern Ireland Protocol.
The Assembly will sit next Tuesday to attempt for the third time this year to elect a new speaker following a recall motion by the SDLP.
"I am determined to do everything I possibly can to make sure that an election is not called," he told media during a visit to Atlas Women's Centre in Lisburn, Co Antrim.
"I want to work with all the political parties to make sure that we can move forward, but if tough decisions have to be taken then you will find that this Secretary of State is not afraid to take them."
Asked would he cut MLAs' pay, he said that is "on the table".
"I'm not ruling anything out but I'm very much hoping that very soon we can get heads together and that that executive will be running, but nothing is being ruled out."
Mr Vara added: "My immediate priority is to get everyone to think about the 1.9 million people in Northern Ireland who are desperately wanting to have decisions made.
"Right now there is £400 million that is just sitting waiting to be spent, and that money can be spent by the Northern Ireland Executive but it isn't sitting, and that money can help people when they desperately need it."
On Wednesday evening the Northern Ireland Protocol Bill, which would effectively over-ride parts of the post-Brexit settlement, moved closer to becoming law.
Mr Vara said the UK Government is keen to have a negotiated settlement with the European Union over the protocol.
With additional reporting by PA