Officials at the Department of the Environment are meeting to discuss the EU's call for a 15% reduction in gas demand.
They are then expected to meet EU officials on the issue tomorrow.
Minister for the Environment Eamon Ryan will attend a meeting of EU ministers on Tuesday to consider the plans further.
The European Commission has urged EU countries to reduce demand for natural gas by 15% over the coming months to secure winter stocks and defeat Russian "blackmail".
Meanwhile, Taoiseach Micheál Martin has warned that gas supply problems across the EU - if Russia cuts off stocks - will impact prices on the Irish market.
The Taoiseach said that Ireland is not as reliant on Russian gas as other states, but if there are supply issues across the bloc it will impact prices on the Irish market.
When asked if Ireland should expect blackouts, Mr Martin said that discussions are under way at EU level in respect of the decisions taken around Russian energy.
"There is discussions under way within the European Union in respect of the Russian decisions already taken to reduce gas supplies into many member states and the expectation that that will increase as we get closer to the winter period," Mr Martin said.
"Our supply lines are somewhat different in terms of Norway to the UK and to Ireland, in terms of gas.
"We do see issues with energy in terms of pricing certainly as we move into the autumn and supply in terms of the broader European experience.
"If the overall supply levels reduce that has real consequences for cost and the price of energy."
Taoiseach Micheál Martin has said while Ireland is less reliant on Russian gas than some European nations, gas prices are likely to increase in the coming months | Read more: https://t.co/40vKeVkVi8 pic.twitter.com/AmL3se8NKN

— RTÉ News (@rtenews) July 20, 2022
Last year, Russia represented 40% of the EU's total gas imports and any further disruption to supply would also push consumer prices higher and raise the risk of a deep recession.
"Russia is blackmailing us," European Commission President Ursula von der Leyen told reporters.
"Russia is using energy as a weapon and therefore, in any event, whether it's a partial major cut off of Russian gas or total cut off... Europe needs to be ready."
Since Moscow invaded Ukraine on 24 February and the West responded with sanctions, Russia has begun reducing its gas deliveries, apparently to prevent EU countries from replenishing reserves.
Europe is eagerly watching whether Russia will resume gas supplies via the Nord Stream 1 pipeline tomorrow when scheduled maintenance is due to be completed.
German pipeline manager Gascade said it expected Russian gas deliveries to resume at 40% of capacity, the level of supplies before maintenance work.
EU proposals align with Govt - Greens
Minister Ryan and his department said the communications from the EU aligns with the Government's own energy reduction campaign, launched in April.
He said the next phase of this campaign will begin over the coming months.
In a statement, the minister and department reiterated that with 75% of Ireland's gas coming from diversified sources through the UK and 25% coming from the Corrib gas field, Ireland is one of the EU countries with the least direct reliance on Russian gas.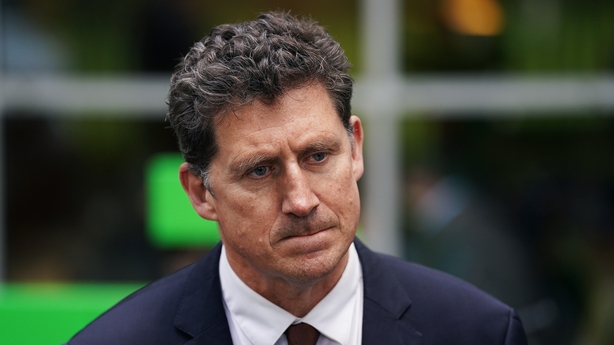 "We cannot be complacent. Russia supplies 40% of Europe's gas demand and a complete cut-off, especially in winter, would be very difficult for Europe to manage," the minister and department said.
"This is why we have set up the Energy Security Emergency Group and are engaging with the European Commission and Member States intensively."
The group is overseeing the implementation of the National Energy Security Framework, coordinating a response to support consumers and businesses and ensuring emergency plans are up to date.
Mr Ryan added that with half of electricity used in homes and businesses generated from gas, the situation underlines the need to reduce reliance on imported fossil fuels and increase renewables.
"The European Commission is actively engaging with other countries to ensure sufficient and timely supply of natural gas to the EU from diverse sources across the globe to avoid supply shocks, including those that result from disruptions," the minister added.
Green Party MEP Ciarán Cuffe added that there may not be "as much pain" in Ireland as in central European countries caused by the EU's recommended 15% cut.
Speaking on RTÉ's Drivetime, Mr Cuffe, who sits on the European Parliament's energy committee, said: "Here in Ireland we use gas to generate electricity, some people use it to heat their homes, but not to the same extent as other countries in Europe."
There was a fear that Russia may not re-open the Nord Stream 1 pipeline into Germany following maintenance, but an announcement this evening from Russia suggested that it will re-open, he said.
Reducing usage by 15% would take the pressure off the gas wholesale market and off gas prices, Mr Cuffe said.
He also called for "solidarity" with our EU colleagues whom he said had been "good friends to Ireland in recent years".
'Reducing usage will create a buffer' - ESRI
An energy expert with the Economic and Social Research Institute (ESRI) said that reducing gas usage now will allow Ireland build up a buffer of gas in storage for winter.
Dr Muireann Lynch of the ESRI said legislation to enforce this move cannot be ruled out.
"At the moment, this is just European policy-makers trying to co-ordinate their efforts," the energy economist said.
Speaking on the same programme, she said: "What's happening at the moment is essentially asking national governments to come up with policies that would reduce gas usage and that figure of 15% is being talked about. But you couldn't rule out down the line that [legislation] being put in place."
She said that energy prices were already high before the war in Ukraine started, because of the after-effects of the pandemic which hit storage, then, when the war began, Russia began cutting off gas supplies to some countries.
Ibec calls for grant scheme to help with spiralling costs
Employer's group Ibec has said a Government grant scheme to help businesses with spiralling energy costs is required in the face of the challenge of energy security and affordability.
The organisation said such scheme are already being delivered in other EU countries.
"We need to follow suit as soon as possible to protect our enterprise base and our capacity to compete internationally," said Ibec Senior Executive of Infrastructure, Energy and Environment Policy, Conor Minogue.
"While we understand Government is developing such a scheme, it must be delivered in a timely manner and help the businesses that require it the most."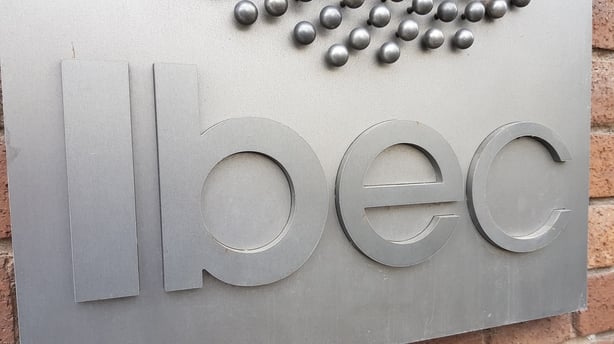 He said that while Ireland is not without risk of rationing, the real issue for businesses this winter will be affordability of energy.
"Prices are going to continue to increase, especially if Russian gas supply drops, which could lead to self-rationing, operational, and liquidity issues," Mr Minogue said.
However, Mr Minogue added that Ibec's members recognise and support the need to show solidarity with other EU member states that are most exposed, and the need for all sectors including industry to play their part and conserve energy where they can.
Additional reporting Will Goodbody