Photos of people sleeping on floors and chairs as recently as this morning in the transit hub at Citywest in Dublin have been shared with RTÉ News.
The facility currently caters for both Ukrainian refugees and asylum seekers from other countries.
The Government said that it was full last week and opened the old terminal at Dublin Airport as stop gap accommodation on Wednesday and Thursday nights.
It catered for more than 300 people over the course of two days and concerns were raised that people were sleeping on floors there.
From Saturday, the old terminal building was no longer used, and Citywest resumed accepting new arrivals directly.
We need your consent to load this rte-player contentWe use rte-player to manage extra content that can set cookies on your device and collect data about your activity. Please review their details and accept them to load the content.Manage Preferences
The Movement of Asylum Seekers in Ireland (MASI), which has raised concerns about overcrowding and conditions at the facility, shared photos of people sleeping on chairs and on the floor, which it says were taken this morning.
Photos shared on social media by the Abolish Direct Provision Campaign show people sleeping in sleeping bags on floors in corridors. Other photos show people sleeping on mattresses between chairs in what appears to be a large dining room, while another shows the same room during the day with mattresses propped up against tables.
The Abolish Direct Provision Campaign said that these were from the middle of last week, which was the height of the accommodation shortage, but three more photos that it sent directly show people sleeping on chairs in the same room and were taken more recently.
RTÉ News is not publishing all of these images to protect the identities of those photographed.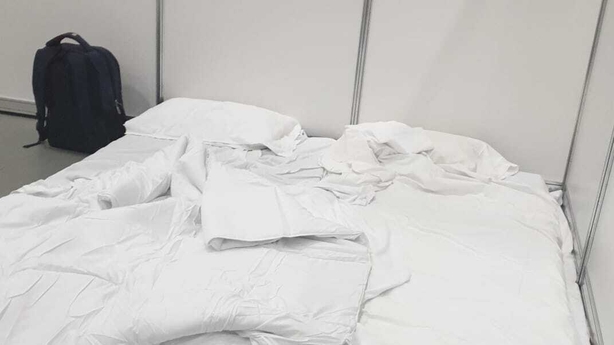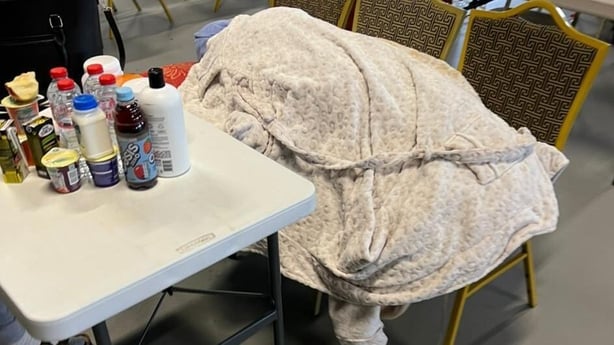 Ukraine refugees will be housed in tents 'for maximum of a week'
MASI said there has been some improvement since then, with some people moved out of the facility.
Lucky Khambule, co-founder of MASI, said that more mattresses have been provided, but some people must still sleep on the floor.
MASI shared photos and video footage, which it said were from the Citywest transit hub on Sunday.
The video shows corridors that were clear of bedding and of anyone sleeping on the floors there.
However, in a separate sleeping area that was filmed, there were mattresses on the floor, camp beds and single beds, all lining the edges of the space and placed close together.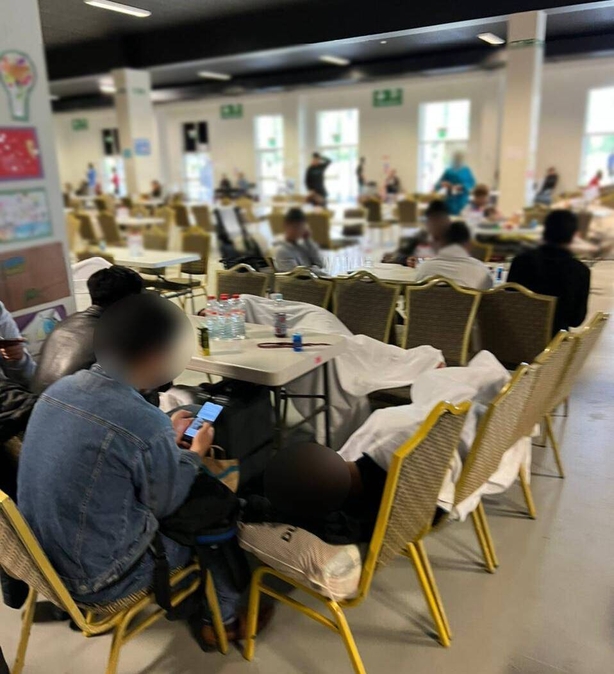 MASI also shared photos of bedding on the floor in what appeared to be a large common area. Its video footage also showed people queuing for showers.
RTÉ News understands that there are around 18 showers in the facility.
'Capacity constraints'
The Minister with responsibility for providing accommodation to Ukranian refugees has said he is not sure of the exact number of people sleeping on chairs or on the floor in the Citywest facility, but that it is "probably in the low hundreds".
Roderic O'Gorman said that Citywest has been under "capacity constraints" over the last two weeks, adding that there is "some reliance on people staying in chairs in Citywest".
"That's why we've been focused on trying to reduce the overall numbers of people staying in Citywest. That's why we're looking to bring on additional accommodation. We were provided with additional student accommodation late last week. We're also looking to bring on the refurbished units the Department of Housing has provided my department," he said.
The minister also outlined plans to set up a second reception centre like Citywest, which he said he hoped would be up and running in the next two or three weeks.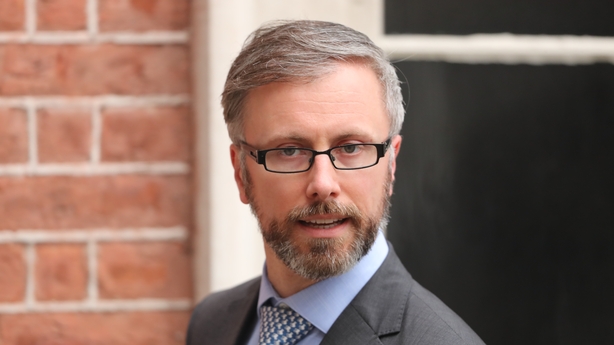 "We're in negotiations in terms of some locations right now and once we have a location confirmed we'll look to get it up and running as soon as possible," Mr O'Gorman said.
On Friday, Mr O'Gorman confirmed that showers had been recently installed in the facility as part of measures to improve conditions amid current overcrowding.
In MASI's video footage, a travel cot can be seen on the corridor and there is a child holding an adult's hand among the group queuing for showers.
A small child can also be seen in one of the photos published by the Abolish Direct Provision Campaign.
The facility in the Citywest conference centre was originally envisaged as a 'transit hub' for Ukrainian refugees, where they would be registered on arrival and spend one or two nights there before, being moved on to longer-term accommodation.
A severe shortage of direct provision accommodation resulted in a change of policy, and the facility began accommodating and processing people seeking international protection as well.
It is understood that the facility originally had 370 bed spaces.
Yesterday morning, the department confirmed that there were 827 people in the Citywest transit hub.
Last month, migrants' rights groups were highly critical of conditions at the Red Cow Moran Hotel, where asylum seekers were sleeping on the floor in corridors and conference rooms.
Long-term approach 'urgently required'
Eugene Quinn, National Director of the Jesuit Refugee Service told RTÉ News that they have been raising concerns about people sleeping on the floor in the Citywest transit hub with senior Department of Children officials since May, and most recently in a letter to the minister on 8 July.
Acknowledging that the scale of the numbers arriving into the country is unprecedented, Mr Quinn said it "still should never be acceptable to accommodate people seeking protection in this way" and said "the unacceptable reality of IP applicants sleeping on floors or chairs must not be repeated".
Back in June, JRS and the Irish Refugee Council raised concerns about asylum seekers sleeping on the floor in the Red Cow Moran hotel.
Mr Quinn said when that issue was initially addressed, their concerns switched to the Citywest facility, where demand for accommodation space quickly outstripped available capacity.
Prior to the introduction of showers at the facility on 30 June, Mr Quinn some residents had gone more than two weeks without a shower.
Mr Quinn raised concerns about what he called the "ad-hoc reactive responses to the accommodation crisis" that involve moving out international protection applicants from Citywest to alternative direct provision accommodation on a short-term basis, and said this can negatively impact both existing residents and those being transferred.
For example, he said that people were moved from Citywest to stay on camp beds in a recreation room in the Knockalisheen Direct Provision Centre in Co Clare and on mattresses on the floor in the Kinsale Road Centre in Co Cork for a number of days and then transferred on.
Mr Quinn also said that vulnerable female residents were transferred with less than 24 hours notice from a Killarney Direct Provision centre to accommodate transfers from the Citywest transit hub and many of these women were accessing education or were employed locally.
Mr Quinn said "a longer-term strategic approach" to accommodating both Ukrainian refugees and international protection applicants "is urgently required".
In the meantime, he said there is a need to "rapidly upscale" contingency accommodation capacity to respond to inevitable "pinch points" in the coming weeks.
"Ireland must ensure all persons who seek the protection of the Irish State are accommodated with dignity," he said.
Refugee and migrant support organisation Doras has expressed concern that refugees fleeing the war in Ukraine are sleeping on floors and in tents, and has said that this "could signal a disturbing new norm if not immediately addressed".
Chief Executive John Lannon said a basic standard of accommodation is essential when fulfilling obligations to some of the world's most vulnerable people.
"The reality is that people need and deserve better than sleeping on floors or in tents. This is especially the case for people who are traumatised, or who have specific medical needs, and in all situations the safeguarding of children is paramount. This is the case for Ukrainians as it is for people from Afghanistan and others who need protection," Mr Lannon said.
"Everybody concerned is working flat out but it's simply not good enough to say we didn't see this coming," Mr Lannon said.