Passengers who have GPS trackers on their luggage pinpointing the location of their bags say that they are still being prevented from entering the lost and found section at Dublin Airport to retrieve their possessions.
The daa, which runs Dublin Airport, said that any issues with baggage recovery were a matter for airlines and handling companies.
A group of 15 tourists from Prague in the Czech Republic travelled to Dublin Airport from Frankfurt. Their luggage did not arrive with them from Germany.
A GPS tracker attached to their bags indicated to them that it had arrived into Dublin Airport by midday on Wednesday. However, they say that they were told that they could not go in to collect their bags.
Speaking to RTÉ's Today with Claire Byrne, one of these passengers said: "They said 'we are processing, we are processing,' but because we have the GPS in the luggage, we said 'we know where it is'.
"Wednesday noon it was here, by GPS we knew it, and so many other people said 'we know it's inside, but they would not let us in to identify the luggage and to collect it'."
A spokesperson for Lufthansa Group said that it did not have anyone available to comment on this case today.
Media relations manager with the daa Graeme McQueen told RTÉ News: "Any passenger in this situation would need to contact their airline or the airline's handler.
"They'll be able to guide them on the best next steps."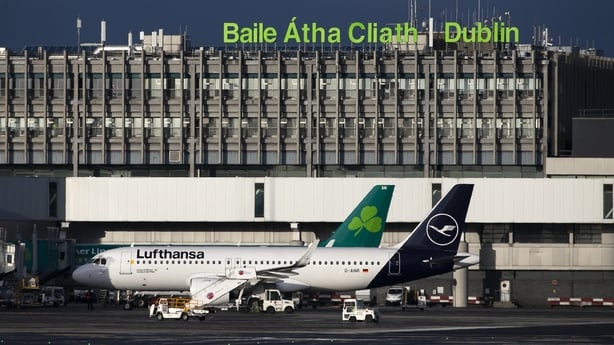 In a statement, the daa said: "Any passenger experiencing issues regarding their baggage should make direct contact with their airline or airline ground handling company via the numbers below (which are also listed on the Dublin Airport website) and retrieve their luggage through the appropriate channels."
A spokesperson for baggage handler Sky Handling Partner told RTÉ News that the company is conscious of the impact that the current travel disruption is having on passengers and it has more than doubled its staff numbers at Dublin Airport in recent months.
He said: "The current baggage delays are caused primarily by resource and infrastructure issues at overseas hub airports.
"This has resulted in a significant increase in passengers and their bags being separated on original flights into Dublin, with bags arriving on later flights over the course of several days.
"We have invested in technology enhancements to speed up the process of notifying passengers when delayed bags arrive and delivering bags to them.
"We are making every effort to reunite passengers with bags that have arrived on later flights as quickly as possible while ensuring that all customs and other requirements are adhered to."
In a statement, Aer Lingus said it was aware of the disruption to luggage retrieval.
It said: "These issues are outside of our control, but are resulting in some customers experiencing a level of service below what they expect, including delayed baggage at Dublin Airport.
"In response to the challenges, we have increased resourcing and adapted our processes to enhance the speed in which third party transport companies can deliver delayed bags to affected customers."