The Government's Summer Economic Statement shows the forthcoming Budget will contain spending and tax measures equal to €6.7 billion.
The Budget, which will take place on 27 September – two weeks earlier than planned – will involve €5.65 billion in spending and just over €1 billion in tax measures.
Spending next year will increase by 6.5%, according to the Summer Economic Statement, in what has been described a "temporary once-off increase," which breaches the Government's own spending rule of 5%.
Of the total Budget day package of €6.7 billion, €3 billion will be allocated to maintain existing levels of public services, leaving €3.7 billion for decisions to be announced on Budget day, including the €1 billion in tax measures.
In addition, there will be another €4.5 billion in non-core spending allocated to Covid-19 and assisting people from Ukraine.
The boost to tackle the fallout from inflation, which was 9.6% last month, is underpinned by exceptionally high corporation tax receipts.
They are €3 billion or 53% higher in the first half of this year, compared to the same period last year.
Even with the additional expenditure, this level of corporation tax is expected to help the public finances record a modest surplus of just over €2 billion this year and next year. Without it, there would still be a significant deficit.
We need your consent to load this rte-player contentWe use rte-player to manage extra content that can set cookies on your device and collect data about your activity. Please review their details and accept them to load the content.Manage Preferences
Minister for Finance Paschal Donohoe said that the latest Exchequer returns are another example of the broad trends seen with regard to taxation from earlier in the year, and are a testament to the strength and resilience of the economy during a very challenging period.
He said that strength has been tested, but the Government had ensured there were solid foundations in finances and employment, which led to a position of further strong returns.
He said that today's announcement demonstrated how far we have come have come as an economy and a country since the very difficult moments of March 2020, when Covid-19 lockdowns were first introduced.
There is mounting evidence that the recent economic momentum 'is now slowing', says Minister for Finance Paschal Donohoe. The recovery in demand in the economy has now run up against capacity restraints which has increased prices. | Read more: https://t.co/VFheLleDuS pic.twitter.com/wX7392skcg

— RTÉ News (@rtenews) July 4, 2022
The minister said there is mounting evidence that economic momentum seen in recent times is now slowing.
He said that the economy had seen a rapid recovery in demand, but had now run up against capacity constraints in many different sectors of economy, puts upward pressure on prices.
He said that energy prices had worsened the inflation situation, but the Government still expects the economy to grow this year and next year, but risks to that outlook have grown since the last economic forecast in April.
Govt to 'get the balance right' - Taoiseach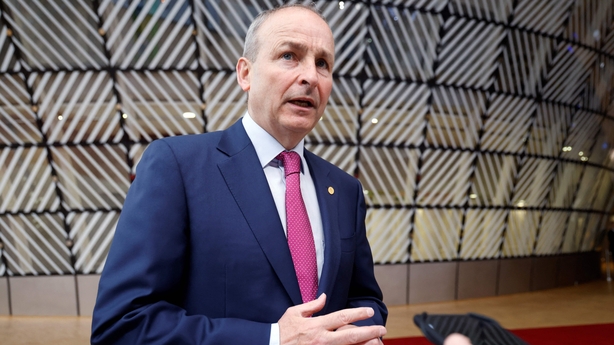 The Taoiseach earlier said the Government is going to get the balance right on Budget 2023.
Micheál Martin said that the Summer Economic Statement lays out the parameters of what is possible, but Ireland is in a very unique set of circumstances coming out of Covid-19, supply chain difficulties and balance between supply and demand which created its own cycle of inflation.
He said that the war in Ukraine has been very dramatic in its impact on inflation prices, which has fallen into the broader economy.
"We do have to go through a combination of budgetary and temporary measures to alleviate the pressures on people," he said.
Meanwhile, the Tánaiste Leo Varadkar said no early, late or mini Budget will get on top of inflation and he said what was required was a set of measures from an international, EU and domestic level.
Arriving ahead of today's Cabinet meeting at Dublin Castle, the Minister for the Environment Eamon Ryan said the Government needed to target measures to support people who are in particular risk of fuel poverty and also reduce the cost of living for people.
He said gas prices are still high and that will impact people in the autumn and said the Government was right to target measures in that period.
He also said that as there was a reduction of public transport fares, there needed to be an expansion to the fleet.
Additional reporting: Conor Hunt and Micheál Lehane