Swissport, one of the baggage handlers operating at Dublin Airport, has apologised for its part in the disruption people are experiencing.
A spokesperson said: "The post-pandemic return in travel demand is positive news, but the current peak period, which can be stretching even in normal times, is exacerbating resource challenges across the recovering aviation industry."
In a statement to RTÉ News, the company said "airlines, airports, and aviation services all work together to deliver different elements of a single passenger journey and in busy periods the knock-on effects of delays stemming from one part, such as air traffic issues, security queues and late changes to flight schedules can lead to disruption in others".
Swissport said it is "working hard to address our resource challenges, with over 3,500 new hirings since the start of the year".
"We will continue to work with our partners to find solutions for this industry-wide issue."
Another one of the operators, Sky Handling Partner, said it has more than doubled staff numbers at Dublin Airport in recent months "to make it easier for incoming passengers to collect their bags".
A spokesperson said the current delays are being "caused primarily by staffing issues at overseas airports".
"These are resulting in a significant increase in passengers and their bags being separated on their flights into Dublin, with bags arriving on later flights."
In a statement to RTÉ News, the company said "the delays are being compounded by security restrictions in Dublin Airport limiting access to the baggage claim area".
"We are working constructively with daa to enhance access to baggage claim for those passengers who have had to return to the airport to collect their bags from later flights," it added.
Aer Lingus cancellations
Earlier today, Aer Lingus had to cancelled nine return flights and one direct flight and also three return flights tomorrow due to a spike in Covid-19 cases among staff.
Industrial action at Bordeaux and Lyon airports has also led to the cancellation of one return flight to Bordeaux today and two return flights to Lyon tomorrow.
The airline has cancelled a number of flights this week. Among today's cancellations are flights to London, Amsterdam and Brussels.
In a statement this morning, Aer Lingus said just over 1% of its flights have been impacted by cancellations in June.
The airline apologised to all those affected, and said teams are working to re-accommodate passengers on the next available services.
It said the return of demand for travel was anticipated and appropriate buffers were built into plans to deal with some additional disruption.
However, the statement said system pressures and ongoing issues at some airports among third party suppliers have created "considerable operational challenges" which have been compounded by a "significant spike" in Covid cases in recent days.
We need your consent to load this rte-player contentWe use rte-player to manage extra content that can set cookies on your device and collect data about your activity. Please review their details and accept them to load the content.Manage Preferences
Ryanair says it has operated a full schedule of flights to and from Ireland this week, with no cancellations due to staff shortages or sickness.
The airline also says it expects to operate all scheduled flights in and out of the country over the remainder of the week, subject only to the risk of Air Traffic Control delays.
A spokesperson said: "Ryanair confirms that there has been no disruption to its Irish flights either today or yesterday, as a result of minor and poorly supported union led strikes in Spain."
Meanwhile, the operator of Dublin Airport has said queues for security screening have been running smoothly today.
Around 50,000 people are due to depart from the airport throughout the day, with a similar number of arrivals.
Daa said the airport is busy, but that new measures put in place to avoid long delays are working effectively.
It also said any passengers "affected by the cancellation of their flight by their airline should seek to make contact directly with their airline".
Daa added that passengers impacted by delays or issues with their baggage should contact their airline or their airline's handling firm.
10% of flights cancelled at Paris airport
Airport workers went on strike at Paris' main international airport Roissy-Charles de Gaulle today, forcing the cancellation of about 10% of flights and bringing more disruption to early summer travel.
Scores of ground staff protested in front of one terminal to demand a big pay rise to cushion the pain of high inflation, emboldened by booming demand for air travel and staff shortages caused in part by the Covid-19 pandemic.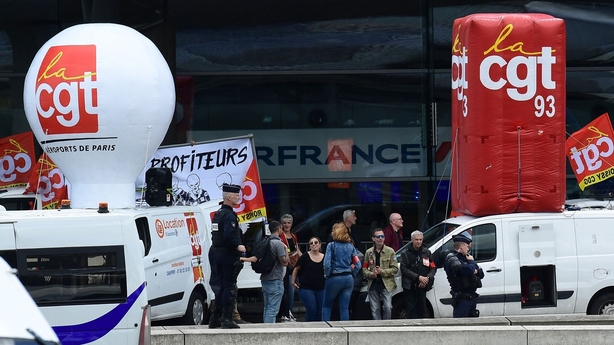 Airport operator ADP told Reuters it expected 100 flights to be cancelled, 50 incoming and 50 departing, over the course of the day.
Queues built up inside the terminals as some passengers sought to make alternative arrangements and others arrived early fearing disruption.
"We've been here since 3 o'clock this morning and we're still waiting. This is not going well at all," Philippine Tournier, who had booked a flight for Cancun, Mexico, told Reuters.
Meanwhile Scandinavian airline SAS and its pilots were in last-ditch talks today to avert a strike from midnight that would paralyse much of the troubled carrier's operations.