The number of people in emergency homeless accommodation has risen again for the fifth consecutive month, according to new figures from the Department of Housing, Heritage and Local Government.
There were 10,325 men, women and children in homeless emergency accommodation in Ireland during the last week of May.
This compares to 10,049 during the last week of April.
It is also a 29% (2,334) increase in homelessness year on year, and only 189 away from the highest homeless figure recorded by the Department in October 2019 (10,514).
Focus Ireland CEO Pat Dennigan said: "Child homelessness has increased by an alarming 41% since this time last year.
"In addition to rocketing rents vulnerable people nationwide are struggling to pay their petrol energy bills and many families can barely put food on their table."
He added: "If urgent action is not taken by the government, we will undoubtedly see these figures rise in the coming months."
Mr Dennigan said Focus Ireland welcomed Housing Minister Darragh O'Brien's recent changes to HAP (Housing Assistance Payments) and said the discretionary increase from 20% to 35% will help.
But he said it only applied to Dublin and further measures were needed.
The Simon Communities of Ireland called on the Government to "treat homelessness with the urgency applied during the Covid Pandemic".
Wayne Stanley, Head of Policy and Communication, said: "The numbers today confirm again that homelessness is back to pre-Covid levels. Our own Locked Out of the Market reports show that a lack of properties to rent at affordable rates is a major driver of this.
"CSO figures released yesterday set out that there are now 166,752 vacant homes across the country. It is unacceptable to have so many vacant homes while there are 10325 people in homelessness.
"Tackling vacancy provides an opportunity to increase our social housing stock quickly; something we desperately need to do to support the over 10,000 men, women and children experiencing homelessness to secure a home."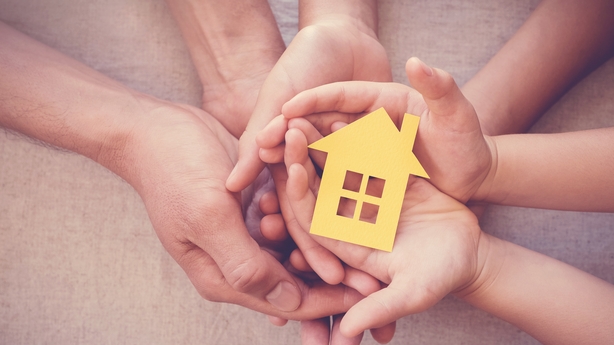 Dublin Simon Community said it was "gravely concerned" by what it described as the "cataclysm caused by the rising number of people entering homelessness each month".
The charity has seen a 30% growth in the number of adult females in emergency accommodation in Dublin in the last 12 months.
Ciarán King, Outreach Manager, said: "As the numbers continue to rise, there is a clear crisis in finding suitable emergency accommodation, one of our primary concerns is ensuring the safety of women who we are encountering on the streets.
"Many people that we work with have a range of complex needs and are very vulnerable. It is essential that we have access to safe and secure emergency accommodation for this group and adequate emergency places for all those who require it."
Sinn Féin housing spokesperson Eoin Ó Broin said that Minister O'Brien "has completely lost control of the homeless situation".
He stated: "The latest homeless report from the Department of Housing shows increases in adult, child, family and single person homelessness.
"For the first time single person homelessness has hit 5,000. There are also more than 3,000 children in Department of Housing funded emergency accommodation."
Mr Ó Broin added: "The minister must outline an emergency plan setting out what measures he plans to put in place to halt and reverse the ever growing levels of homelessness ... his position is becoming increasingly untenable."
Labour's housing spokesperson, Senator Rebecca Moynihan, said the increase in homelessness in the past year was "deeply concerning".
She called for the implementation of an emergency eviction ban and a rent freeze.
"With only 820 properties available for those using HAP, it's clear that emergency measures must be introduced to provide a safety net for those at risk of homelessness."