An Afghan man who has been living in Ireland since 2016 has expressed his fear and worry for his family back home after an earthquake in the struggling nation killed 1,000 people.
The village that Hameed Ur Rehman Aryoubi grew up in the Lōya Paktiā region in Afghanistan has been reduced to rubble after Wednesday's earthquake.
"These village buildings are made from mud, they are not like the houses we have here," Mr Aryoubi tells RTÉ News.
As we sit in his living room in Mayfield in Co Cork, the father of four shows us a video his has cousin has sent him of what remains of the village.
"So, he is pointing to where each house was. Thirteen people are buried in this house, four people are buried in this house, this (one), the whole family is under the mud, so nobody survived," he said.
Mr Aryoubi has lost family in the earthquake too.
"My auntie passed away with her two children, they were buried and at about 3 o'clock local time, their bodies were taken out (from the rubble)," Mr Aryoubi said.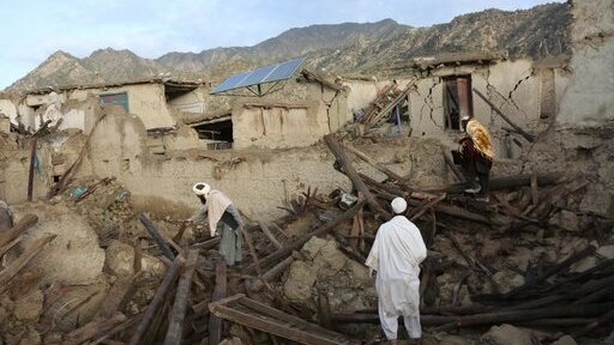 These were the first of family casualties he heard of, but not the last. The hours after the natural disaster yielded more sad news.
"There are four of my close family members from my Dad's (side), they were the only four men that were feeding the whole family, unfortunately all four men are dead," Mr Aryoubi said.
"Honestly when I speak to everyone, all I hear is people are desperate, looking for their loved ones, and I know a few people that are still looking."
His parents are elderly, and his mother, who sufferers from a number of medical conditions, was injured in the earthquake.
"In (the) sPeera (region) there is only one clinic... the clinic that my family spent last night. It was packed," he said.
"People don't know first aid, and if they know first aid there is no medical equipment or medicines to be given to these people. There's a shortage of ambulances, people are using tractors.
The tractors that people use here for agriculture, people in my country put dead bodies to move them from one area to another."
He said that after decades of unrest, people in the region were already struggling.
"It's a very poor village in the middle of nowhere, where people are hungry, they are trying to feed their kids, but now they have to struggle a bigger challenge," Mr Aryoubi said.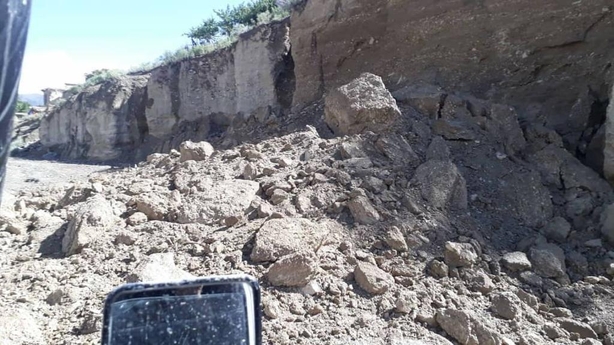 He says the phone and internet signals are patchy, and when we speak to him, his family are out of coverage trying to reach the city of Gardez in the hope of finding shelter and medical attention for his mother.
This year, Mr Aryoubi applied to bring his elderly parents and his late brother's children to Ireland under the Afghan Admissions Programme.
It opened after the Taliban took power in Afghanistan and which closed to applications in March.
He has heard nothing back yet.
"My hope was I would get my family out of there... we were just looking for safety my family and then this whole new tragedy has come up, and (possibly) thousands have lost their lives, and it put my family in grief again," he said.
Mr Aryoubi has asked that Ireland and the international community to support the Afghan people as they endure this latest tragedy.
"No matter your race, religion or any other groups, we are all humans, we should help each other, it's just my country is in a really terrible situation," he said.
"It has been like that for the past 40 years, but today as we speak, there are people in a great need of shelter, food or medical help.
"If somebody from the Government, from these authorities, or the locals, the generous people of Ireland, if they could help the victims of this disaster, myself and my other country men would really appreciate it," he said.
Mr Aryoubi's family have set up a GoFundMe page to raise funds for a local NGO Focus Afghanistan.