Former Tánaiste Eamon Gilmore has said that he saw "truly shocking" evidence of war crimes while on a recent visit to Ukraine.
Mr Gilmore, who is now EU Special Representative for Human Rights, recently visited Bucha in Ukraine, which has become synonymous with allegations of Russian war crimes.
Speaking on RTÉ's Morning Ireland, Mr Gilmore said the purpose of his visit was to reiterate the European Union's continued support for that country against the war of aggression by Russia.
"I visited where the mass graves were in Bucha, but I also talked with people who were familiar with what happened," he said.
"116 people were buried in those mass graves, the youngest, as young as a year and seven months.
"And what struck me was the information they gave me was that many of those who were buried in those mass graves had been shot through the eye, which suggests that they were shot, at some distance, by snipers and may even have been used as target practice."
He said the visit in particular was to enable him "to see at first hand the violations of human rights and the war crimes that are being committed".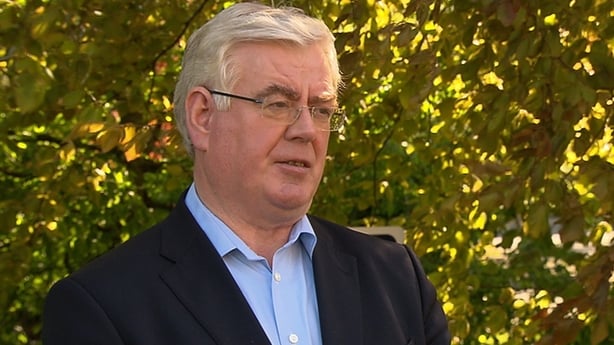 The former Labour leader added that what he saw "was evidence of civilian life being targeted".
"These were not military targets. This was an attack on civilians. These are war crimes and there has to be accountability for it," he said.
Mr Gilmore explained that what he saw "is truly shocking," adding that the main purpose of his visit is to talk about how the EU can support the effort to bring those who are responsible to justice, by supporting the International Criminal Court and the prosecutor's office in Ukraine.
He said he will be talking to representatives of the Ukrainian government, the parliament and with the prosecutor's office about how to make sure that the combined effort ultimately leads to having those who are responsible for these acts being held accountable and being brought before a court.
He said this must go beyond "those who were on the ground and were doing this, but those who sent them there.
---
---
"Those right up the chain of command who have responsibility for what has happened in Ukraine."
Mr Gilmore's comments come as Ukraine's President Volodymyr Zelensky predicted Russia will escalate its attacks this week, as European Union leaders consider whether to back his country's bid to join the bloc.
"Obviously, this week we should expect from Russia an intensification of its hostile activities," Mr Zelensky said in a video address.
"We are preparing. We are ready."
Ukraine applied to join the EU four days after Russian troops poured across its border in February.