Charities working for people with HIV have described as worrying the number of new cases of the virus since the start of this year.
Provisional figures from the Health Protection Surveillance Centre show that there were 293 notified cases of HIV for the first six months of this year - compared to 145 for the same period of 2021.
Stephen O' Hare, Executive Director of HIV Ireland, said: "Our concern is that what we are seeing this year is a very rapid development in terms of the number of cases being presented.
"And that can be explained somewhat by the opening up of social venues and somewhat by the re-emerging of testing facilities, but it is a worry still we're seeing so many cases at this time of the year."
Mr O'Hare is also calling for the medication PrEP (pre-exposure prophylaxis) to be made more widely available saying research published in 2022 by HIV Ireland points to ongoing difficulties in accessing it.
"PrEP is highly effective at preventing a person who is HIV negative from acquiring HIV through sexual intercourse and is a vital component in our strategy to reduce HIV transmissions," Mr O'Hare said.
"Delays in access to services is detrimental to communities and will further reduce Ireland's ability to meets its ambitious target of ending new HIV transmissions by 2030."
It is now 40 years since the first case of AIDS was diagnosed in Ireland.
The rise in cases comes as planning continues for a national AIDS monument to be built in Phoenix Park Dublin to commemorate those who have died and acknowledge those currently living with HIV.
Tom Strong is among them. He was diagnosed in 2006 and welcomes the memorial.
"It's extraordinarily significant," he said.
"It's extremely important, recognising our loved ones at death, it makes us human."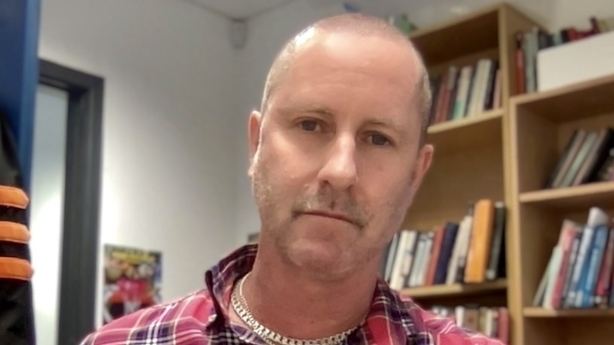 A lecturer in Maynooth University, Mr Strong is healthy - thanks to the latest treatments.
But he says while medicines have come on leaps and bounds, he says some people's attitudes have not.
"Actually I'm healthy and the meds do that," he said.
"They make it so we can't transmit the virus. Medically, we've really solved a lot of the problems with HIV.
"The problems we face are social in nature. We live longer, but that means we do live with a lot of stigma, shame and a lot of social judgement.
"These are the problems people face with HIV today."
A call out to anyone interested in designing a national HIV AIDS monument is underway.
A Department of Taoiseach committee has been established to oversee the project with the Office of Public Works administering the process.
It says the monument is to "remember those who have died and mark their lives and contribution to society, while also showing solidarity with those living with and affected by HIV today."
The budget is €200,000 and it is due to be installed at the Phoenix Park in Dublin in June 2023.