A new study on substance abuse among young people in Ireland has identified an increasing prevalence in the use of cocaine in 15 to 24-year-olds.
The report, compiled by the Health Research Board (HRB), showed 27% of young people reported using illegal drugs in their lifetime, 19% in the last year and 11% in the last month.
The HRB said cannabis remains the most commonly used drug in Ireland, but the use of other stimulants has increased, with ecstasy and cocaine use here the second highest in Europe.
Between 2015 and 2018, drug-related hospital admissions rose by 26%, while from 2011 to 2019, there was a 171% rise in the number of cases of young people receiving treatment for cocaine use.
Cannabis was the substance for which treatment was most commonly received, with 1,229 such cases in 2020.
We need your consent to load this rte-player contentWe use rte-player to manage extra content that can set cookies on your device and collect data about your activity. Please review their details and accept them to load the content.Manage Preferences
The HRB also found that adolescents start to drink at a later age, but problem drinking remains a major issue in Ireland.
The average age of first alcohol consumption increased from 15.6 years in 2002 to 16.6 in 2019 and the number of young people who do not drink jumped from 11% in 2002 to 26% in 2019.
However, around one in three (38%) drinkers aged 15 to 24 had an alcohol use disorder, despite a decrease in the prevalence of binge drinking.
The HRB said adolescents in Ireland rank seventh out of 35 European countries for reports of being drunk.
And the report found that between 2015 and 2018, alcohol use hospitalisations among young people increased by 12%.
The HRB examined data from health and law enforcement services as part of the study.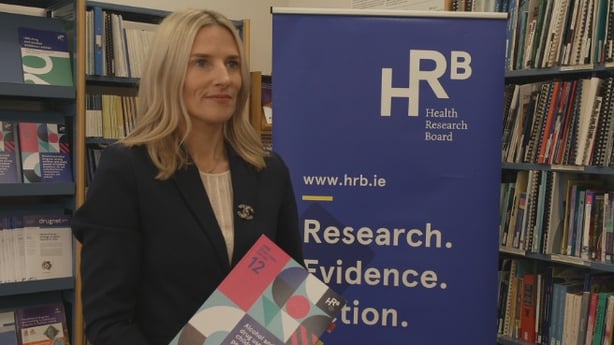 Lead author Anne Doyle said the report shows the many challenges and risk factors that young people face in relation to substance use, the need for treatment and the impact of substance use on mental health.
Speaking on RTÉ's Morning Ireland, Ms Doyle said substance use is a very real part of Irish society and one third of younger drinkers have an alcohol use disorder.
This means they are drinking in a manner that is impacting on their life, on their health or mental health, as well as impacting on relationships with friends and family, she added.
Ms Doyle, a research officer at the HRB, said there is no one definitive reason why young people are beginning to drink later, but it is a very welcome change.
"Parents are closely monitoring the children. They're having more open conversations about the damaging effects of alcohol. And as well as that there's an increased focus on individual health and well being and their school," she said.
Ms Doyle also said there has been an increase in cocaine and ecstasy use across Europe and there is a concerning increase in Ireland, that has ranked young users here as the second highest in Europe.
She said young people attending treatment has risen 171% and the problem appears to be spread fairly evenly across the country and socio-economic groups.
However, Ms Doyle said there is a slight increase in cocaine abuse among young women, where the issue used to be primarily a male problem.
'The cocaine problem got worse during the Covid pandemic'
The Cuan Mhuire Addiction Treatment Services said the findings in the HRB report are being reflected in its experiences.
Mick Guerin, a addiction counsellor at the Bruree centre in Co Limerick, said there has been a notable fall in the age young people start using drugs over the past two years.
He said "we now have clients coming to us in their early 20s telling us that their first use of cocaine was at approximately the age of 15, which is very concerning".
Mr Gurerin said "the use of cocaine or a drug as potent and addictive as cocaine in one's adolescence, can only bode very poorly for their adulthood and also the alcohol abuse that is reported in the HRB report is a very great predictor of alcohol problems in adulthood".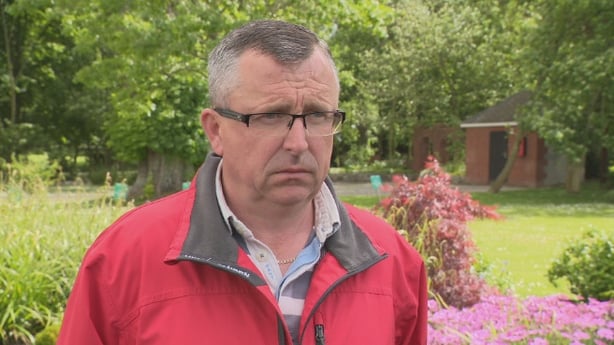 He also said there has been no evidence that cocaine use here declined during the pandemic or that cocaine consumption in Ireland is slowing down at all.
"We thought that the cocaine problem might diminish somewhat, because cocaine is a drug that was historically associated with socialisation and social venues, but we believe in actual fact the cocaine problem got worse during the Covid pandemic."
Mr Guerin also said the negative impact of drug use can spread beyond those suffering from the addiction.
He said "another thing that we meet quite a lot of is families who are struggling with drug related debt as a consequence of their family member's drug abuse and that can also be quite distressing".