More than 520 Afghans who applied to a Government scheme to bring family members from Afghanistan to Ireland will have to wait "months" to find out their fate.
The closing date for applications to the Afghan Admission Programme was 11 March, almost three months ago.
In response to parliamentary questions from Independent TD Catherine Connelly, Minister for Justice Helen McEntee said officials in her department were "currently processing" applications and "expect to issue decisions in the coming months".
John Lannon, CEO of Doras, a Limerick-based migrant rights organisation, said he was "astounded at the fact that they are saying it'll be months before they get around to responding to people".
Mr Lannon said that while it was understandable that Ireland's response to the crisis in Ukraine may have caused some delays in the administration of the scheme, but "now we need a time frame".
"We have people coming into us, practically every day of the week, asking us, begging us to see if we can get some clarity on the situation, wanting to know when they are going to get a decision.
"Lives are in limbo and the human rights situation, if anything, is getting worse in Afghanistan."
The scheme was first announced in September 2021, after the Taliban took over power in Afghanistan the month before.
However, it was another four months before it opened on 16 December 2021.
Hamed Safa is one of the 528 Afghan citizens living in Ireland who has applied to bring family members from Afghanistan to Ireland.
Living and working in Limerick, he wants to help his sister, her husband and her two children to get safely out of the country.
"My sister's husband was working ... providing oil to the US army and the Afghan military" Mr Safa said.
"When the government was taken over by the Taliban ... they were trying to target the one's working with the US army or who were helping the Afghan forces."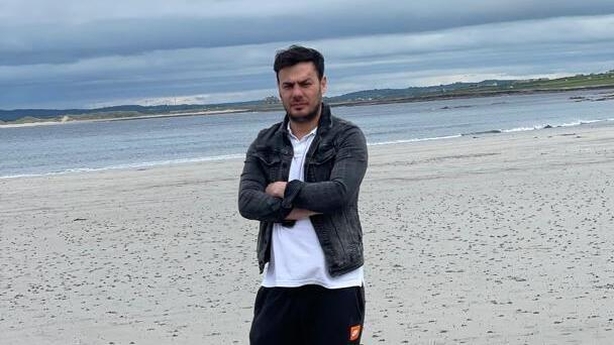 Mr Safa said he is "always on the phone" to his sister "trying to give her hope".
"When she calls me, she asks if there is good news for her, I say, just wait, hopefully soon, a couple more weeks or months," Mr Safa said.
The scheme is limited to 500 places.
As each of the 528 applicants could apply for up to four people, its estimated that over 2,000 people are vying for those 500 places.
In setting out the scheme, the department said that "if the total number of eligible beneficiaries" was above 500 it would "prioritise those most at risk".
In her Parliamentary Questions to the minister, Ms Connolly asked if there were plans to extend the scheme "beyond the original 500".
In her response, the minister said that "no immigration programme can be unlimited in scope".
Mr Lannon said he was "baffled and astonished by this statement".
Mr Lannon and Ms Connolly both cited the "temporary protection directive" that Ireland and other EU countries have put in place for Ukrainians fleeing the war in their country as an example of a scheme that is is effectively "unlimited in scope".
Under that directive, Ukrainians have permission to reside in Ireland for one year (and possibly longer) with full access to the labour market, accommodation if needed, social welfare supports, income supports, education and medical care.
"It is unlimited in scope. We have lifted every single limitation," Ms Connolly said.
Ms Connolly and Mr Lannon said that it was "quite right" that these rights be afforded to Ukrainians.
"We have to open our doors and give (Ukrainians) every form of humanitarian assistance," Ms Connolly said.
"But I actually think we have a two-tier system now ... there's just a stark contrast to those fleeing Ukraine and those fleeing Afghanistan."