The housing crisis is worse today "than at any time in the last 40 years", according to campaigner Fr Peter McVerry.
The founder of the Peter McVerry Trust was speaking on RTÉ's News at One following the relaunch of the Raise the Roof housing campaign, which held the first in a series of regional and national public meetings on the housing crisis in Dublin today.
The meeting at Buswells Hotel opposite Leinster House heard Fr McVerry say he has "never been more despairing and depressed" about the housing situation in Ireland.
Raise the Roof is an umbrella group comprised of trade unions, housing and homelessness charities. women's groups, Traveller groups, children's advocacy groups, students unions, opposition political parties, housing academics and others.
Fr McVerry said that while there was "no magic wand" to address the housing crisis, there were a number of measures that the Government could take.
Among the proposals he put forward were the implementation of the 1973 Kenny Report, which among other things would allow local authorities to compulsorily purchase land for development, paying lower agricultural land prices.
It will also propose a ban on evictions for up to three years, a 20% reduction in rents coupled with a 50% reduction in tax paid by landlords and making it illegal for people for people to rent properties on short-term rental websites if they are not compliant with planning permission requirements and other regulations.
Fr McVerry described these measures as a "win-win for renters and landlords", but he insisted that the international investment companies would object strongly to such proposals.
Fr McVerry added that the Government mantra was that "supply was the solution," but he said that this was "only half true... the solution is affordable supply."
"We know what works. There was a ban on rent increases and a ban on evictions during Covid and the number of homeless people dropped by about 2,000 in a relatively short period of time," Fr McVerry said.
"That ban was rescinded about seven or eight months ago, the number of homeless people is going through the roof again."
Pursuing vacant homes "far more aggressively" is also an important approach to addressing the challenge.
"It's immoral, it's criminal almost, to have an empty building in the middle of a housing crisis," he said.
From tomorrow Raise the Roof will hold meetings around the country, beginning with one in Navan in Co Meath, followed by meetings in Waterford, Limerick, Galway and Maynooth in Co Kildare in June and July.
Another meeting will also be held in Dublin city on 21 June in the Mansion House.
The meetings are intended to "build broad public support for solutions to the crisis and alternative policies on housing."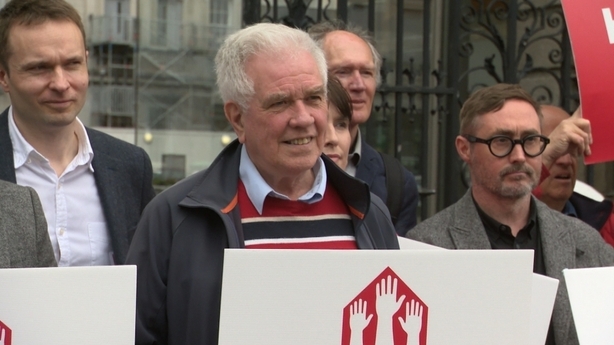 Opposition TDs who attended today's event and pledged their support to the campaign included Labour leader Ivana Bacik, Sinn Féin's Housing Spokesperson Eoin Ó Broin and People Before Profit TD Richard Boyd-Barrett.
Mr Ó Broin said: "We need a mass movement of people focused on forcing government to abandon the policies that are causing the housing crisis.
"The alternatives are clear. Massive expansion of public housing to meet social and affordable housing need.
"Greater protections for renters to stop rent increases and reduce rents.
"Increased focus on homeless prevention and measures to ensure that no section of society; whether Travellers, migrants or people with disabilities are left behind."
Ms Bacik said local authorities should be given powers to protect people from entering homelessness.
In a statement, she described the housing crisis as a "national shame" and said change cannot wait.
"We need to do everything we can to protect people from falling into homelessness," she said.
"Government needs to stop seeing housing as a commodity. The failure of Government to put in place measures to protect renters are having enormous social consequences.
"We need to see action now."
We need your consent to load this rte-player contentWe use rte-player to manage extra content that can set cookies on your device and collect data about your activity. Please review their details and accept them to load the content.Manage Preferences
Launched originally in 2018, Raise the Roof held large street demonstrations before the pandemic and there were calls for more such protests in the months ahead.
Campaign coordinator Macdara Doyle said that the upcoming series of meetings marked the beginning of the process of relaunching the campaign, and that large public demonstrations were likely in the future.
Mr Doyle said Ireland is currently experiencing its longest and most severe housing crisis that "the policies of successive governments have failed to tackle the crisis and have arguably made it worse."
"We seem to endlessly repeat the same failed policies and keep expecting different outcomes," Mr Doyle said.
Also speaking at today's event was General Secretary of the Irish Nurses and Midwives Organisation and current Vice President of the Irish Congress of Trade Unions, Phil Ní Sheaghdha.
She warned that the current housing crisis would impact the healthcare services' ability to recruit staff, citing the new Children's Hospital being built on a shared campus with St James' Hospital by way of an example.
Ms Ní Sheaghdha said "at a minimum... 500 additional healthcare workers will be needed to open that hospital to its full capacity."
She added that here was "no provision for housing to allow (staff to) live proximate to (the hospital) or indeed to commute because parking just doesn't exist in and around the hospital."
Ms Ní Sheaghdha said that the failure to provide a housing strategy for staff where significant investment is being made in healthcare services was being replicated around the country.