The first case of the monkeypox virus has been been confirmed in Ireland.
The Health Protection Surveillance Centre was last night notified of the confirmed case in the east of the country.
In a statement, the Health Service Executive said the person had not been hospitalised.
It said this case was not unexpected following the presence of monkeypox cases in the UK and many European countries.
The HSE said that public health teams are now following up with people who were in close contact with the positive case while they were infectious.
A further suspected case is also being investigated and test results are awaited.
Monkeypox, typically a mild viral infection, is endemic in African countries but its spread to non-endemic countries such as in Europe and the United States has raised concerns.
The virus that can cause symptoms including fever, aches, and presents with a distinctive bumpy rash.
We need your consent to load this rte-player contentWe use rte-player to manage extra content that can set cookies on your device and collect data about your activity. Please review their details and accept them to load the content.Manage Preferences
---
All you need to know about monkeypox
---
It is related to smallpox, but is usually milder, particularly the West African strain of the virus that was identified in a US case, which has a fatality rate of around 1%.
Most people fully recover in two to four weeks, the World Health Organization has said.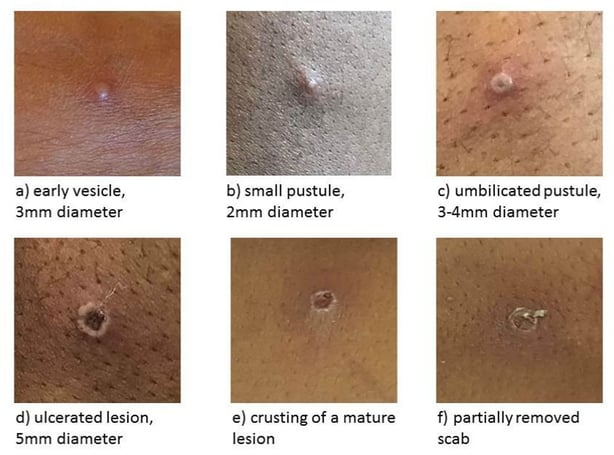 The virus is not as easily transmitted as the SARS-CoV-2 virus that spurred the global Covid-19 pandemic.
Experts believe the current monkeypox outbreak is being spread through close, intimate skin on skin contact with someone who has an active rash.
That should make its spread easier to contain once infections are identified, experts said.
The HSE has said that a public health risk assessment has been carried out and those who were in contact with the person are being advised on what to do if they become ill.
In the last few weeks, more than 200 cases of monkeypox have been detected in the UK, EU, North America, Australia, Israel and the United Arab Emirates.
'Symptoms are quite mild'
Speaking to reporters at the Irish Medical Organisation's AGM at the Aviva Stadium in Dublin, Health Minister Stephen Donnelly: "The public health doctors I am talking to are very much taking monkeypox within the stride of normal public health measures".
He added: "I think it is important to say that while it is quite a sobering name, monkeypox, the advice is that for the overwhelming majority of people, the symptoms are quite mild."
Minister Donnelly said that he has been advised that some people who are immunocompromised "may be more susceptible" to infection.
He said a third-generation small pox vaccine has been secured by the HSE and is due into the country.
Following advice from NIAC, he said that the vaccine would be offered "to healthcare workers who might be providing care to patients, identified cases, and to higher risk close contacts of those cases".
The Minister said: "I have no advice from the HSE or the department to suggest we don't have enough of the vaccine. Certainly, the intent and the public health response is around containment and keeping the number of cases quite small.
"Contact tracing protocols are in place. I would say to anyone who wants to know more to use an authoritative source, the HSE has put up a lot of information on its website," he said.
Earlier this week, one case was reported in Northern Ireland.
In a statement, the HSE said that the vast majority of these cases do not have a travel link to a country where monkeypox is endemic and many of the cases were diagnosed in sexual health clinics and self-identify as gay, bisexual or other men who have sex with men (gbMSM).
The HSE said that an incident management team is actively monitoring this "evolving international situation".
Monkeypox has been made a notifiable disease in Ireland, which means that doctors and laboratories are required by law to notify public health authorities of any cases of the virus in Ireland.
'A different realm' to Covid
Joe O'Brien, Minister of State at the Department of Rural and Community Affairs and Green Party TD for Dublin Fingal, said contact tracing is currently being carried out following the confirmation of Ireland's first case.
He said people who are a close contact will be offered a vaccine and highlighted that monkeypox is "not as infectious as Covid" and the implications are of a "much lower grade".
"Very few people are hospitalised....The main message is we are monitoring it carefully and we are in a different realm here to Covid."
Labour Party TD for Dublin Fingal Duncan Smyth and said everyone in the aftermath of Covid is wondering what is coming next.
"Monkeypox is the next new thing but it does not appear to have the same impact."
He said health experts are saying not to panic and people should heed the advice of health officials.
Additional reporting: Brian O'Donovan